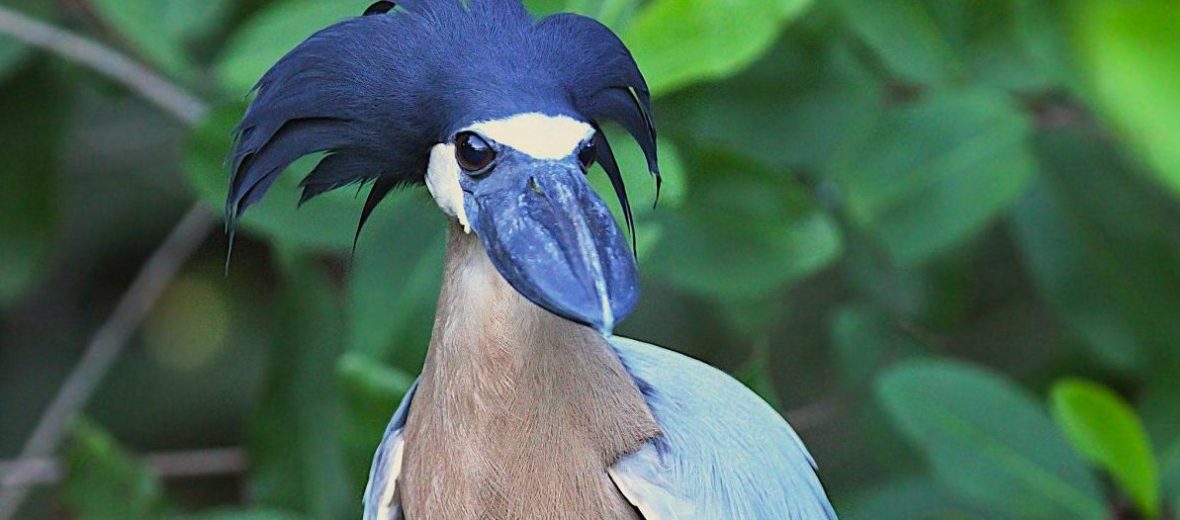 The boat-billed heron, aka boatbill, can be found in mangrove swamps in Mexico, south to Peru, Brazil, and northeastern Argentina. They have been placed in the heron family but were originally placed in the Cochleariidae family. Even though their populations are decreasing, they have a healthy population and thus are listed as Least Concern by the IUCN. And you really have to dig their crazy hair do.
First the Stats…
Scientific name: Cochlearius cochlearius
Weight: Up to 27.16 ounces
Length: Up to 21 inches
Wingspan: Up to 30 inches
Lifespan: Up to 15 years
Now on to the Facts!
1.) Boat-bills are nocturnal (active at night).
2.) These birds prefer estuaries and seasonal lagoons, except when nesting.
3.) The boat-billed heron is non-migratory.
4.) Artificial or bright moonlight deters these birds from feeding.
5.) While foraging in shallow water, streams, and lagoons, they will prey on shrimp and small fish.
But wait, there's more on the boat-billed heron!
6.) They use a scooping or lunging movement to capture prey in the water.
7.) Their bills are sensitive to touch, which helps them to find food in the murky water, at night.
Did you know…?
Human interference plays a role in abandoned nests. As these birds tend to shy away from human contact.
8.) They nest in mangroves.
9.) Boat-bills lay up to 2 clutches of eggs each season.
10.) Females lay up to 4 eggs per clutch.
Now a Short Boat-Billed Heron Video!
Pick up your Critter Science books today, on Amazon!
Be sure to share & comment below! Also, check out the Critter Science YouTube channel. Videos added regularly!
Want to suggest a critter for me to write about? Let me know here.