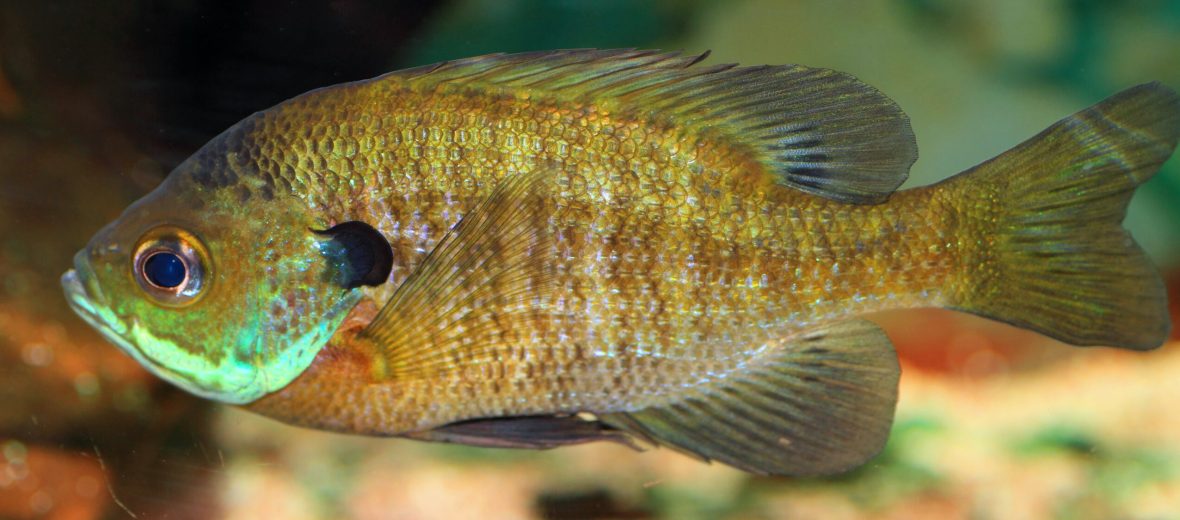 The bluegill, aka bream, brim, copper nose, or sunny, hails from the lakes, ponds, reservoirs, and slow moving rivers & streams of Canada, the United States, and Mexico. They prefer sandy bottoms with plenty of vegetation in which to hide. These fish are popular pan fish amongst anglers. The term pan fish, aka panfish or pan-fish, refers to caught fish that fit perfectly in a standard frying pan. Even though they face the threats of overfishing, climate change, and invasive species (and with them disease and predation), the bluegill is still listed as Least Concern by the IUCN. Their populations are stable across their range.
First the Stats…
Scientific name: Lepomis macrochirus
Weight: Up to 4.5 lbs.
Length: Up to 12 inches
Lifespan: Up to 11 years
Now on to the Facts!
1.) Bass, other larger sunfish, northern pikes, muskellunges, walleyes, trouts, kingfishers, herons, snapping turtles, and otters all prey on these fish.
2.) Bluegills prey on aquatic insects, shrimp, zooplankton, and small baitfish. They will also eat aquatic vegetation.
3.) If food is scarce, they will also eat their own eggs.
4.) Outside their normal ranges, they are considered a pest species.
5.) There have also been bluegills found in the Chesapeake Bay, showing that they can tolerate up to 1.8% salinity.
But wait, there's more on the bluegill!
6.) Bluegills have the ability to swim and change directions at a high rate of speed, due to synchronized fin movements.
7.) These fish can also swim backwards.
Did you know…?
The bluegill is the state fish of Illinois.
8.) Breeding season lasts from May – August.
9.) Males build a spawning bed that measures up to 12 inches in diameter and they chase away anything that nears the nest.
10.) If a female approaches, the male will start to circle the nest and make grunting noises.
But wait, there's more on the bluegill!
11.) Females produce up to 100,000 eggs.
12.) The male watches over the nest until the larvae hatch and are capable of swimming away on their own.
13.) Bluegills play an important part in lake and pond management and keep insect and crustacean populations at bay. Considering a single bluegill may eat up to 6 times its own weight in only 1 summer.
Now a Short Bluegill Video!
Be sure to share & comment below! Also, check out the Critter Science YouTube channel. Videos added regularly!
Want to suggest a critter for me to write about? Let me know here.