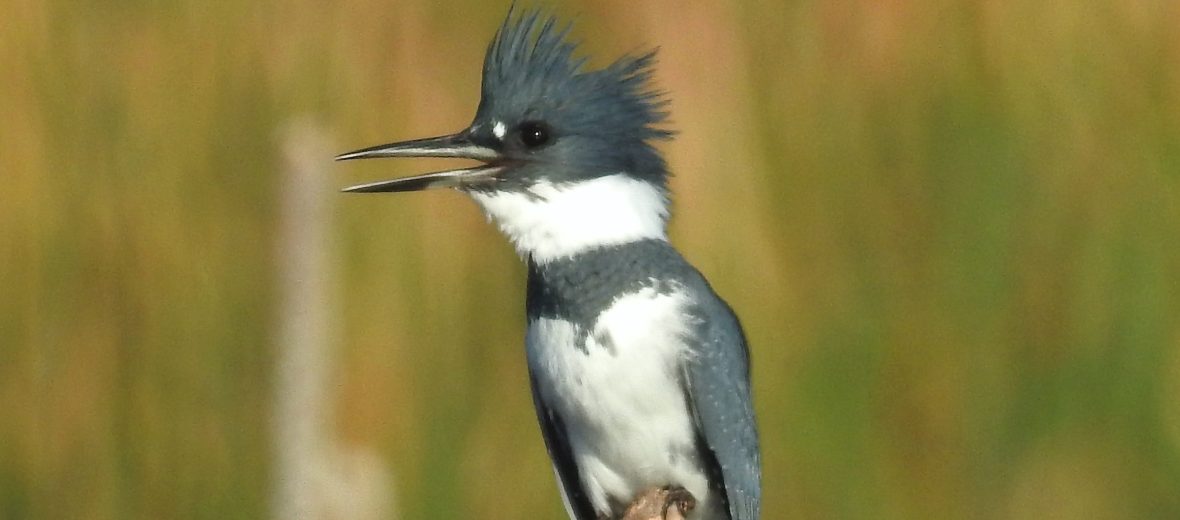 The belted kingfisher can be found from Canada, through United States, Mexico, Central America, and down into the northern parts of South America. These birds prefer habitats near lakes, ponds, rivers, and streams. They have a special preference for near-vertical banks which is where they build their nest. With a stable population of approximately 1,800,000 wild individuals, these birds are listed as Least Concern by the IUCN.
First the Stats…
Scientific name: Megaceryle alcyon
Weight: Up to 5.3 ounces
Length: Up to 13 inches
Wingspan: Up to 23 inches
Lifespan: Up to 14 years
Now on to the Facts!
1.) Originally placed into a single family, it has been recently suggested that they be placed into 3 subfamilies.
2.) These birds are migratory and leave their northern homes for warmer, tropical climates during the cold winter months.
3.) When they migrate south for the winter, they prefer to dwell in mangrove forest habitats.
4.) Belted kingfishers are diurnal (active during the day).
5.) Their territories can reach up to 1,640 square feet.
But wait, there's more on the belted kingfisher!
6.) A group of kingfishers is called a rattle or crown.
7.) While primarily being Piscivores (eat aquatic life), these critters will also dine on amphibians, lizards, nestlings like sparrows and quails, small mice, and a variety of insects.
Did you know…?
The belted kingfisher can fly up to 36 mph.
8.) Belted kingfishers are serially monogamous (mate with just 1 partner during the breeding season).
9.) The nest is a burrow that is constructed near water. Both the male and female dig the burrow. Its construction takes a few days to complete. They also line their nest with the bones of their fallen prey.
10.) Females will lay up to 7 eggs that hatch in up to 24 days.
But wait, there's still more on the belted kingfisher!
11.) Chicks are independent in up to 7.5 weeks.
12.) Kingfishers get their name from the Anglo-Saxon word which means "king of the fishes."
Did you know…?
The oldest known fossil of a kingfisher dates back to around 2 million years.
13.) The belted kingfisher appears on the 1986 series, Canadian $5 bill.
14.) Sometimes swallows will share kingfisher burrows.
15.) Their primary predators are hawks, snakes, and various mammals.
Now a Short Belted Kingfisher Video!
Be sure to share & comment below! Also, check out the Critter Science YouTube channel. Videos added regularly!
Want to suggest a critter for me to write about? Let me know here.
Photo credit: MarshBunny