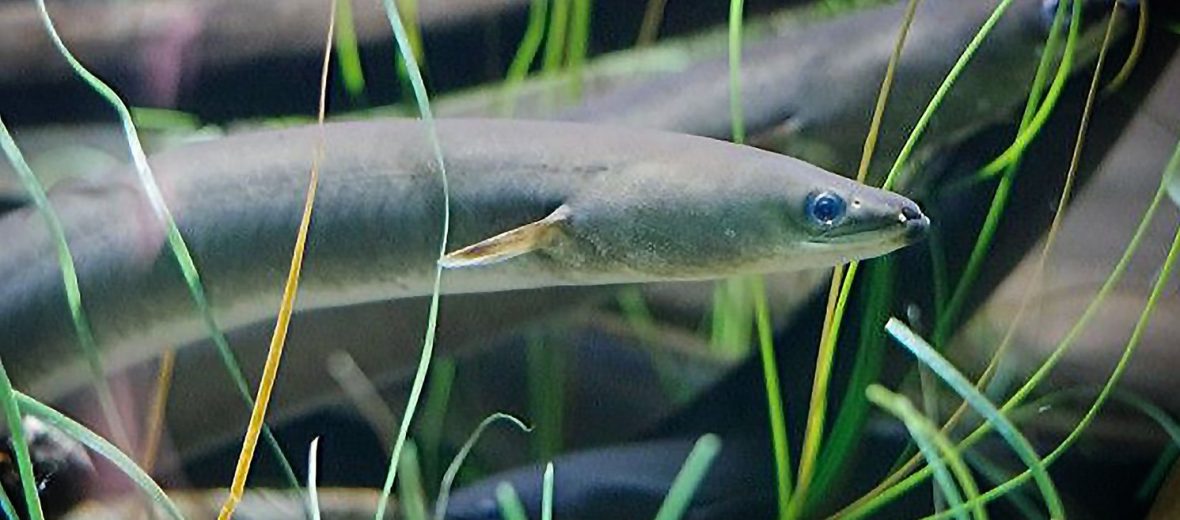 The American eel can be found in the eastern half of Canada, the eastern half of the United States, Mexico, Central America, into the northern part of South America, and even in Greenland. Due to the threats of overfishing; dams and water management systems; pollution; invasive species (and with them disease); and climate change, these fishes are listed as Endangered by the IUCN. Their numbers are also decreasing.
First the Stats…
Scientific name: Anguilla rostrata
Weight: Up to 8.9 lbs.
Length: Up to 4 feet
Lifespan: Up to 40+ years
Now on to the Facts!
1.) American eels live in freshwater and estuaries, only leaving to venture into the Atlantic Ocean to make its spawning migration to the Sargasso Sea.
2.) These eels, like many others, are covered in a layer of mucus, giving them a slimy feel and appearance. Although, they do possess tiny scales.
3.) They are sexually dimorphic in that females grow nearly 2x longer than males.
4.) The American eel is nocturnal (active at night).
5.) Worms, small fish, various mollusks, clams, and crustaceans like soft-shelled crabs are all on the menu.
But wait, there's more on the American eel!
6.) Larger fish like bass, as well as gulls, eagles, and ospreys all prey on these eels.
7.) Being catadromous, females lay up to 4,000,000 eggs far offshore; leaving their freshwater habitats for saltwater realms.
Did you know…?
The American eel is the only catadromous fish living in the Bay region that migrates downstream to the ocean in which to spawn. Once they spawn in the ocean, they adults die.
8.) The larvae drift in the ocean for up to 12 months and are referred to as glass eels.
9.) Once the ocean currents transport the glass eels to the coast, they develop a pigment and are then referred to as elvers.
10.) After a few months, the elvers transform into sexually immature adult eels, called yellow eels.
But wait, there's still more on the American eel!
11.) In time, they reach sexual maturity and are called solver eels. This signals the need to venture out to sea in order to reproduce and die.
12.) American eels have to pass numerous obstacles in order to reach their final freshwater destination. Obstacles like rocks, wet grass, dams, and more all pose as a stopping point for these critters.
Did you know…?
During its peak, the eel harvest was valued at around $600,000 and eels accounted for nearly half of the value of the entire commercial fish harvest to come from Lake Ontario.
13.) These eels were first described in 1817 by Charles Alexandre Lesueur.
14.) Like other eels, they are bottom dwelling fishes that find shelter in burrows, masses of plants, snags, tubes, and other aquatic formations.
15.) The American eel is considered a delicacy in Asia and Europe and many are exported overseas to fulfill the need to eat these slippery critters.
Now a Short American Eel Video!
Be sure to share & comment below! Also, check out the Critter Science YouTube channel. Videos added regularly!
Want to suggest a critter for me to write about? Let me know here.