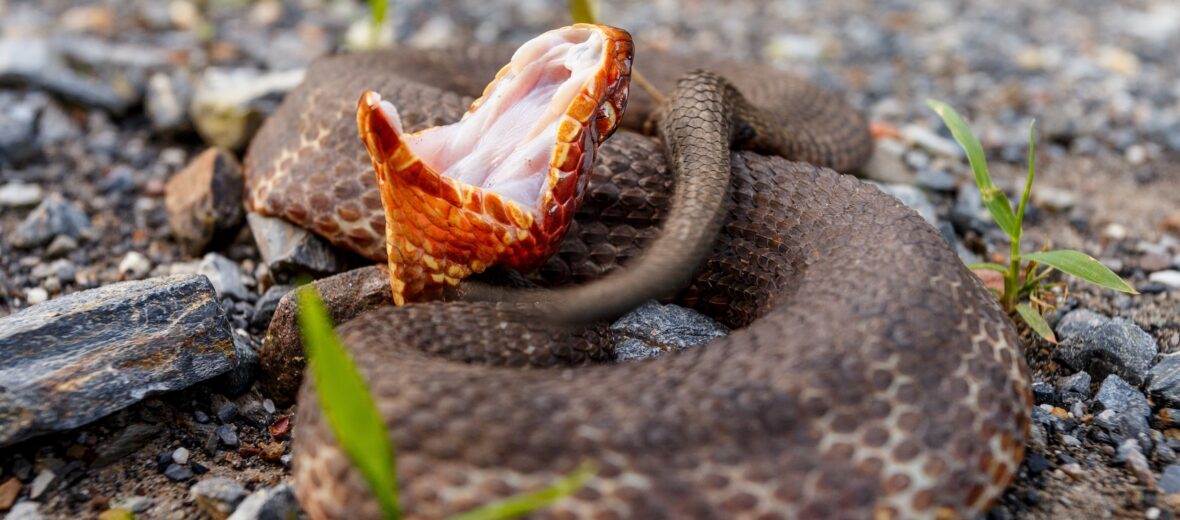 The cottonmouth (aka water moccasin, black moccasin, and the black snake) is a venomous pit viper that resides in the southeastern parts of the United States. They prefer slow moving streams, swamps, marshes, edges of a lakes, ponds, or even brackish tidal estuaries. Even though their habitats are constantly being destroyed, they are still listed as Least Concern, by the IUCN. They get their main namesake due to the white coloration of their mouth.
First the Stats…
Scientific name: Agkistrodon piscivorus
Weight: Up to 4 lbs.
Length: Up to 4 feet
Lifespan: Up to 20 years
Now on to the Facts!
1.) Water moccasins are nocturnal (active at night).
2.) There are 3 subspecies of cottonmouth: western cottonmouth, Florida cottonmouth, and the eastern cottonmouth.
3.) Cottonmouths tend to be on the aggressive side and will usually stand their ground, if threatened. However, they have also been documented fleeing at any signs of danger. Keep your distance though, as they can strike up to 3 feet!
4.) When startled, cottonmouth snakes will often gape (opening the mouth to appear threatening) to warn predators to stay away. This white coloring in their mouth is known as aposematic coloration. This warns predators of their potential danger.
5.) Their main prey items include: small mammals, fish, lizards, amphibians, birds, small turtles, baby alligators, and even other snakes.
But wait, there's more on the cottonmouth!
6.) King snakes, eagles, herons, owls, snapping turtles, and largemouth bass are all predators of the water moccasin.
7.) The water moccasin breeds between spring and Autumn.
Did you know…?
Cottonmouth venom is mainly composed of hemotoxins (venom that breaks down blood cells) which prevents the blood from coagulating (clotting). Envenomation leads to temporary and even permanent tissue and muscle damage, loss of the bitten extremity, internal bleeding, and extreme pain around the bite area.
8.) Like other pit vipers, these snakes are ovoviviparous (eggs hatch while still in the female and are then born live).
9.) Females reproduce once every 2 – 3 years, giving birth to 10 – 20 young.
10.) They are the only venomous snake in the United States that spends most of their time in the water.
Now a Short Cottonmouth Video!
Also, check out the Critter Science YouTube channel. Videos added frequently!
Want to suggest a critter for me to write about? Let me know here.
Learn more about all kinds of cool critters, right here!