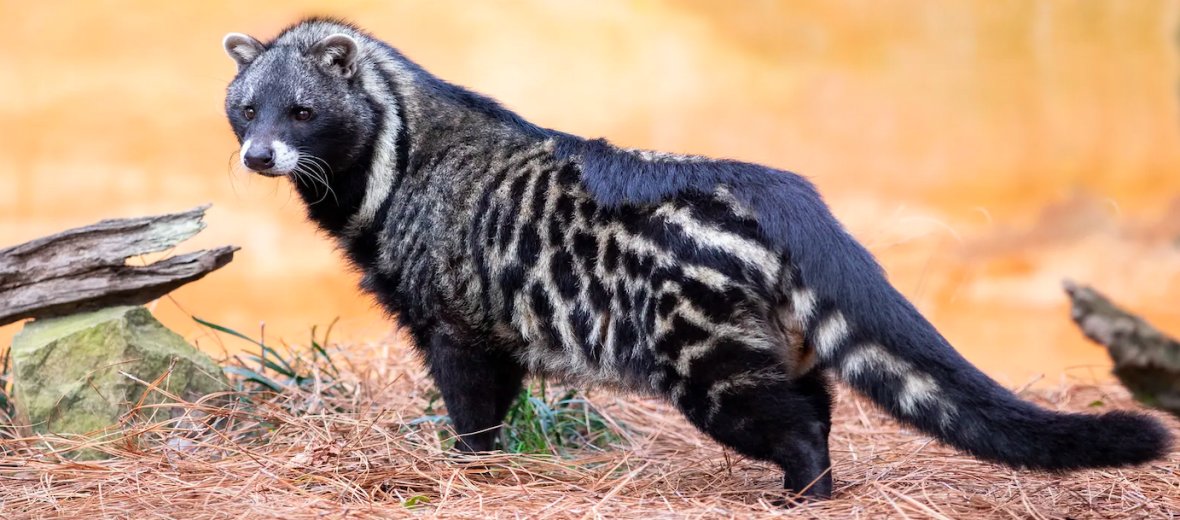 The African civet is considered the largest civet species in Africa and is about 2x as large as the Asian palm civet. They occupy Senegal, in the west, to Somalia, to the east, on down to Botswana, Namibia, and South Africa. These critters can also be found on the island of Zanzibar. African civets prefer forests and open countryside habitats, as long as their is sufficient tall grass to aid in camouflage. They also need access to a permanent water source. Due to their wide spread numbers and presumed stable populations, these critters are listed as Least Concern by the IUCN. However, they do face the threats of hunting, trapping, and habitat loss at the hands of deforestation.
First the Stats…
Scientific name: Civettictis civetta
Weight: Up to 44 lbs.
Length: Up to 2.8 feet, plus up to a 2.5 inch tail
Height: Up to 16 inches
Lifespan: Up to 28 years
Now on to the Facts!
1.) These civets are predominantly nocturnal (active at night). However, on heavy cloud cover days, they can sometimes exhibit crepuscular (active at dawn and dusk) behaviors.
2.) During the day, they will sleep in thick, tall grass.
3.) They are solitary, sans during breeding season.
4.) African civets are territorial and will denote their territory via calls and scent marking via their perineal glands.
5.) Being Omnivores, these critters will prey on beetles, crickets, grasshoppers, termites, mice, rats, reptiles, amphibians, and birds. They will also feed on various fruit, eggs, and carrion (dead animals) in a pinch.
But wait, there's more on the African civet!
6.) It is presumed that these creatures are polygynous (1 male mates with multiple females).
7.) The female will utilize abandoned burrows as nests for her young.
Did you know…?
They have strong stomachs and are able to digest things that are highly poisonous or foul-tasting like Strychnos fruit, millipedes, and extremely decayed carrion.
8.) Breeding season lasts from August – January.
9.) Females undergo up to a 71 day gestation (pregnancy) that yields up to 4 pups.
10.) A female can have up to 3 litters a year.
But wait, there's still more on the African civet!
11.) Pups are born with fur and can crawl at birth. They can walk just 5 days after birth.
12.) In just 18 days, the pups begin leaving the nest and are weaned in about 16 weeks. However, they begin taking solid food at just 6 weeks.
13.) Crocodiles, large snakes, leopards, and lions all prey on African civets.
Did you know…?
Excreting up to .14 ounce of musk a week is common. In fact, people have been collecting this musk for centuries and using it for various purposes.
14.) Several vocalizations are made, including: growls, screams, a cough-spit, and a, "ha ha ha" sound.
15.) If threatened and/or cornered, they will raise the black hair on their back to appear larger and more threatening.
But wait, there's still a little more on the African civet!
16.) The scent of their musk is powerful and can last for up to 3 months!
17.) Each African civet is identifiable by their differing streaks and spots.
18.) In the Afrikaan language, they are called "Afrikaanse civets."
19.) Despite seeming much like cats, they are not part of the feline family at all. Rather, they are more closely related to mongooses and weasels.
Now a Short African Civet Video!
Be sure to share & comment below! Also, check out the Critter Science YouTube channel. Videos added regularly!
Want to suggest a critter for me to write about? Let me know here.
Think you know a lot about critters? Try your hand at these fun, free quizzes: