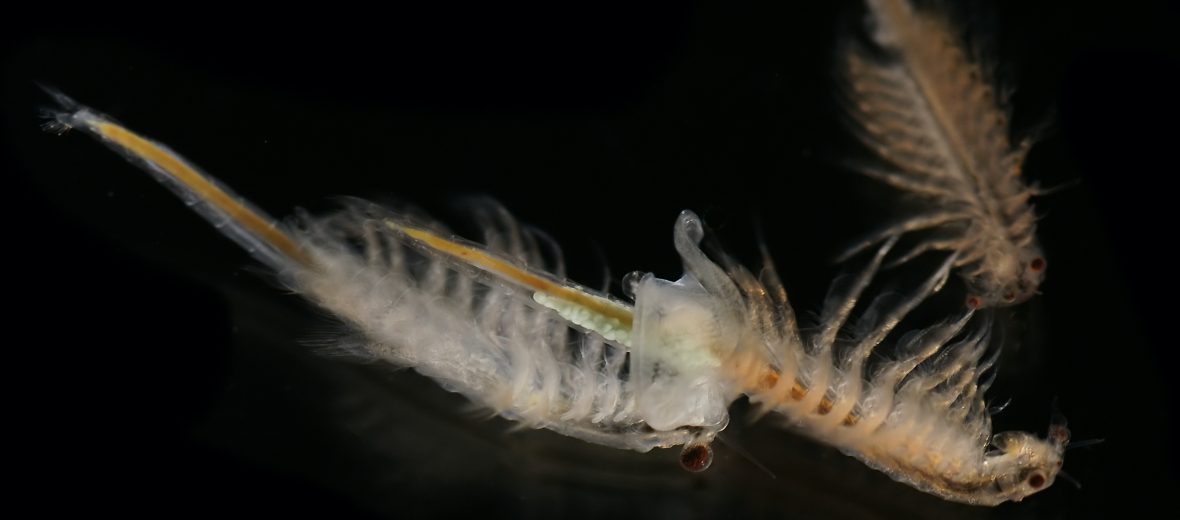 Brine shrimp can be found in the salt ponds south of San Francisco, the Caspian Sea, and also in places where saltwater naturally evaporates along the Californian coastline. There are also various types around the world. They can also be found in the Great Salt Lake, in Utah, in the United States. There are about 9 different species of brine shrimp. Due to their propensity to reproduce quickly and their global distribution, these little critters are not evaluated by the IUCN.
First the Stats…
Scientific name: Artemia
Length: Up to .4 inch
Lifespan: Up to 6 months
Now on to the Facts!
1.) These little survivors have an incredible resilience to changing water conditions. For example, they can tolerate water salinity ranges from 2.9% all the way up to 80% and higher!
2.) Their gills assist in dealing with high salt content by absorbing and excreting ions as needed and producing a concentrated urine from their maxillary glands.
3.) They are able to handle a wide temperature range too. Withstanding temperatures from 77°F to 98.6°F.
4.) Over 2,000 metric tons of dry Artemia cysts (eggs) are sold worldwide annually.
5.) Due to their high salinity environment, they have few predators. But subsequently also a limited diet.
But wait, there's more on the brine shrimp!
6.) They have a long body that is divided into about 3 segments – head, thorax, and abdomen. Along their body, they have 10 sets of appendages called phyllopodia. These are used for locomotion. They also have compound eyes set on eye stalks.
7.) Various breeds of Artemia are sold as pets, termed as the colloquial "Sea Monkeys".
Did you know…?
If necessary, parthenogenesis (reproduction without fertilization) is possible.
8.) Brine shrimp are thought to have diverged from an ancestral form living in the Mediterranean area around 5.5 million years ago, during the time of the Messinian salinity crisis.
9.) The Laboratory of Aquaculture & Artemia Reference Center at Ghent University has the largest known collection of Artemia – 1,700 different cultures, taken from all over the world.
10.) Brine shrimps are branchiopods.
But wait, there's still more on brine shrimp!
11.) Brine shrimp swim upside down.
12.) They also engage in positive phototaxis. This means they are attracted to light. Since their light source comes from above, they swim upside down to face the light. In a test, a light source was reversed and the Artemia swam normal – right side down.
13.) Artemia respirate (breathe) via rhythmic beating of their appendages. They have fibrous, feather-like plates located on their legs.
14.) Brine shrimp feed on planktonic algae.
15.) Cultured brine shrimp can also be fed wheat flour, soybean powder, yeast, or egg yolk.
16.) These diminutive creatures are commonly used as food for various types of aquatic life, from fish to aquatic amphibians, like young axolotls.
Now a Short Brine Shrimp Video!
Be sure to share & comment below! Also, check out the Critter Science YouTube channel. Videos added regularly!
Want to suggest a critter for me to write about? Let me know here.
Think you know a lot about critters? Try your hand at these fun, free quizzes: