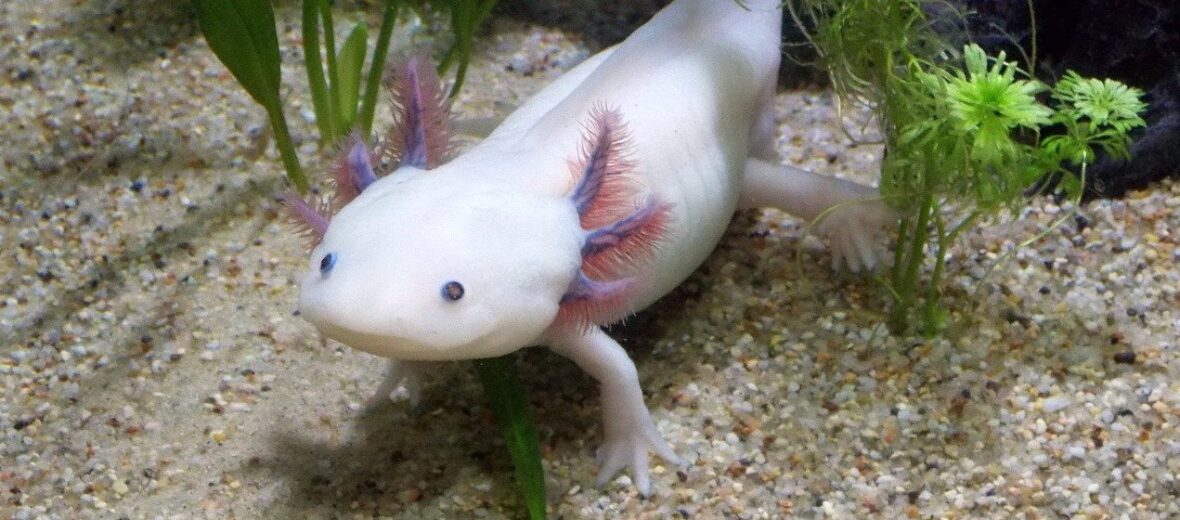 With regenerative powers that rival the mutant Wolverine, the axolotl is able to regrow just about anything lost or damaged. More on that in a bit. These peculiar critters live in Mexico and prefer fresh water lakes and ponds in Xochimilco, Mexico. Because of habitat loss, over collection for the pet trade, pollution, and the introduction of invasive fish species like carp and tilapia, these salamanders are being pushed to the brink of extinction. Even though they look like a Pokemon, they are actually a salamander. These permanently smiling creatures are listed as Critically Endangered by the IUCN. Critically Endangered is just one step away from Extinct. This article is on special request by Eleanor.
First the Stats…
Scientific name: Ambystoma mexicanum
Weight: Up to 8 ounces
Length: Up to 18 inches
Lifespan: Up to 15 years
Now on to the Facts!
1.) These salamanders maintain neoteny (keep their juvenile appearance into adulthood).
2.) Xolotl was a dog-headed god from Aztec mythology. This "dog" was allegedly scared of being killed so he transformed into a axolotl to escape death. It then became stuck in this form, unable to escape the waters of Xochimilco.
3.) Axolotl keep their gills, but they also have fully functional lungs. They will often rise to the surface for a breath of fresh air.
4.) Being part of the salamander family, these critters are not fish, but amphibians.
5.) Believe it or not, the axolotl is also over 1,000 times more resistant to cancer than mammals. A fact that scientists have been investigating for ages.
But wait, there's more on the axolotl!
6.) Before the axolotl was listed as an endangered species, Xochimilco natives would eat the salamanders. Axolotl tamales were a delicacy, served whole with cornmeal.
7.) The larger the gills, the more surface area that they have for the critical gas exchanges that allow them to breathe underwater. However, they also have lungs and can breathe air.
Did you know…?
You can sever the spinal cord, remove a section, and even crush it, yet it will still regenerate. You can cut the limbs at any section, like the upper arm, elbow, or the wrist, and it will regenerate perfectly. There is no scarring on the skin at the site of the amputation, every tissue is replaced with an exact duplicate. They can also regenerate the same limb 5 times or more. Each regeneration is as perfect as the original!
8.) Axolotls are solitary creatures that only congregate to mate.
9.) They can bite you, but due to their weak jaws and tiny teeth, it feels more like being gummed.
10.) As a bottom feeder, the axolotl makes good use of the gravel that gets sucked up with its food. This gravel is used both to aid in grinding up food as well as to counteract buoyancy, in that the gravel helps keep the salamander weighted towards the bottom.
But wait, there's still more on the axolotl!
11.) The male and female axolotl begin the breeding process with a special dance. Both the male and female will rub and glide against the other's cloaca while dancing in a circular pattern. The male will, in time, drop a cone-shaped mass with a sperm cap, after about 30 seconds of aggressive tail shaking. The female will then pick up the mass with her cloaca following her own tail shaking display and will then fertilize her eggs.
12.) Females will lay between 300 – 1,000 eggs at a time. They breed once a year in the wild and up to 3 times a year in captivity.
13.) They are aggressive towards each other and will also engulf, via a powerful suction, any small fish or shrimp that happens by. When paired together, they will bite off gills, toes, fingers, and tail tips in order to get the point across that they just want to be left alone.
14.) Axolotls have an excellent sense of smell. It's one of their main ways of detecting prey and communicating with one another.
15.) Herons, storks, carp, and tilapia all prey on axolotls.
But wait, there's still even more on the axolotl!
16.) In 1998, there were approximately 2,300 salamanders per square mile. By 2014, that number decreased to less than 14 salamanders per square mile. So in just over 16 years, there's been a decline of 2,286 wild axolotls per square mile!
17.) Researchers are encouraging axolotl to breed by building shelters in Xochimilco. They use sacks of rocks and reeds to establish safe havens for these amazing creatures to breed and thrive.
18.) They secrete chemical trails that other members of their species can pick up, which signals I'm in the mood for love or stay away.
19.) Axolotls hunt their prey through special sensory organs located in their gills and fins. They don't have good vision, so rather than depend on their ability to see their environment, they respond to things like movement and pressure in the water to find their way around and to hunt.
20.) These incredible animals may look like they have a permanent smile on their face, but they are not only aggressive towards one another, they will also cannibalize each other. How about that, Clarice?
Now a Short Axolotl Video!
Also, check out the Critter Science YouTube channel. Videos added frequently!
Want to suggest a critter for me to write about? Let me know here.
Learn more about all kinds of cool critters, right here!