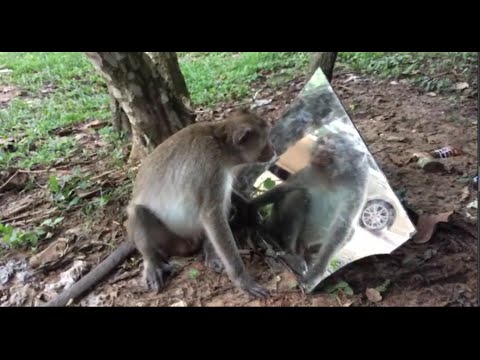 Meet the Rhesus Macaque Monkey
The rhesus macaque (Macaca mulatta) is one of the best-known species of Old World monkeys. It is listed as Least Concern in the IUCN Red List of Threatened Species in view of its wide distribution, presumed large population, and its tolerance of a broad range of habitats. Native to South, Central, and Southeast Asia, rhesus macaque have the widest geographic ranges of any nonhuman primate, occupying a great diversity of altitudes and a great variety of habitats, from grasslands to arid and forested areas, but also close to human settlements.
Description
The rhesus macaque is brown or grey in color and has a pink face, which is bereft of fur. Its tail is of medium length and averages between 20.7 and 22.9 cm (8.1 and 9.0 in). Adult males measure about 53 cm (21 in) on average and weigh about 7.7 kg (17 lb). Females are smaller, averaging 47 cm (19 in) in length and 5.3 kg (12 lb) in weight. Rhesus macaques have, on average, 50 vertebrae. Their ratio of arm length to leg length is 89%. They have dorsal scapulae and a wide rib cage.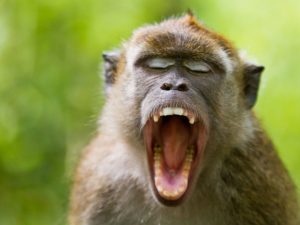 The rhesus macaque has 32 teeth with a dental formula of 2.1.2.3/2.1.2.3 and bilophodont molars. The upper molars have four cusps: paracone, metacone, protocone, and hypocone. The lower molars also have four cusps: metaconid, protoconid, hypoconid, and entoconid.
Distribution
Rhesus macaques are native to India, Bangladesh, Pakistan, Nepal, Burma, Thailand, Afghanistan, Vietnam, southern China, and some neighboring areas. They have the widest geographic ranges of any nonhuman primate, occupying a great diversity of altitudes throughout Central, South, and Southeast Asia. Inhabiting arid, open areas, rhesus macaques may be found in grasslands, woodlands, and in mountainous regions up to 2,500 m (8,200 ft) in elevation. They are regular swimmers. Babies as young as a few days old can swim, and adults are known to swim over a half mile between islands, but are often found drowned in small groups where their drinking waters lie. Rhesus macaques are noted for their tendency to move from rural to urban areas, coming to rely on handouts or refuse from humans. They adapt well to human presence, and form larger troops in human-dominated landscapes than in forests.
The southern and the northern distributional limits for rhesus and bonnet macaques, respectively, currently run parallel to each other in the western part of India, are separated by a large gap in the center, and converge on the eastern coast of the peninsula to form a distribution overlap zone. This overlap region is characterized by the presence of mixed-species troops, with pure troops of both species sometimes occurring even in close proximity to one another. The range extension of rhesus macaque – a natural process in some areas, and a direct consequence of introduction by humans in other regions – poses grave implications for the endemic and declining populations of bonnet macaques in southern India.
The Thai population is locally classified as endangered. There are about 1,000 troops at Wat Tham Pha Mak Ho, Tambon Si Songkhram, Wang Saphung district, Loei province.
Distribution of subspecies and populations
Rhesus macaques in the Red Fort of Agra in India
Rhesus macaque in Kinnerasani Wildlife Sanctuary, Andhra Pradesh, India
The name "rhesus" is reminiscent of the Greek mythological king, Rhesus. However, the French naturalist Jean-Baptiste Audebert, who applied the name to the species, stated: "it has no meaning".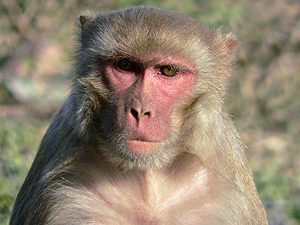 Around the spring of 1938, a colony of rhesus macaques called "the Nazuris" was released in and around Silver Springs in Florida by a tour boat operator known locally as "Colonel Tooey" to enhance his "Jungle Cruise". A traditional story that the monkeys were released for scenery enhancement in the Tarzan movies that were filmed at that location is false, as the only Tarzan movie filmed in the area, 1939's Tarzan Finds a Son!, does not contain rhesus macaques. In addition, various colonies of rhesus and other monkey species are speculated to be the result of zoos and wildlife parks destroyed in hurricanes, most notably Hurricane Andrew.
A notable colony of rhesus macaques on Morgan Island, one of the Sea Islands in the South Carolina Lowcountry, was imported in the 1970s for use in local labs and are, by all accounts, thriving.
Humans And Monkeys Share Machiavellian Intelligence
Date: October 25, 2007
Source: University of Chicago
Summary: When it comes to their social behavior, people sometimes act like monkeys, or more specifically, like rhesus macaques, a type of monkey that shares with humans strong tendencies for nepotism and political maneuvering, according to new research. "After humans, rhesus macaques are one of the most successful primate species on our planet; our Machiavellian intelligence may be one of the reasons for our success," says one of the scientists.
When it comes to their social behavior, people sometimes act like monkeys, or more specifically, like rhesus macaques, a type of monkey that shares with humans strong tendencies for nepotism and political maneuvering, according to research by Dario Maestripieri, an expert on primate behavior and an Associate Professor in Comparative Human Development and Evolutionary Biology at the University of Chicago.
"After humans, rhesus macaques are one of the most successful primate species on our planet; our Machiavellian intelligence may be one of the reasons for our success" wrote Maestripieri.*
Maestripieri has been studying monkeys for more than 20 years and has written extensively on their behavior. He has studied them in Europe, at a research center in Atlanta, and on an island in Puerto Rico, where researchers established a rhesus macaque colony for scientific and breeding purposes.
Rhesus macaques live in complex societies with strong dominance hierarchies and long-lasting social bonds between female relatives. Individuals constantly compete for high social status and the power that comes with it using ruthless aggression, nepotism, and complex political alliances. Sex, too, can be used for political purposes. The tactics used by monkeys to increase or maintain their power are not much different from those Machiavelli suggested political leaders use during the Renaissance.
Alpha males, who rule the 50 or so macaques in the troop, use threats and violence to hold on to the safest sleeping places, the best food, and access to the females in the group with whom they want to have sex. Like human dictators intent on holding power, dominant monkeys use frequent and unpredictable aggression as an effective form of intimidation. Less powerful members of the rhesus macaque group are marginalized and forced to live on the edges of the group's area, where they are vulnerable to predator attacks. They must wait for the others to eat first and then have the leftovers; they have sex only when the dominant monkeys are not looking.
"In rhesus society, dominants always travel in business class and subordinates in economy, and if the flight is overbooked, it's the subordinates who get bumped off the plane," Maestripieri said. "Social status can make the difference between life and death in human societies too," he pointed out. In the wake of Hurricane Katrina, for instance, the poorer members of the community accounted for most of the hurricane's death toll.
Male macaques form alliances with more powerful individuals, and take part in scapegoating on the lower end of the hierarchy, a Machiavellian strategy that a mid-ranking monkey can use when under attack from a higher-ranking one. Altruism is rare and, in most cases, only a form of nepotistic behavior. Mothers help their daughters achieve a status similar to their own and to maintain it throughout their lives. Females act in Machiavellian ways also when it comes to reproduction. They make sure they have lots of sex with the alpha male to increase the chances he will protect their newborn infant from other monkeys 6 months later.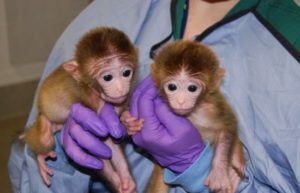 "But while they have lots of sex with the alpha male and make him think he's going to be the father of their baby, the females also have sex with all the other males in the group behind the alpha male's back," Maestripieri said. They do so just in case the alpha male is sterile or he dies or loses his power before the baby is born.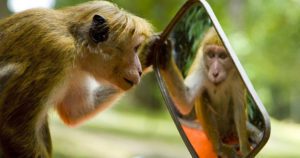 Struggles for power within a group sometimes culminate in a revolution, in which all members of the most dominant family are suddenly attacked by entire families of subordinates. These revolutions result in drastic changes in the structure of power within rhesus societies, not unlike those occurring following human revolutions. There is one situation, however, in which all of the well-established social structure evaporates: when a group of rhesus macaques confronts another one and monkey warfare begins. Rhesus macaques dislike strangers and will viciously attack their own image in a mirror, thinking it's a stranger threatening them. When warfare begins, "Even a low-ranking rhesus loner becomes an instant patriot. Every drop of xenophobia in rhesus blood is transformed into fuel for battle," Maestripieri wrote.
"What rhesus macaques and humans may have in common is that many of their psychological and behavioral dispositions have been shaped by intense competition between individuals and groups during the evolutionary history of these species" Maestripieri said. Rhesus groups can function like armies, and this may explain why these monkeys have been so successful in the competition with other primates.
Pressure to find Machiavellian solutions to social problems may also have led to the evolution of larger human brains.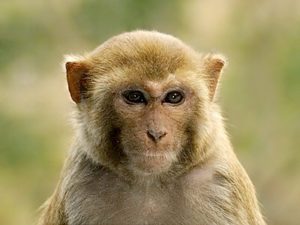 "Our Machiavellian intelligence is not something we can be proud of, but it may be the secret of our success. If it contributed to the evolution of our large brains and complex cognitive skills, it also contributed to the evolution of our ability to engage in noble spiritual and intellectual activities, including our love and compassion for other people", Maestripieri said.
*This is in the new book Macachiavellian Intelligence: How Rhesus Macaques and Humans Have Conquered the World.
Story Source for Macachiavellian Intelligence: Materials provided by University of Chicago.