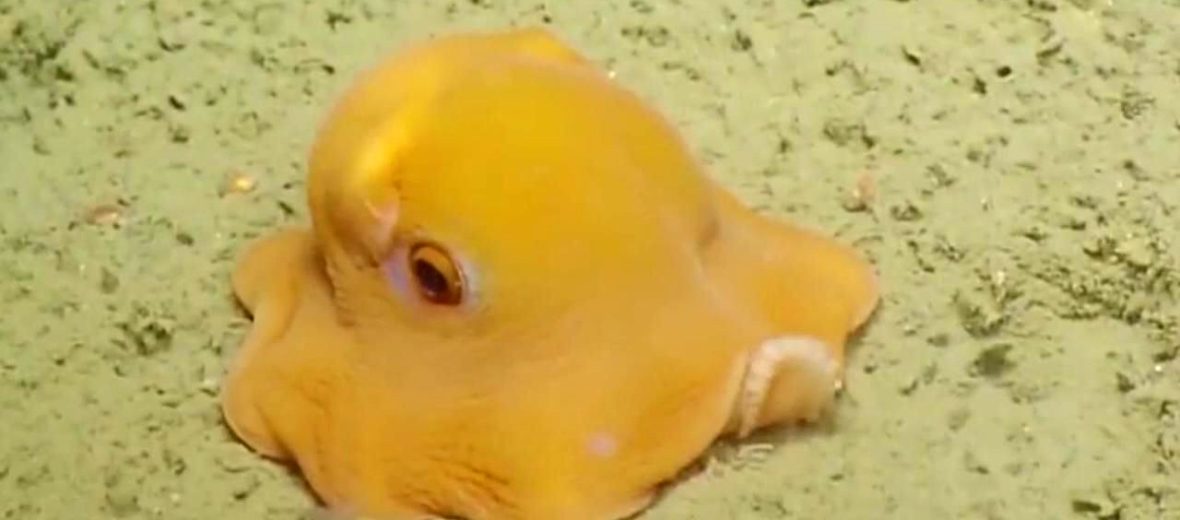 The flapjack octopus, aka adorabilis, is a species of umbrella octopus that hails from the northern and northeastern Pacific Ocean. These adorable critters are listed as Data Deficient by the IUCN, as there is still so much to learn about them and their overall numbers. They dwell in the deep and dark ocean waters and stay close to the ocean floor.
First the Stats…
Scientific name: Opisthoteuthis californiana
Weight: Up to 12 ounces
Length: Up to 7.9 inches (mantle), plus up to a 20 inch legspan
Lifespan: Up to 2.6 years
Now on to the Facts!
1.) They swim by pulsing their webbed arms, moving their fins, pushing water through their funnel for jet propulsion boost, or all 3 at the same time.
2.) These octopuses can be found up to 4,200+ feet deep.
3.) Unlike other octopuses, these little creatures are unable to change the color and/or texture of their skin.
4.) They also are unable to produce ink clouds.
5.) These diminutive critters also lack a radula (flexible ribbon studded with teeth that is used to scrape up pieces of food).
But wait, there's more on the flapjack octopus!
6.) Filaments called cirri line these octopus' arms and are likely used to search for food in the muddy substrate.
7.) Like other cirrate octopuses, these cephalopods lay just 1 – 2 large eggs over the course of a few years, rather than a large clutch of eggs towards the tail end of her lifetime.
Did you know…?
Flapjacks actually belong to a special group of octopuses called cirrate octopods.
8.) The eggs have a hard, protective outer shell, rather than a gelatinous consistency.
9.) Once an egg or eggs are laid, the mother leaves, unlike other cephalopods that guard their brood till the parent dies.
10.) Eggs take upwards of 1.4 years to hatch.
But wait, there's still more on the flapjack octopus!
11.) Their diet consists of various isopods, copepods, mysids, and smaller shrimp.
12.) There was a character in the popular film, starring a clownfish that searches for his lost son, that is modeled after a flapjack octopus.
13.) Certain fishes, sharks, fur seals, and sperm whales are known to prey on these octopuses.
14.) When faced with a Predator, they can make a quick retreat via jet propulsion.
Now a Short Flapjack Octopus Video!
Be sure to share & comment below! Also, check out the Critter Science YouTube channel. Videos added regularly!
Want to suggest a critter for me to write about? Let me know here.