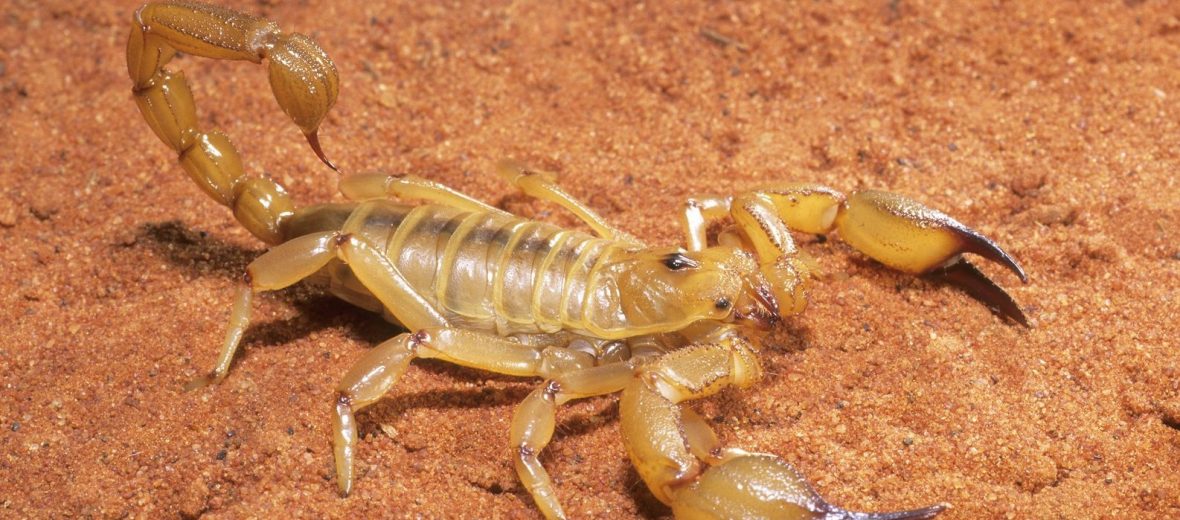 The Australian desert scorpion, aka desert robust scorpion, desert scorpion, or inland scorpion, hails from southwestern Queensland, across South Australia, the southern Northern Territory, northwestern New South Wales, to Broome, and Laverton in Western Australia. They prefer sand dune habitats with little moisture. Due to their stable and abundant populations, these critters are not currently evaluated by the IUCN. This article is for my friend Caleb.
First the Stats…
Scientific name: Urodacus yaschenkoi
Length: Up to 2.8 inches
Lifespan: Up to 15 years
Now on to the Facts!
1.) These gregarious scorpions have been seen in communities with up to 400 individuals.
2.) Burrows are made in sand dunes and measure up to 39.37 inches deep!
3.) The venom of these scorpions is not considered medically significant.
4.) Like all known species of scorpions, the Australian desert scorpion exhibits florescence under a black light.
5.) These scorpions are considered psammophiles (sand lovers) and have special adaptations for living in their sandy habitats. 1 such adaptation is the presence of sand combs on their legs. These are used for excavating sand from their burrows.
But wait, there's more on the Australian desert scorpion!
6.) They're often seen for sale in Australian pet stores.
7.) Females produce up to 40 young after up to an 18 month gestation (pregnancy)!
Did you know…?
A sting from 1 of these critters results in intense pain and slight redness and tingling to the affected area.
8.) Like other scorpions, the young are born live and not hatched from eggs. In captivity, the gravid females will often reabsorb her young, and not actually give birth.
9.) Once born, the young scorpions will migrate to mom's back until their 2nd or 3rd instar (molt). Then they venture off.
10.) Preferring not to drink standing water, these scorpions have evolved the ability to obtain water via osmosis, from damp soil.
But wait, there's still more on the Australian desert scorpion!
11.) Ecdysis (shedding their exoskeleton, or molting) typically takes place during warmer months.
12.) It takes 6 instars (molts) to reach adulthood.
Did you know…?
These critters are fossorial (spend most of their lives underground).
13.) The desert scorpion preys on insects and arachnids.
14.) Ausie desert scorpions are also nocturnal (active at night).
15.) They are preyed on by birds of prey and lizards, like the goanna.
Now a Short Australian Desert Scorpion Video!
Be sure to share & comment below! Also, check out the Critter Science YouTube channel. Videos added regularly!
Want to suggest a critter for me to write about? Let me know here.