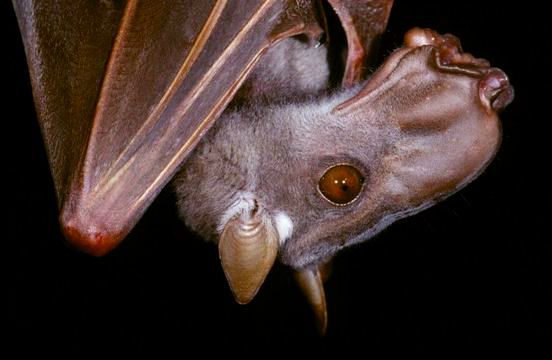 That's right. You read it correctly. It's not a hammerhead shark, it's a hammerhead bat! This critter is what is called a megabat. They are widely distributed in equatorial Africa. This large bat is found in riverine forests, mangroves, swamps, and palm forests at elevations less than 1,800 meters (5,900 ft).
First the Stats…
Weight: Up to 15.9 ounces
Length: Up to 11.2 inches
Wingspan: Up to 38.2 inches
Lifespan: Up to 30 years
Now on to the Facts!
1.) The male possesses an enormous head for producing loud honking calls.
2.) Hammer-headed bats are frugivores. This means that they only eat fruit.
3.) Males may fly long distances (up to 10 km or 6 mi) to locate the highest quality food!
4.) Most large bats tend to overheat when flying, so they tend to only fly during cooler times of the day, like in the evening. So, you guessed it, these bats too are nocturnal. (They are active at night.)
5.) The main predators of the hammerhead bat are humans and nocturnal and diurnal birds of prey.
But wait, there's more on the hammerhead!
6.) Not much is known about the reproduction in hammer-headed bats. In some populations breeding is thought to take place semi-annually during the dry seasons.
7.) Females generally produce one offspring at a time.
Did you know…?
These bats are considered a minor pest as they have been known to kill chickens!
8.) Being mammals, the females provide milk, protection, grooming, and other essentials to the young.
9.) In some populations of hammer-headed bats, males gather along rivers at night and display by rapid wing flapping accompanied by loud vocalizations.[10] An arena may contain from around 25 to 130 males. Females fly through the arena assessing the males. Once the female's choice is made, the female lands on the branch and sits beside the male. Then the mating begins!
10.) The baby bats are called pups.
11.) It is suspected that the hammerhead bats may be a carrier for ebola.
Now a Short Hammerhead Bat Video!
Some source information gathered from Wikipedia.