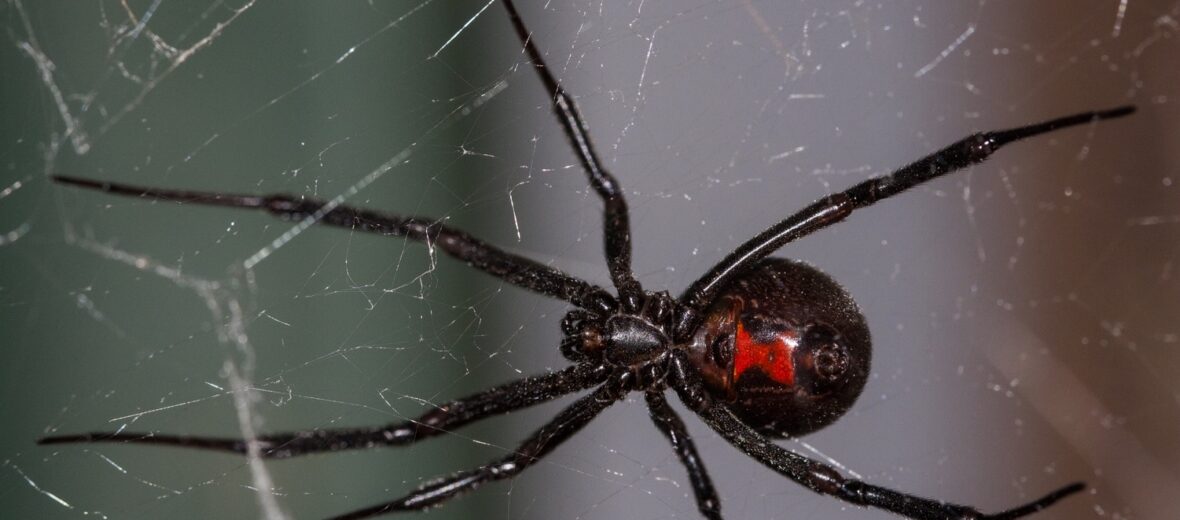 Few spiders have gained such popularity as the black widow. Known for their potentially deadly bites and the fact that they sometimes eat their suitors, well… that's not the best way to be liked by your peers. Today's article will talk about this misunderstood critter and shed some light on the dangers as well as the largely unknown regarding the most venomous spider in North America.
First the Stats…
Scientific name: Latrodectus
Length (including legspan): Up to 1.5 inches
Lifespan: Up to 3 years
Now on to the Facts!
1.) Black widows are found in temperate regions throughout the world, including the United States, southern Europe and Asia, Australia, Africa, and much of South America.
2.) The black widow spider eats other arachnids and insects that get caught in their webs.
3.) The widow weaves a tangled web with runners that reach to the ground. These runners help send out vibrations when prey gets stuck in the web. Once she senses the vibrations, she moves in for the attack (previously hiding out of sight) and injects her prey with a highly toxic venom; paralyzing her victim. Then she wraps her meal in a silken cocoon for storage.
4.) The male widow is a bit of a squater and will live near or on her webbing. Her pheromones are all over the webbing so, to keep other males away, he will typically cut the webbing and roll it up to help hide her scent. Not nice, since she worked so hard for the web and will her whole life.
5.) There are actually a few species in the genus Latrodectus that are referred to as 'black widow' spiders in the U.S. There are also red widows and brown widows!
But wait, there's more on the black widow
6.) The female black widow lays approximately 200 eggs. The eggs incubate for some 20 days in a small, round, papery sac that's attached to the mother's web. After hatching, the baby spiders stay in the cocoon for up to one month.
7.) Only adult female black widows inflict dangerous bites. Males are venomous too, but they only hurt when they bite. Males aren't medically significant.
8.) Studies show that sexual cannibalism is actually quite rare in widow spiders in the wild, and even uncommon among captive spiders. However, it does still happen.
9.) Like all arachnids, the black widow spider has poor eye sight. So she relies on her web vibrations and the vibrations she senses from the tiny hairs on her legs to act as her eyesight.
10.) Black widow venom is 15 times as toxic as that of the prairie rattlesnake!
Did you know…?
Black widows are sexually dimorphic. This means that there is a distinct difference in size or appearance between the sexes of an animal in addition to difference between the sexual organs themselves. The male is substantially smaller than the female and mostly brown in color.
11.) Black widow bites aren't always fatal. Out of 23,000 documented Lactrodectus envenomation cases that occurred in the U.S. from 2000 to 2008, the study authors noted that not a single death occurred as a result of a black widow bite. Only 1.4% of bite victims suffered "major effects" of black widow venom.
12.) Their venom causes a condition known as Latrodectism. The common affects of envenomation are (and these can vary per individual): difficulty breathing (which is due to paralysis of the diaphragm), nausea, chills, a severe increase in blood pressure, headache (possibly due to the high blood pressure), sweating, weakness, and fever. Death is possible, but rare and typically occurs with an individual who happens to be allergic.
13.) I've seen first hand though what happens when a person gets bit by a female widow and they were allergic. Their pupils dilated, they turned pale white, and breathed rapidly and with shallow breaths. Fortunately, they made it to the hospital, via ambulance, and received antivenom. Saved their life. Afterwards, they said that every inch of their body hurt. Even blinking hurt.
14.) Like most other arachnids, the widow's venom will also aid in turning the insides of her prey into a sort of oatmeal consistency, allowing her to lap up her meal and discard the inedible remains. This is necessary because most arachnids (spiders in general) don't have chewing mouth parts.
15.) Black widow attacks humans only when it is threatened.
16.) The black widow produces among the strongest silk in the world of spiders.
Now a Short Black Widow Video!
Also, check out the Critter Science YouTube channel. Videos added frequently!
Want to suggest a critter for me to write about? Let me know here.
Learn more about all kinds of cool critters, right here!