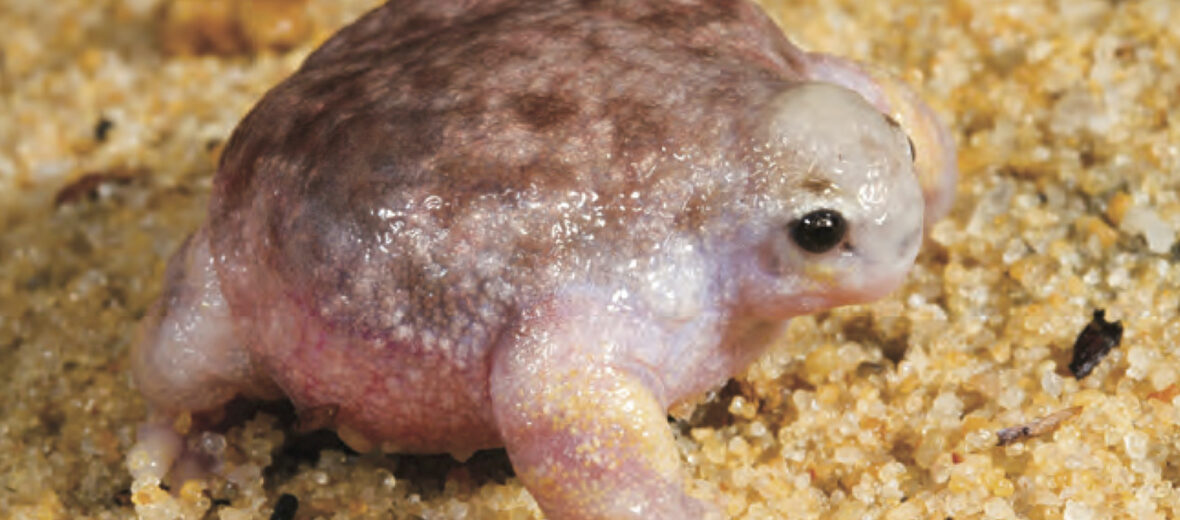 Hailing from Perth in Western Australia, the turtle frog has a range that extends between the Fitzgerald River & Geraldton, and is found in sandy soils wherever there are termites available. These frogs are expert diggers that use their powerful legs to dig burrows. Unlike most burrowing frogs, the turtle frog uses it's clawed front legs to dig and digs head first.
First the Stats…
Scientific name: Myobatrachus gouldii
Weight: Up to .2+ ounces
Length: Up to 1.8 inches
Lifespan: Up to 6 years
Now on to the Facts!
1.) These frogs can dig burrows up to 3 feet deep!
2.) Turtle frogs also use their powerful front legs to dig into termite mounds for food.
3.) Females lay up to 50 eggs at a time in her burrow.
4.) The eggs hatch into fully formed froglets, skipping the tadpole phase altogether.
5.) Mating occurs in late summer.
But wait, there's more on the turtle frog!
6.) Turtle Frogs are closely related to sandhill frogs and forest toadlets in that they share direct-developing of young and forwards-burrowing habits.
7.) Their mating call is a deep croak and they call from within their burrow.
Did you know…?
Males will call to prospective females for up to 4 months before mating ensues! That's persistence.
8.) Turtle frogs can eat around 400 termites at a single feeding!
Now a Short Turtle Frog Video!
Also, check out the Critter Science YouTube channel. Videos added frequently!
Want to suggest a critter for me to write about? Let me know here.
Learn more about all kinds of cool critters, right here!