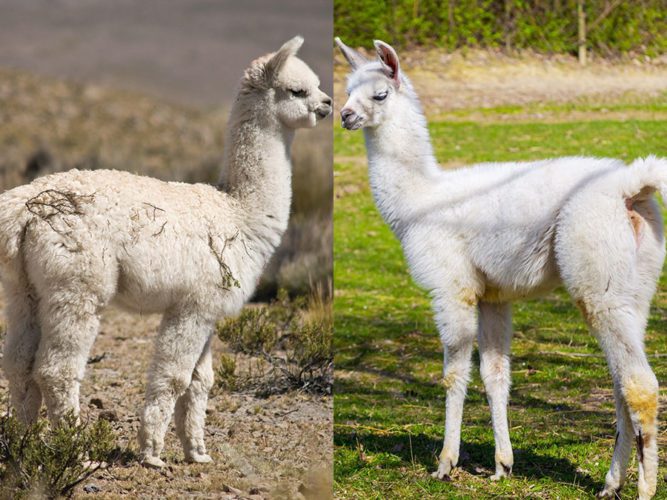 The alpaca vs llama! Quite often these two get confused from one another. I'm here to clarify the difference between the two. First of all, yes, the two critters do both spit when provoked. Two obvious things to look for: Llamas are generally about twice the size of alpacas, and alpacas have short, pointy ears, whereas llamas have much longer ears that stand straight up and give them an alert look. Read more about the differences and similarities. Enjoy and, as always, leave a comment below!
First the Stats…
Alpaca Stats
Scientific name: Vicugna pacos
Weight: 110 – 190 lbs (Adult)
Height: 2.7 – 3.2 ft. (Adult, At the withers)
Lifespan: 10 – 15 years (in the wild) | 20+ years (in captivity)
Llama Stats
Scientific name: Lama glama
Weight: 290 – 440 lbs (Adult)
Height: 5.6 – 5.9 ft. (Adult, At the top of the head)
Lifespan: 10-15 years (In the wild) | 30+ years (in captivity)
First the Alpaca Facts!
1.) Alpacas come in two models: Huacaya & Suri. The Suri has fiber that grows long and forms soft dreadlocks. The Huacaya has a wooly, dense, crimped coat – displaying a wooly look.
2.) Alpacas were domesticated by the Incas over 6,000 years ago and were raised for their amazing fleece.
3.) Alpacas use a group dung pile. They all go to the bathroom in the same place!
Did you know…?
Alpacas and llamas can cross breed!
4.) Alpaca fiber is much like sheep's wool, but warmer and not itchy. It also comes without lanolin, which makes it hypoallergenic and it can also be processed without the need for high temps or harsh chemicals while washing.
5.) Like their cousins the llamas, alpacas spit when angry or annoyed!
But wait, there's more about the alpaca!
6.) Alpacas have soft pads on their feet, which don't churn up the ground like a cow or horse's hooves do.
7.) Alpacas' tails are used to express feelings. If they are bothered by something they will twitch it back and forth. If an animal is being submissive it will raise its tail over its body and then crouch down to the dominant one.
8.) When alpaca eat grass, they only snip off the top of the plant unlike some other animals that pull the grass up by the root when eating.
9.) Alpaca mothers almost always have their babies in the morning.
10.) Alpacas love to sunbathe. They will lay down on their sides and catch some rays.
alpaca vs llama, the debate continues…
Now the Llama Facts!
1.) Llamas were first domesticated and used as pack animals 4,000 to 5,000 years ago in the Peruvian highlands.
2.) lamas are members of the camelid, or camel, family.
3.) Llamas have inherited fear of coyote, mountain lions and other dog-like animals.
Did you know…?
If you try to overload a llama with too much weight, the llama will lie down or just refuse to move.
4.) Llama poop has almost no odor. Llama farmers often refer to llama manure as "llama beans."
5.) Llamas don't bite. They spit typically only when they're agitated, but that's mostly at each other.
But wait, there's more on the llama!
6.) Llamas are herbivores. They eat grass and ferns mainly. Llama on the farm may eat 6 pounds of hay per day.
7.) Llamas come in a range of solid and spotted colors including black, gray, beige, brown, red and white.
8.) Yarn made from llama fiber is soft and lightweight, yet remarkably warm.
9.) Llamas do not have specific time of mating. Male usually chases female for up to 10 minutes until she is finally ready to mate.
10.) Llama is not hoofed animal. It has two toenails on each foot and leathery pad underneath.
Now a Short Alpaca & Llama Video!