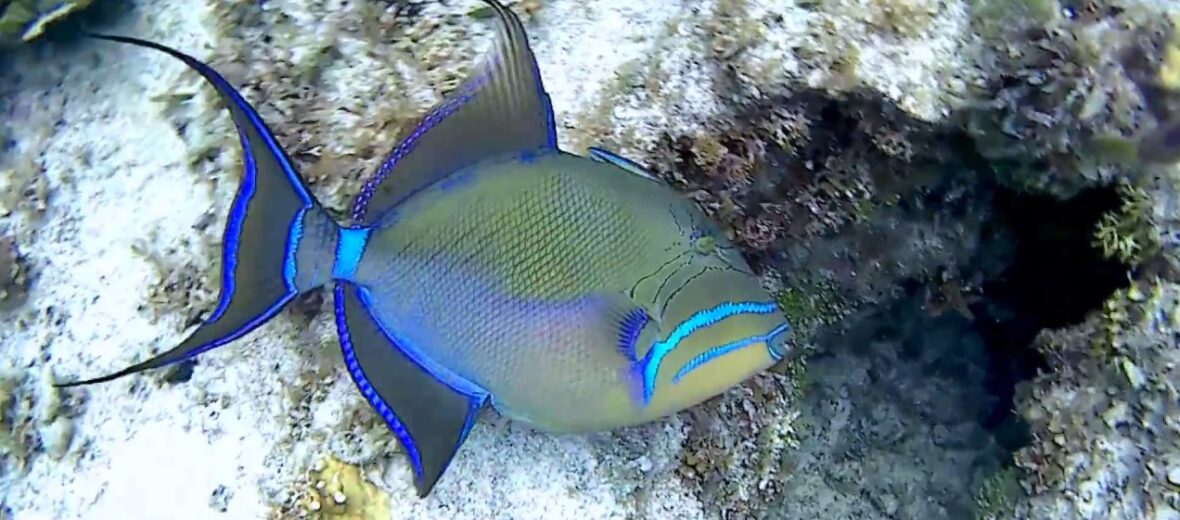 The queen triggerfish, aka old wife, ol'wife, turbot, baliste royal, bourse (bousse) – French, cachuda – Spanish, or cochino – in Cuban (to name a few), hails from the Atlantic Ocean. These large triggerfish are sometimes kept in marine aquariums and are even caught as game fish. Queen triggerfish are listed as Near Threatened by the IUCN due to overfishing, disease, and invasive species. Their numbers are also decreasing.
First the Stats…
Scientific name: Balistes vetula
Weight: Up to 12 lbs.
Length: Up to 23.5 inches
Lifespan: Up to 13 years
Now on to the Facts!
1.) These fish typically shy away from divers, when approached. However, when defending their nests, they can become very defensive and are capable of a painful bite.
2.) Triggerfish kill their prey in a unique way. They bite onto their prey and then use powerful jets of water to blast chunks of flesh from them. Then the triggerfish will eat the smaller chunks of flesh.
3.) The jet of water produced by these fish is so strong that it makes an audible clicking sound.
4.) Queens can be found at depths of up to 900+ feet. However, they prefer more shallow waters of around 70 – 100 feet.
5.) It is common to see them swimming around reefs, sandy, and grassy habitats.
But wait, there's more on the queen triggerfish!
6.) Fish, crustaceans, sea stars, sea urchins, sea cucumbers, and shrimp are all on the menu.
7.) When approaching an urchin, they will use their jet of water to tip the urchin upside down, in order to get at the tasty meat and avoid being stuck by a spine.
Did you know…?
They have a powerful bite, using 4 sharp teeth and strong jaws. Once they have bitten on, they will tend to blast a jet of water at when they have a hold of to do even more damage.
8.) The anterior dorsal fin has 2 spines raise up and are used to lock the fish into crevices when sleeping or to avoid a larger fish from pulling them out. It's how they get their common name triggerfish.
9.) Males guard territories of up to 33 square feet.
10.) Females can lay up to 700,000+ eggs. They also breed year round.
But wait, there's still more on the queen triggerfish!
11.) Males build a bowl-shaped nest by fanning the sand with their caudal fin and by jetting water at the sand.
12.) Eggs are laid in the bowl-shaped nest and are fiercely guarded by both the male and female.
13.) Groupers, jacks, sharks, tuna, and marlin all prey on queen triggerfish.
13.) The queen triggerfish was originally described in 1758 by Linnaeus.
14.) Triggerfish, like the queen trigger, are hardy fishes that survive well in aquariums. However, they are often avoided due to their defensive nature towards other tank mates.
Now a Short Queen Triggerfish Video!
Be sure to share & comment below! Also, check out the Critter Science YouTube channel. Videos added frequently!
Want to suggest a critter for me to write about? Let me know here.
Learn more about all kinds of cool critters, right here!