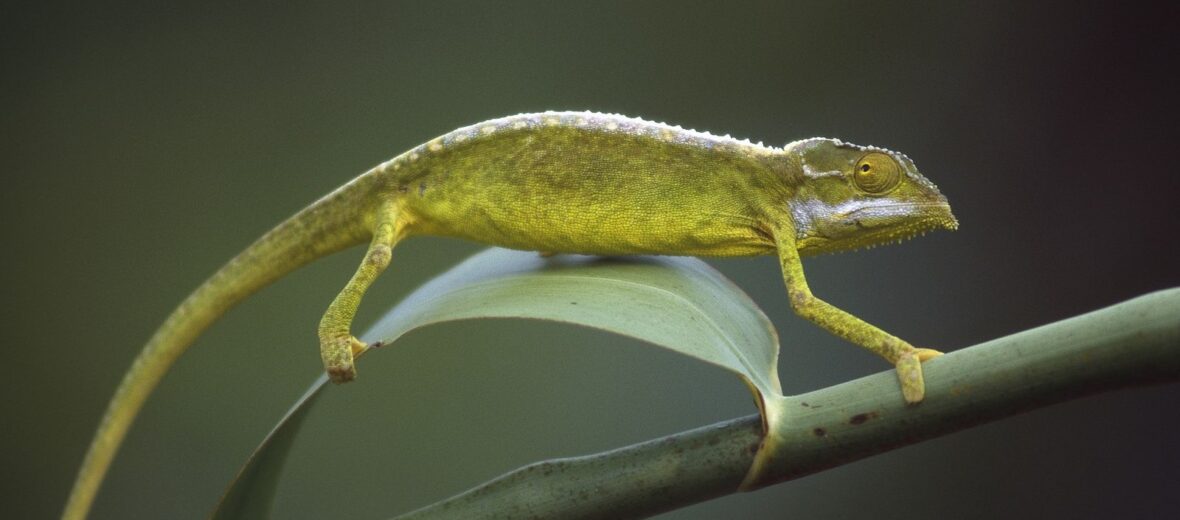 The tiger chameleon hails from the tiny islands of Mahé, Praslin, and Silhouette. They prefer primary tropical forests, secondary forests with a high plant diversity, and upland rural gardens. These critters can be found at elevations from sea level up to 1,800 feet. Sadly, these cool chams face the threat of invasive species and with them disease. There is also the constant threat of over-collection for the pet trade. These chameleons are listed as Endangered by the IUCN.
First the Stats…
Scientific name: Archaius tigris
Weight: Up to 3+ ounces
Length: Up to 6.3 inches
Lifespan: Up to 6 years
Now on to the Facts!
1.) There are only around 2,000 wild individuals remaining, to date.
2.) Like all known chameleons, the tiger chameleon is diurnal (active during the day).
3.) Like all chameleons, they come equipped with a long, sticky tongue that can be fired at incredible speeds at their prey.
4.) Tiger chameleons are, like all known chameleons, insectivores (feed exclusively on insects and insect larvae).
5.) They are preyed on by snakes and birds.
But wait, there's more on the tiger chameleon!
6.) These chameleons as well as their habitats are protected within the Mahé and Praslin National Parks.
7.) Females lay up to 12 eggs.
Did you know…?
A chameleon can fire its tongue at a target in 1/100th of a second!
8.) Eggs are laid on pineapple plants and palm trees.
9.) They face the threat of habitat destruction as well, from cinnamon plants and the room needed to grow them.
10.) Chameleons, contrary to popular belief, do not change color to blend into their surroundings. They instead alter their colors based on their mood. If threatened, for example, they will sometimes turn an almost black color. When mating, their colors becaome more brilliant.
Now a Short Tiger Chameleon Video!
This video talks about chameleons, in general.
Be sure to share & comment below! Also, check out the Critter Science YouTube channel. Videos added frequently!
Want to suggest a critter for me to write about? Let me know here.
Learn more about all kinds of cool critters, right here!
Photo credit: By Hans Stieglitz – Own work, CC BY-SA 3.0, https://commons.wikimedia.org/w/index.php?curid=14986642