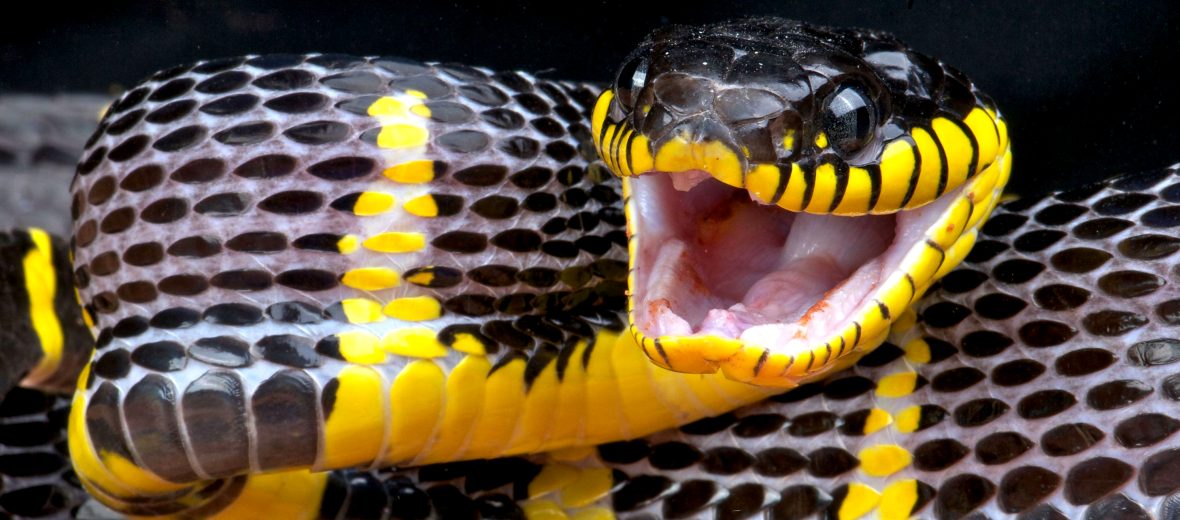 The mangrove snake, aka gold-ringed cat snake, hails from Malaysia, Myanmar, Cambodia, Indonesia, the Philippines, Thailand, Singapore, and Vietnam. These snakes prefer lowland rainforests and mangrove forests, close to water. Even though they face the threat of habitat destruction, these snakes have a stable population and are listed as Least Concern by the IUCN.
First the Stats…
Scientific name: Boiga dendrophila
Weight: Up to 3+ lbs.
Length: Up to 7 feet
Lifespan: Up to 15 years
Now on to the Facts!
1.) Being nervous and aggressive by nature, they don't take well to being handled, and will often bite.
2.) Like so many other snakes, they are solitary and only come together to breed.
3.) Mangrove snakes are nocturnal (active at night).
4.) They are both arboreal (spend their lives in trees) and terrestrial (spend their lives on the ground). During the day, they will shelter in trees and mangroves. At night, they will make the trek on land to hunt.
5.) These snakes prey on birds, reptiles, mice, rats, and bats.
But wait, there's more on the mangrove snake!
6.) The mangrove snake is rear-fanged venomous. This means that they have to bite down and shew their prey to the back of their mouth to slowly deliver their venom.
7.) They are often confused with the banded krait, which is a highly venomous snake.
Did you know…?
They deliver denmotoxin. This is a trifecta of toxins that targets birds, almost exclusively. It is a generally weak venom though and not harmful to humans.
8.) Females lay up to 15 eggs that hatch in up to 4 months.
9.) Like all snakelets, they are born precocial (self sufficient) and like all venomous snakes, they are also born fully venomous.
10.) A group of snakes is called a bed, den, knot, nest, or pit.
Now a Short Mangrove Snake Video!
Be sure to share & comment below! Also, check out the Critter Science YouTube channel. Videos added regularly!
Want to suggest a critter for me to write about? Let me know here.