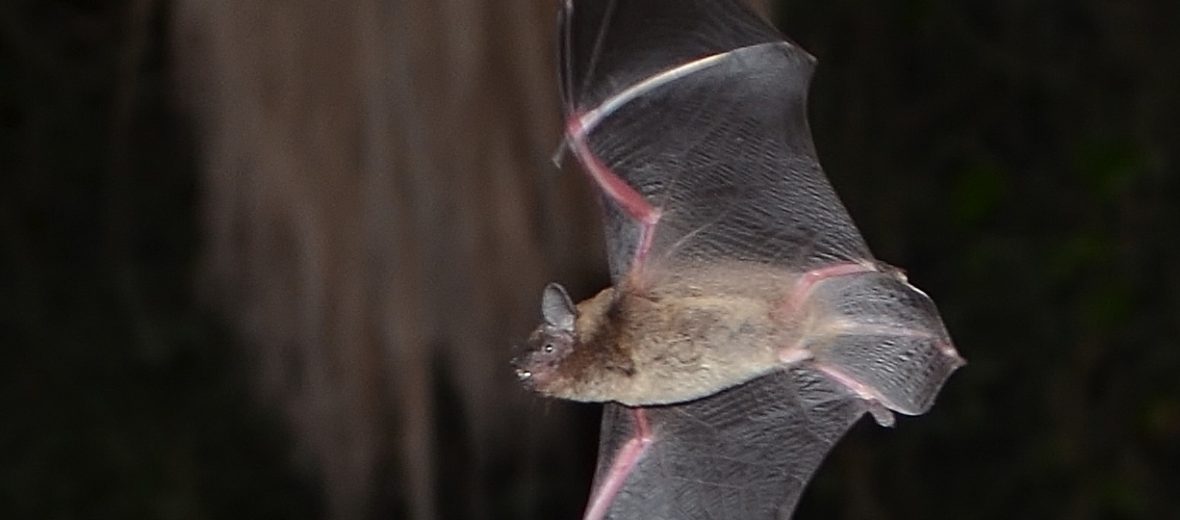 The evening bat hails from the eastern half of the United States, on down to Mexico. They are a member of the vesper bat family. These bats roost under bark, within Spanish moss, in tree cavities, and also in buildings. So far, these bats have not succumbed to white-nose syndrome – WNS (an emergent disease of hibernating bats caused by a fungus, Pseudogymnoascus destructans, that infects the skin of the muzzle, ears, and wings of hibernating bats). Evening bats can tolerate a wide range of habitats and roost sites, and they can handle a fairly large degree of habitat alteration. Although various forest management practices that reduce roost site availability might result in local population declines. For now, their populations are stable across most of their range and they are thus listed as Least Concern by the IUCN.
First the Stats…
Scientific name: Nycticeius humeralis
Weight: Up to .32 ounce
Length: Up to 3.7 inches
Wingspan: Up to 10.5+ inches
Lifespan: Up to 6 years
Now on to the Facts!
1.) Evening bats are nocturnal (active at night).
2.) These bats are often mistaken for juvenile big brown bats. But evening bats are smaller.
3.) Although not known for being migratory, the bats in the northern-most reaches of their range might migrate south during colder winter months.
4.) A group of bats is called a camp, cloud, colony, or flock.
5.) Moths, beetles (especially the spotted cucumber beetle – a major agricultural pest), and other winged insects are preyed upon by these bats.
But wait, there's more on the evening bat!
6.) Evening bats mate in the fall and winter. Yet, the females undergo delayed implantation (hold onto sperm deposits until environmental conditions are optimal) and birth in spring.
7.) Females gather into maternity colonies in May, that consist of up to 300 individuals.
Did you know…?
Bats can fly at speeds of up to 100 mph. But 60 mph is more common.
8.) A female evening bat can birth up to 4 pups each season.
9.) 90% of births result in twins, however singletons and triplets have also been witnessed.
10.) A small portion of bats are nursed by unrelated females. This is called allonursing.
But wait, there's still more on the evening bat!
11.) Pups are capable of flight in just 1 month and are weaned in up to 42 days.
12.) Many bats, with a longer lifespan, tend to birth only a single pup. But, due to their short lifespan, these bats have a higher birth number.
13.) Although considered endangered in the state of Indiana, they have a cosmopolitan distribution throughout the southeast, midwest, and Mexico.
Now a Short Evening Bat Video!
Pick up your Critter Science books today, at Amazon!
Be sure to share & comment below! Also, check out the Critter Science YouTube channel. Videos added regularly!
Want to suggest a critter for me to write about? Let me know here.