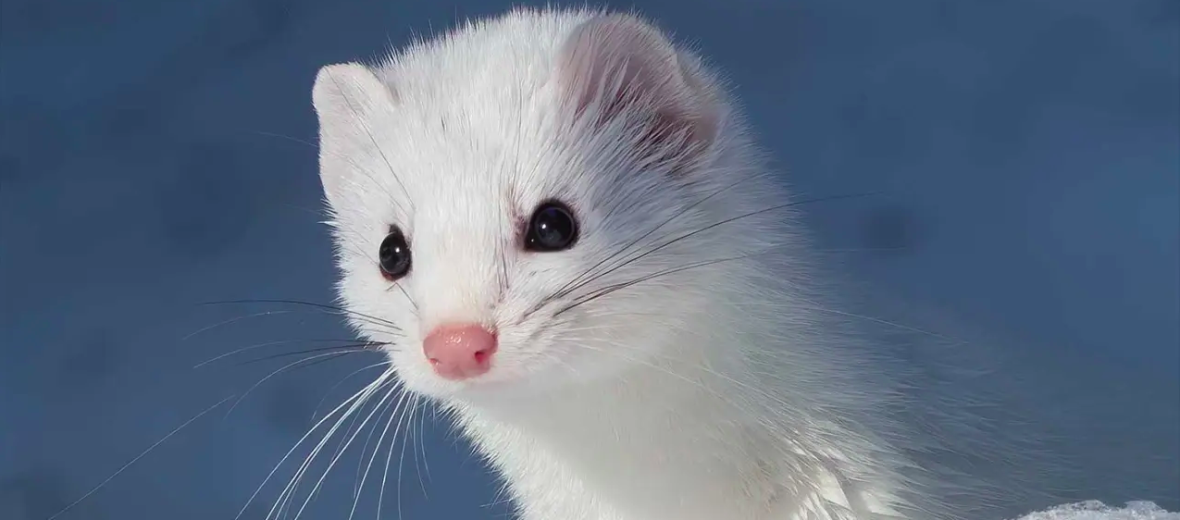 The ermine, aka Beringian ermine, Bonaparte weasel, Eurasian ermine, stoat, short-tailed weasel, or winter weasel, can be found throughout Asia, Europe, Greenland, North America, and Oceania. These critters prefer alpine meadows, marshes, riparian woodlands, shrubby fencerows, and open areas near forests and shrub borders. Due to a wide-spread population and stable numbers, these critters are listed as Least Concern by the IUCN. The only main threats they face are habitat destruction, hunting, and trapping. Enjoy my 1,200th critter article.
First the Stats…
Scientific name: Mustela erminea
Weight: Up to 9.1 ounces
Length: Up to 13 inches, plus up to a 3.7 inch tail
Lifespan: Up to 12.5 years
Now on to the Facts!
1.) While typically crepuscular (active at dawn and dusk) or nocturnal (active at night), they can also exhibit occasional diurnal (active during the day) behaviors.
2.) Although typically terrestrial (spend their lives on the ground), these cute critters can climb trees with the best of them. They'll climb trees to escape predation and to hunt for prey.
3.) Ermines are aggressive to other ermines, especially those of the same gender.
4.) They utilize burrows from other animals, typically ones they hunted.
5.) The ermine has powerful senses to help in obtaining prey.
But wait, there's more on the ermine!
6.) Mice, rats, voles, moles, rabbits, birds, eggs, fish, frogs, and insects are all on the menu.
7.) These creatures are polygynandrous (promiscuous – males and females have multiple partners).
Did you know…?
An ermine can travel up to 9 miles in a single night, searching for food.
8.) Females undergo up to a 280 day gestation that yields up to 18 kits, each season.
9.) When traveling, they will move in a sort of zig zag pattern with frequent jumps in the air of up to 20 inches.
10.) They are active throughout the entire year and aren't known to hibernate.
But wait, there's still more on the ermine!
11.) Ermines release a smelly musk when threatened.
12.) Growing very quickly, the kits are able to hunt with their mom at just 8 weeks of age.
13.) Female ermines reach adult size in just 6 weeks.
14.) A female is able to reproduce at just 70 days old.
Now a Short Ermine Video!
Be sure to share & comment below! Also, check out the Critter Science YouTube channel. Videos added regularly!
Want to suggest a critter for me to write about? Let me know here.