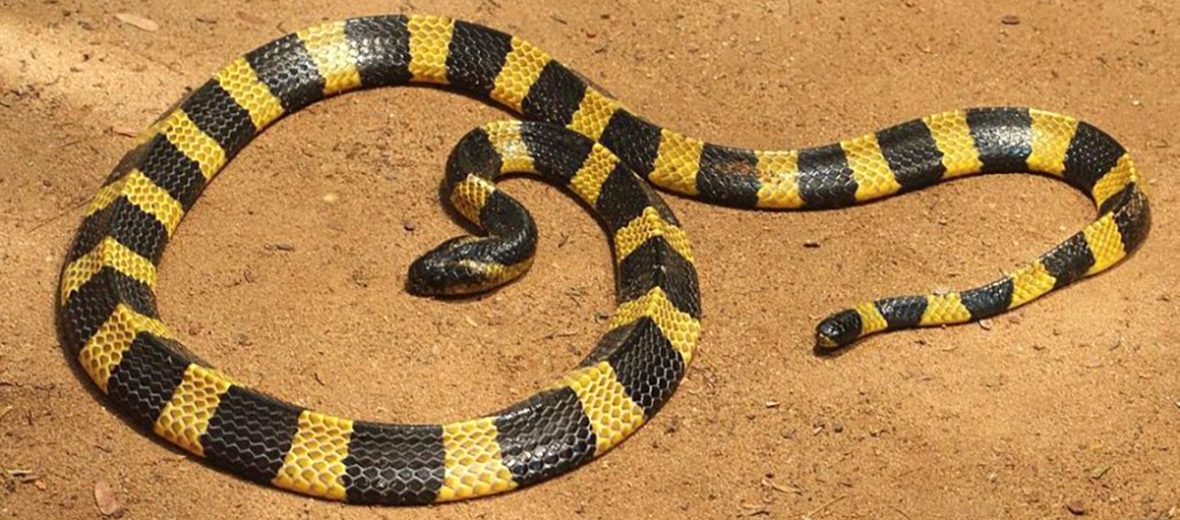 The banded krait can be found throughout southern, southeastern, and eastern Asia. These highly venomous serpents prefer mangrove vegetation, dry and moist deciduous forests, tropical scrublands, agricultural lands, and open countryside plains. The threats faced by these snakes are at the hands of roads and railroads, dividing up their habitat and resulting in vehicle strike (being hit by vehicles); hunting; and trapping. But their populations, for now, are stable and thus the IUCN lists them as Least Concern.
First the Stats…
Scientific name: Bungarus fasciatus
Weight: Up to 3.93 lbs.
Length: Up to 6.6 feet
Lifespan: Up to 13 years
Now on to the Facts!
1.) These snakes are nocturnal (active at night).
2.) Like so many other snakes, these critters are solitary. They only come together to mate.
3.) During the day, these snakes are less likely to bite, when provoked. If disturbed, they will usually coil and hide their heads.
4.) At night, they become more aggressive and will, most definitely, bite if provoked.
5.) A group of snakes is called a bed, den, knot, nest, or pit.
But wait, there's more on the banded krait!
6.) Banded kraits are primarily snake hunters, with skinks, frogs, fish, mice, rats, and snake eggs thrown in for good measure.
7.) Females lay up to 14 eggs. When these eggs hatch, the snakelets are precocial (totally self-sufficient) and fully venomous.
Did you know…?
The banded krait's venom contains a cocktail of neurotoxins. The average venom yield is around .004 ounce, per bite. The effects of a bite are breathing difficulties, paralysis, and eventual collapse.
8.) These snakes are often found near human habitations, as there is an abundance of mice and rats to eat.
9.) Antivenom is available, but it may not reverse established paralysis.
10.) These critters are definitely medically significant and should not ever be trifled with. If bitten, medical attention is necessary to avoid serious side effects and/or death.
Now a Short Banded Krait Video!
Be sure to share & comment below! Also, check out the Critter Science YouTube channel. Videos added regularly!
Want to suggest a critter for me to write about? Let me know here.
Think you know a lot about critters? Try your hand at these fun, free quizzes:
Photo credit: Davidvraju