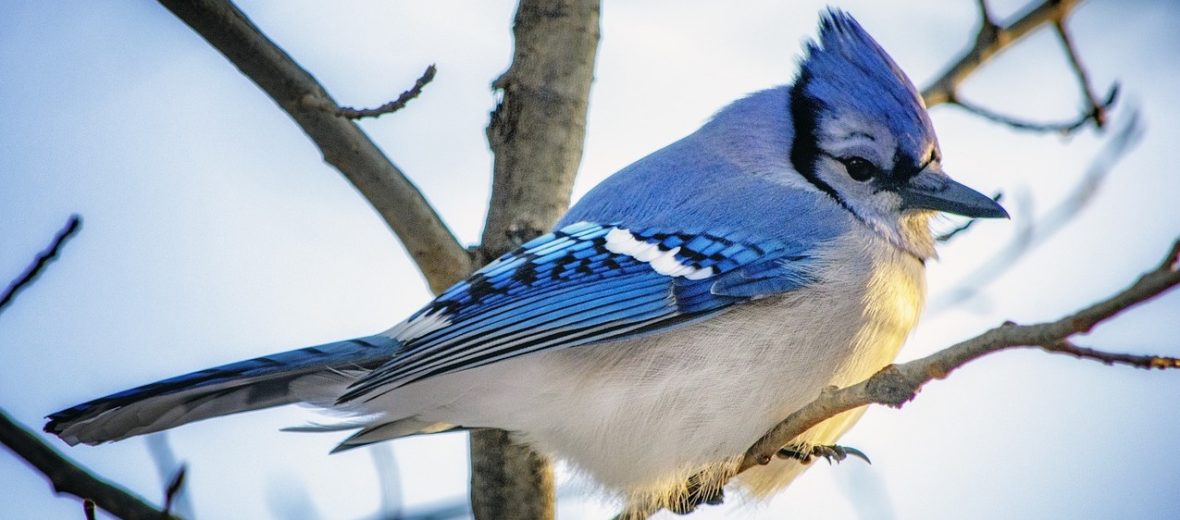 The bluejay can be found throughout most of Canada, the eastern half of the United States, and just into north eastern Mexico. These birds prefer habitats with plenty of woodlands providing oaks and beeches. They can also be found in suburban settings as well, like parks and well planted gardens, with mature trees; feeding from bird feeders. Due to their stable population and wide-spread distribution, these birds are listed as Least Concern by the IUCN.
First the Stats…
Scientific name: Cyanocitta cristata
Weight: Up to 3.8 ounces
Length: Up to 12 inches
Wingspan: Up to 17 inches
Lifespan: Up to 26 years
Now on to the Facts!
1.) Bluejays are very territorial and aggressive birds that tend to chase other birds away from feeding sites.
2.) When threatened or upset, they will raise the feathery crest on their head. They will also call loudly and dive bomb approaching predators.
3.) They feast on grain, fruits, berries, acorns, nuts, weed seeds, breads, meat, a variety of small invertebrates (like worms, snails, insects, and grubs), scraps in city parks, bird-feeder food, and occasionally even eggs and chicks.
4.) Hawks, owls, and falcons prey on adult birds, while nestlings and eggs are preyed on by cats, squirrels, snakes, crows, other jays, raccoons, and opossums.
5.) These noisy birds produce a variety of calls. But the most common call is a sort of gull-like yell. They also make a "jayer-jayer" sounding call that speeds up as they become increasingly irritated.
But wait, there's more on the bluejay!
6.) A group of jays is called a party, scold, band, or cast.
7.) Some birds migrate each season, while others migrate every other season. Some don't migrate at all.
Did you know…?
The Blue jay's coloration is referred to as structural coloration. The color doesn't come from pigments rather is the result of the internal structure of the feather itself. If a blue feather is crushed, the blue actually disappears because the structure is damaged.
8.) Bluejays are monogamous (mate for life).
9.) The nest is made of twigs, bark strips, moss, small roots, various plant material, cloth, paper, and feathers; sometimes with mud added to the cup-shaped nest.
10.) Females lay up to 6 eggs that hatch in up to 18 days.
But wait, there's still more on the bluejay!
11.) A testament to their intelligence, these birds have been observed using tools to obtain food and even attempting to open the latches of enclosures they are housed in.
12.) They can also have a rudimentary ability to mimic human speech as well as the cries of a hawk.
13.) The bluejay is also written about in African American folklore of the southern United States.
14.) Bluejays are sometimes call jaybirds.
Now a Short Bluejay Video!
Be sure to share & comment below! Also, check out the Critter Science YouTube channel. Videos added regularly!
Want to suggest a critter for me to write about? Let me know here.
Think you know a lot about critters? Try your hand at these fun, free quizzes: