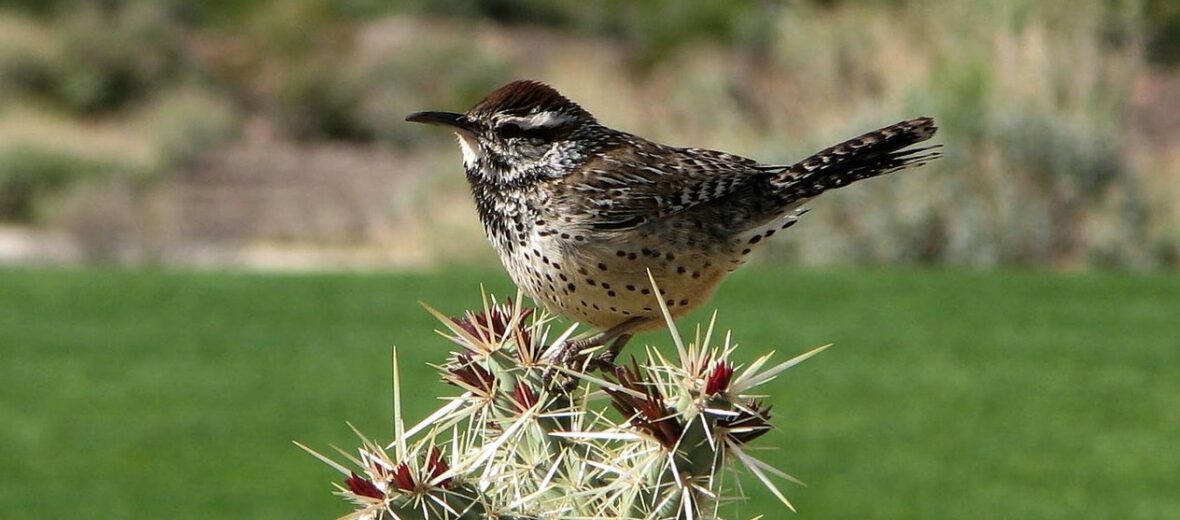 The cactus wren is found in deserts and arid foothills containing yucca, cacti, mesquite, and other types of desert scrub brush. They inhabit Sonoran, Chihuahuan, and Mojave Deserts. These birds can also be found in coastal sage scrub in California and thorn-scrub areas in Tamaulipas, Mexico. Cactus wrens are a protected species, so you can take plenty of pictures and even leave food out for them, but it is illegal to own one, without a zoological permit.
First the Stats…
Scientific name: Campylorhynchus brunneicapillus
Weight: Up to 1.4 ounces
Length: Up to 8 inches
Wingspan: Up to 11 inches
Lifespan: Up to 10 years
Now on to the Facts!
1.) The cactus wren eats ants, beetles, wasps, grasshoppers, butterflies, and various arachnids.
2.) This wren is protected by the Migratory Bird Treaty Act.
3.) Coachwhips and other snakes are able to find their way up through the cacti and will often take eggs or baby birds. Adult birds are also food for hawks, coyotes, foxes, bobcats, greater roadrunners, and domestic cats.
4.) Wrens are diurnal (active during the day).
5.) The female kicks off the building of the nest. After she picks the spot, the male finally decides to help out. They build the nest 3 – 10 feet above the ground in a palo verde, cholla, mesquite, acacia, & other desert trees where the nest is surrounded by thorns; for protection.
But wait, there's more on the cactus wren!
6.) These wrens build large football-shaped nests with an entrance at one end.
7.) Females lay between 2 – 7 eggs. These hatch in about 17 days.
Did you know…?
The cactus wren is Arizona's state bird.
8.) Cactus Wrens breed each year and often raise 3 broods in a season!
Now a Short Cactus Wren Video!
Also, check out the Critter Science YouTube channel. Videos added frequently!
Want to suggest a critter for me to write about? Let me know here.
Learn more about all kinds of cool critters, right here!