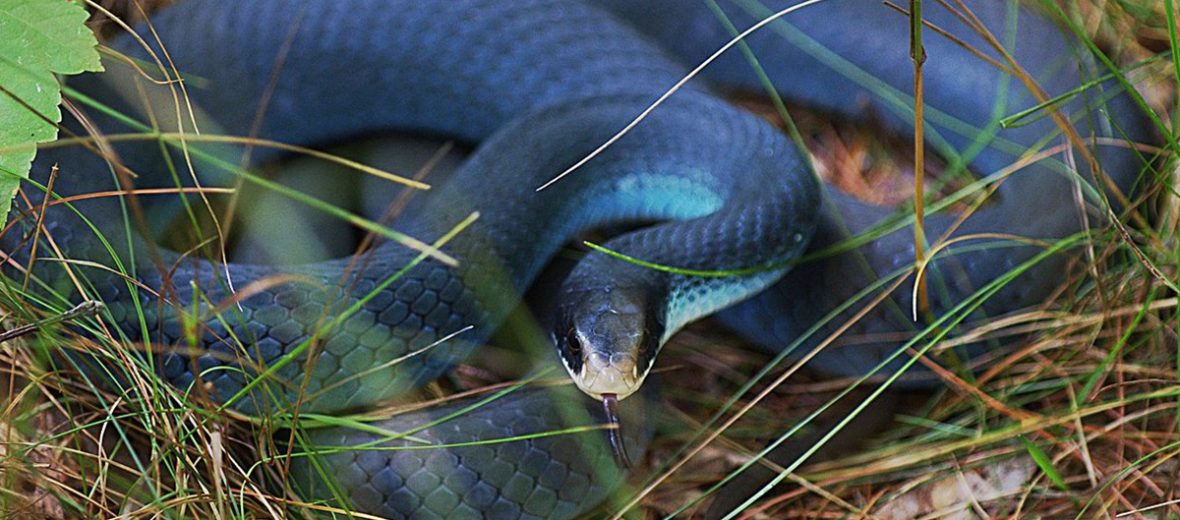 The blue racer, aka eastern racer, is a nonvenomous colubrid that hails from the United States and Canada. They prefer old field shoreline, semi-open and open habitats, savannas, and edge habitats. These quick and generally ill-tempered snakes are sometimes kept by exotic reptile owners, but they aren't a great choice for a pet snake, as they tend to be flighty and like to bite. With a presumed stable population, these snakes are not currently evaluated by the IUCN. However, they are considered Endangered in Ontario.
First the Stats…
Scientific name: Coluber constrictor foxii
Weight: Up to 1.23 lbs.
Length: Up to 4.92 feet
Lifespan: Up to 10+ years
Now on to the Facts!
1.) The blue racer is one of Ontario, Canada's biggest snakes.
2.) In the wild, these snakes tend to avoid areas with a lot of humans.
3.) Younger snakes prey on crickets, grasshoppers, and various other insects. Adults prey mostly on mice, rats, gophers, voles, moles, amphibians, songbirds, and even other snakes.
4.) Red-tailed hawks, northern harriers, great horned owls, and a variety of carnivorous mammals like raccoons, coyotes, foxes, dogs, and feral house cats all prey on the juveniles and adults. Where the eggs are predated by skunks and more.
5.) They are both arboreal (spend their lives in trees) and terrestrial (spend their lives on the ground).
But wait, there's more on the blue racer!
6.) Blue racers are diurnal (active during the day).
7.) Females lay up to 26 eggs.
Did you know…?
These critters can move at up to 4.3 mph.
8.) Snakelets are born up to 15 inches long.
9.) The blue racer is a constrictor. It is not venomous. However, they can give you a painful bite, if mishandled.
10.) If handled, they will not only bite, but they will release a smelly musk that is hard to wash off.
Now a Short Blue Racer Video!
Pick up your Critter Science books today, at Amazon!
Be sure to share & comment below! Also, check out the Critter Science YouTube channel. Videos added regularly!
Want to suggest a critter for me to write about? Let me know here.