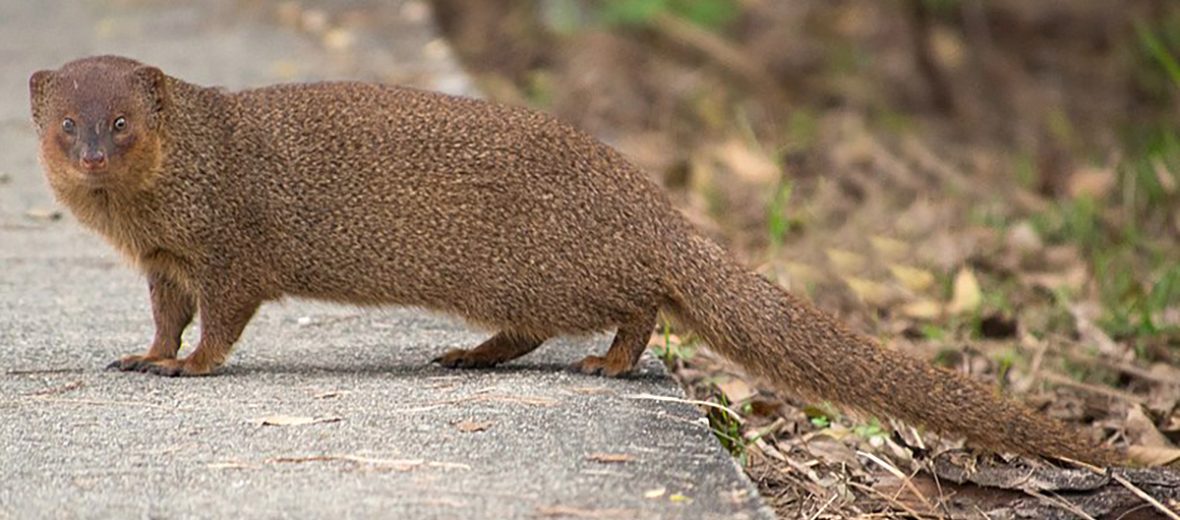 The Asian mongoose, aka small Asian mongoose, small Indian mongoose, or Javan mongoose, can be found primarily in southern and southeast Asia, on down through Australasia. Subsequently, these creatures have been introduced to Venezuela, Saint Lucia, Puerto Rico, Jamaica, the Mediterranean, and Indian Ocean islands, to name a few. While they prefer scrublands and dry forests, these adaptable critters can also be found in rainforests and populated human settlements. Due to their stable numbers, these critters are listed as Least Concern by the IUCN.
First the Stats…
Scientific name: Herpestes javanicus
Weight: Up to 1.7 lbs.
Length: Up to 11 inches, plus up to a 10 inch long tail
Lifespan: Up to 8 years
Now on to the Facts!
1.) The Asian mongoose is strictly diurnal (active during the day).
2.) These critters are predominantly solitary, but will, at times, share burrows with others.
3.) In order to cool down, they will often times scratch at soil to expose cooler soil in which to lay down in. They will also pant to cool down as well.
4.) A group of mongooses is called a committee, delegation, mongaggle, mongeese, or troop.
5.) Insects, scorpions, spiders, crabs, frogs, lizards, snakes, small mammals, birds and bird eggs are all on the menu.
But wait, there's more on the Asian mongoose!
6.) Hawks, jackals, and snakes prey on these small creatures.
7.) Females undergo up to a 45 day gestation (pregnancy) that yields up to 5 pups, aka mongopoes.
Did you know…?
Contrary to popular belief, a mongoose is not immune to snake venom. They are just typically fast enough to usually evade a bite. But, if bitten, they run the risk of death, like any other animal.
8.) These mongeese produce up to 12 different vocalizations.
9.) When feasting on eggs, they will grab the egg and throw it onto a hard surface, like a rock, to crack it open and will then lap up the tasty insides.
10.) Unlike some cats, their claws are not retractable.
Now a Short Asian Mongoose Video!
This video shows a mongoose vs. a cobra.
Be sure to share & comment below! Also, check out the Critter Science YouTube channel. Videos added regularly!
Want to suggest a critter for me to write about? Let me know here.
Think you know a lot about critters? Try your hand at these fun, free quizzes:
Photo credit: Chung Bill Bill