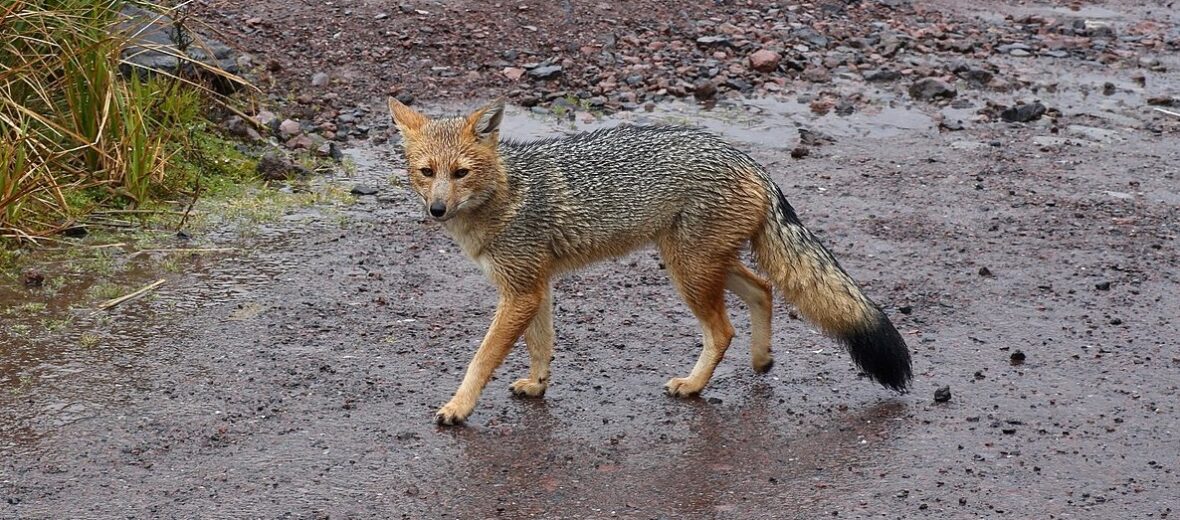 The Andean fox, aka zorro culpeo, or more famously culpeo, is native to South America. In fact, they are the 2nd largest native canid in South America. The maned wolf is #1. They range from Ecuador & Peru to the southern regions of Patagonia & Tierra del Fuego. These foxes like broadleaf temperate southern beech forests, mountain terrain, deserts, deep valleys, sclerophyllous matorral, and high plateaus (like the Altiplano). Culpeos are listed as Least Concern by the IUCN.
First the Stats…
Scientific name: Lycalopex culpaeus
Weight: Up to 25 lbs.
Length: Up to 52 inches, plus an 20 inch tail
Lifespan: Up to 11 years
Now on to the Facts!
1.) Culpeos are solitary critters, except during mating season.
2.) Their activity depends on their locale. The foxes that live in Argentina, the Magallanes Culpeos, Chilean desert, and highland Peru are Nocturnal (active at night). The ones living in central Chile are both Diurnal (active during the day) and Crepuscular (active at dawn and dusk).
3.) A group of Andean foxes is called a leash, earth, lead, skulk, or troop.
4.) Like other foxes, they rely on sounds, postures, and scents to communicate.
5.) Besides hunting rabbits, mice, rats, birds, and lizards; they will also take eggs, carrion (dead animals), fruit, and plants.
But wait, there's more on the Andean fox!
6.) Mountain lions will sometimes prey on the Andean fox. Otherwise, they don't have any other known predators.
7.) Breeding season lasts from August- October.
Did you know…?
These foxes can run up to 43 mph!
8.) Females give birth to 2 – 5 pups each season.
9.) Males are called a reynard or a tod. Females are called vixens. The young are called cubs, kits, or pups.
10.) They tend to dominate other predators, like: South American gray foxes, pampas cats, Geoffroy's cats, grisons, and even a variety of raptors.
Now a Short Andean Fox Video!
Be sure to share & comment below! Also, check out the Critter Science YouTube channel. Videos added frequently!
Want to suggest a critter for me to write about? Let me know here.
Learn more about all kinds of cool critters, right here!