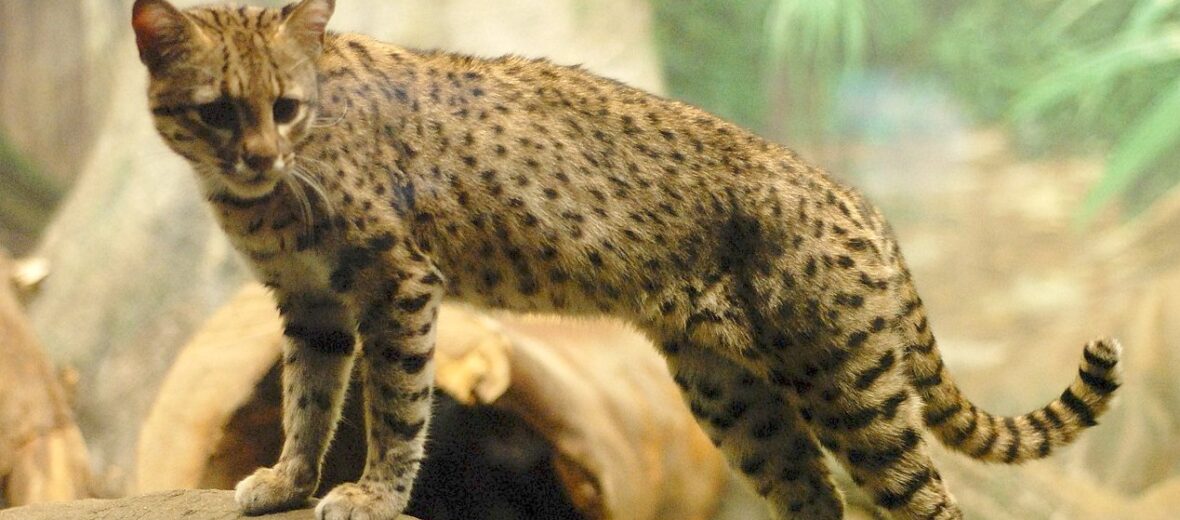 The Geoffroy's cat, aka Gato Montes (cat of the mountains) or Geoffroy's ocelot, is a secretive hunter that can be found near rivers equipped with thick vegetation, woodlands, marshes, savannas, and occasionally grasslands; just as long as there's cover. They call the Andes, Pampas, and Gran Chaco regions their home. These cats are listed as Least Concern by the IUCN. However, they do suffer at the hands of habitat destruction, vehicle strike, hunting, and climate change.
First the Stats…
Scientific name: Leopardus geoffroyi
Weight: Up to 8 lbs.
Length: Up to 2 feet, plus a 1 foot tail
Lifespan: Up to 14 years
Now on to the Facts!
1.) Unlike most other cats, Geoffroy's like the water and are very good swimmers.
2.) These cats are predominantly arboreal (spend most of their lives in trees).
3.) Geoffroy's cats are nocturnal (active at night) with some crepuscular (active at dawn and dusk) activity.
4.) They are agile and can even scale the undersides of tree branches.
5.) Like most cats, these critters too are solitary; only coming together to mate.
But wait, there's more on the Geoffroy's cat!
6.) Communication consists of purrs, snarls, hisses, yowls, calls, and growls.
7.) A group of these cats is referred to as a clowder, clutter, destruction, or pounce.
Did you know…?
Unlike other cats, these critters have been known to stand up on their back legs in order to get a better look at their surroundings. They use their tail for balance.
8.) They prey on birds, reptiles, amphibians, fish, wild guinea pigs, mice, rats, hares, small agoutis, and a variety of other small mammals.
9.) Also, like other cats, they are polygynous (1 male mates with multiple females).
10.) Mating season lasts from December – May.
But wait, there's still more on the Geoffroy's cat!
11.) Females birth between 1 – 4 kittens, after an approximately 8 month gestation (pregnancy).
Did you know…?
The Geoffroy's cat was so named after Geoffroy St. Hilaire, the 19th-century French naturalist who worked in evolutionary theory.
12.) Geoffroy's cats have interbred with domestic cats, creating what is termed as a safari cat.
13.) They are such good swimmers that they frequently navigate fast flowing, 100 foot wide rivers and streams.
14.) Only the dominant male gets to breed with the females.
15.) Their only known Predator is man.
Now a Short Geoffroy's Cat Video!
Be sure to share & comment below! Also, check out the Critter Science YouTube channel. Videos added frequently!
Want to suggest a critter for me to write about? Let me know here.
Learn more about all kinds of cool critters, right here!