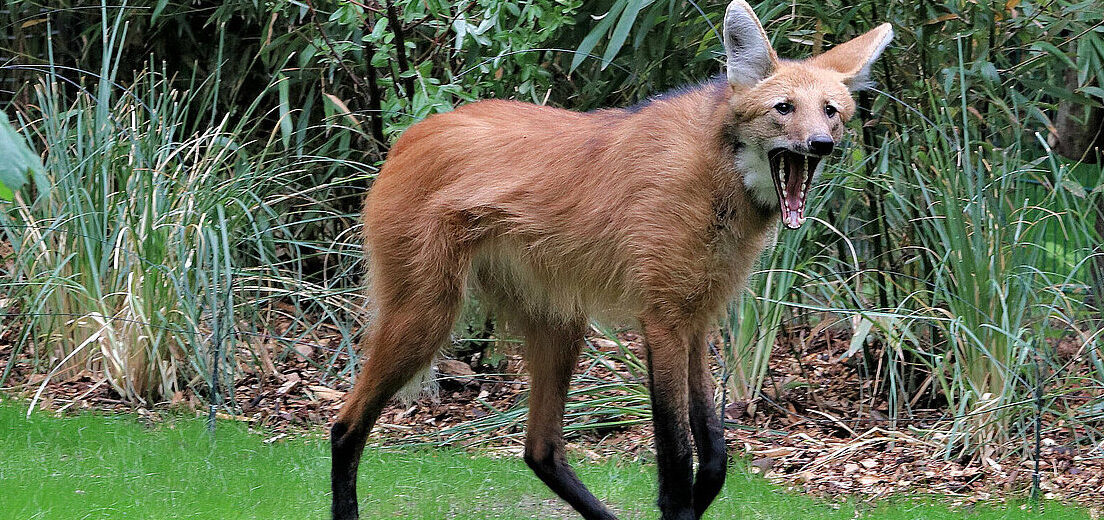 Touting the honor of the world's tallest wild canine, it's the maned wolf. Maned wolves are more closely related to the forest fox and the bush dog than to actual wolves. These canids are gentle and hesitant to approach humans, for good reason. They have been hunted by farmers for the fear that they'll eat their chickens. These cool critters are listed as Near Threatened by the IUCN. Their status is due to habitat destruction, hunting, trapping, invasive species, and disease. This article is on special request from my buddy Sam.
First the Stats…
Scientific name: Chrysocyon brachyurus
Weight: Up to 47 lbs.
Length: Up to 4.1 feet
Height: Up to 35 inches, at the shoulder
Lifespan: Up to 15 years
Now on to the Facts!
1.) They communicate in a variety of ways. One way is to release what is called a roar-bark! Other ways are to mark their territory with a urine-like spray.
2.) Maned wolves are Omnivores (eat both plant and animal matter). Fruits and vegetables make up nearly 50% of their diet, in the wild.
3.) The maned wolves are monogamous (mate for life).
4.) They can be found in open grasslands in Brazil, Peru, Argentina, Paraguay, and Uruguay.
5.) Despite their name, the maned wolf is not a wolf, a dog, or even a fox! Their closest relative was the tawny-furred Falkland Islands wolf, which went extinct in the 1880s.
But wait, there's more on maned wolf!
6.) They are solitary, sans being mated to a partner, and thus do not hunt in packs like other canids. They will defend a territory of about 15 square miles.
7.) Being mostly crepuscular (active at dawn and dusk), these critters will also sleep at varying times based on locale.
Did you know…?
Maned wolf urine releases pyrazines that create a powerful odor that smells like marijuana smoke.
8.) When threatened, they erect their thick mane hairs, making them look larger. An anxious maned wolf will also stand upright, lower its head, and arch its back to appear more ominous!
9.) Only around 17,000 adults are believed to remain in the wild. Most of these live in Brazil.
10.) Pups are born with dark, almost black, fur that turns reddish as they age.
Now a Short Maned Wolf Video!
Also, check out the Critter Science YouTube channel. Videos added frequently!
Want to suggest a critter for me to write about? Let me know here.
Learn more about all kinds of cool critters, right here!