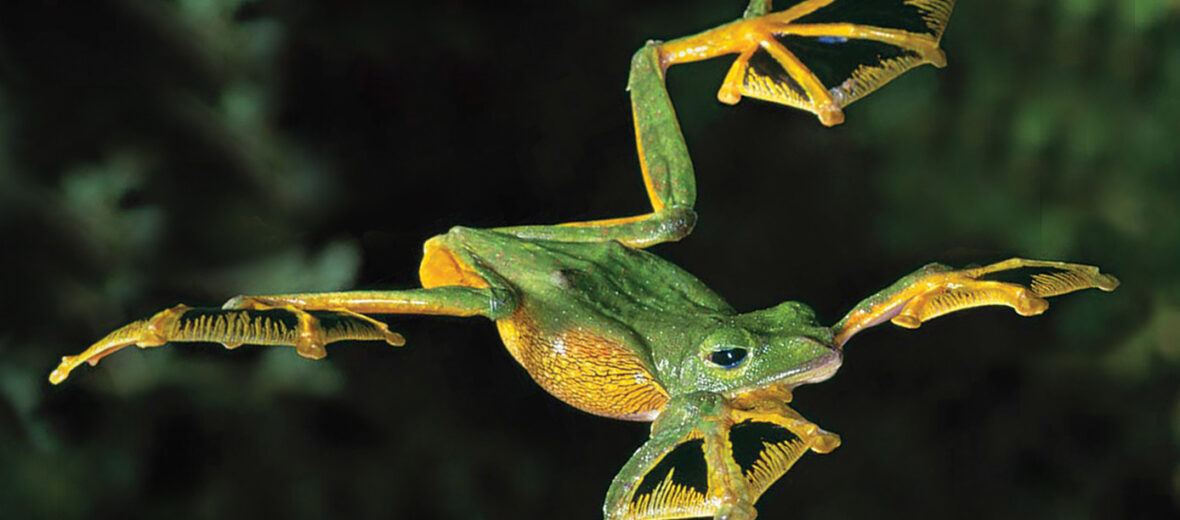 The Wallace's flying frog, aka abah river flying frog or parachuting frog, can be found in tropical rainforests of southeastern Asia, Malaysia, and Borneo. Contrary to their name, these frogs can't actually fly. They glide from tree to tree. Even though they are over collected for the pet trade and face habitat destruction, these amphibians are listed as Least Concern by the IUCN.
First the Stats…
Scientific name: Rhacophorus nigropalmatus
Weight: Up to 1+ ounce
Length: Up to 4 inches
Lifespan: Up to 12+ years
Now on to the Facts!
1.) As is the case for most frogs, the females are larger than males. This is in order for the female to carry the male on her back, during amplexus.
2.) These arboreal (spend their lives in trees) frogs have unusually large, webbed feet and a flap of skin on each side of the body. These help the frog glide from tree to tree to escape predators.
3.) The pads of their feet are soft and help ease the abrupt landings.
4.) Their main predators are tree snakes and cat snakes.
5.) They prey on invertebrates and small vertebrates.
But wait, there's more on the Wallace's flying frog!
6.) These amphibians get their name from the English naturalist Alfred Russel Wallace, who described this species back in the 19th century.
7.) A group of frogs is called an army. Queue the Flight of the Valkyries soundtrack.
Did you know…?
The Wallace's flying frog can glide up to 50 feet!
8.) Mating season takes place during the rainy season. Such is the case in other frogs and toads.
9.) Females build a nest from a liquid they secrete and whip into a foam with their back legs. The eggs are laid in the foam and the male then fertilizes them. The eggs are then secured to leaves and branches, just above water.
10.) When the eggs hatch, the tadpoles drop into the water and begin their metamorphosis into froglets.
Now a Short Wallace's Flying Frog
 Video!
Be sure to share & comment below! Also, check out the Critter Science YouTube channel. Videos added frequently!
Want to suggest a critter for me to write about? Let me know here.
Learn more about all kinds of cool critters, right here!