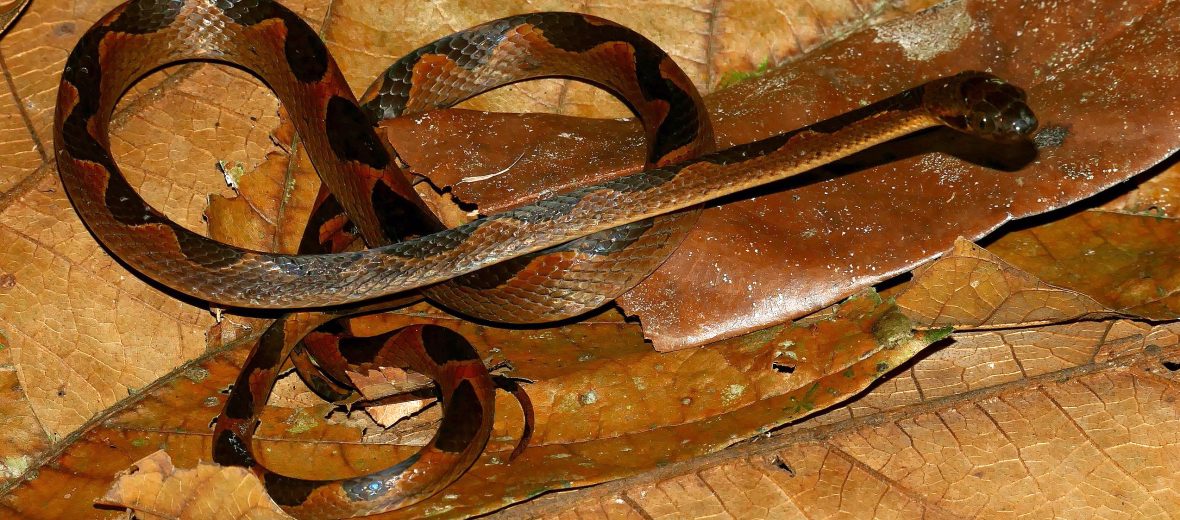 The banded cat-eyed snake can be found in Mexico, Central America, South America, Margarita island, Trinidad island, and Tobago island. These mildly venomous snakes prefer dry and moist forests, riparian zones, swamps, and marshes. They can also be found in well vegetated urbanized areas. Even though they are threatened with habitat loss, due to deforestation, their numbers are stable and they are listed as Least Concern by the IUCN.
First the Stats…
Scientific name: Leptodeira annulata
Weight: Up to 3+ ounces
Length: Up to 30 inches
Lifespan: Unknown
Now on to the Facts!
1.) These snakes go by numerous common names, such as: come sapo, culebra de pantano, cat-eyed night snake, culebra destenida, mapana de agua, machete savane, mapana tigre, and ranera.
2.) Banded cat-eyed snakes are nocturnal (active at night).
3.) They hunt in both trees and on the ground.
4.) The banded cat-eyed snake preys on frogs, frog eggs, salamanders, smaller reptiles, and small fledgling birds.
5.) Being rear-fanged venomous, they possess enlarged fangs to the rear of their upper jaws, or maxilla, that deliver a mild venom.
But wait, there's more on the banded cat-eyed snake!
6.) These snakes tend to not bite when handled properly.
7.) Females are oviparous and lay up to 12 eggs each season.
Did you know…?
The venom of these snakes is only really effective on their prey. It causes only mild irritation, itching, and swelling – to the bite area – to pets and humans.
8.) They are capable of delayed implantation. This is where the female will hold onto sperm for an extended length of time and birth only when conditions are optimal.
9.) The snakelets are hatched precocial (totally self sufficient).
10.) They are even able to eat poison dart frogs without ill-effects.
Now a Short Banded Cat-Eyed Snake Video!
Pick up your Critter Science books today, at Amazon!
Be sure to share & comment below! Also, check out the Critter Science YouTube channel. Videos added regularly!
Want to suggest a critter for me to write about? Let me know here.