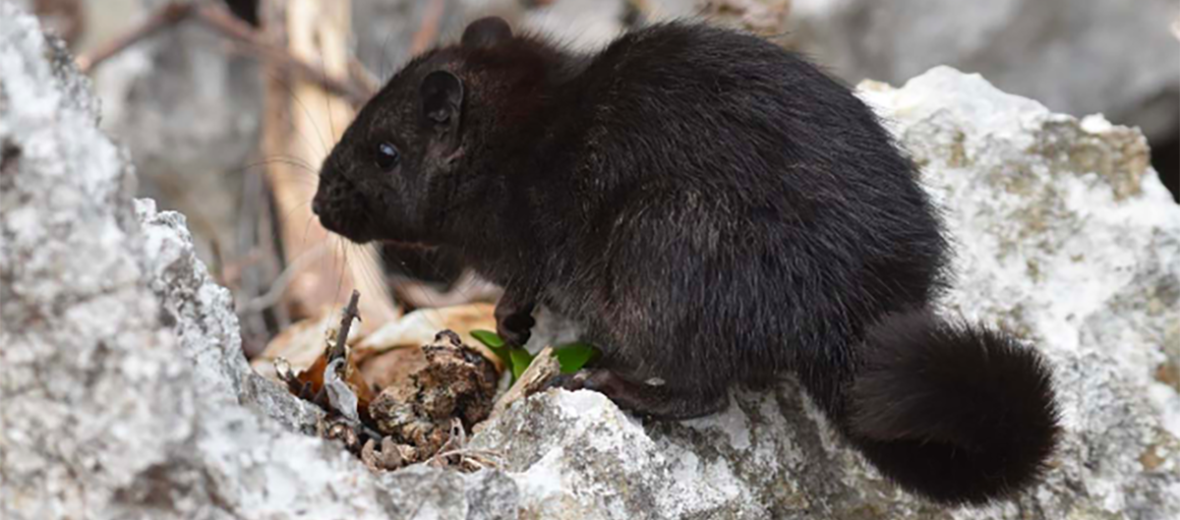 The Laotian rock rat, aka kha-nyou, hails from Khammouan Province and southern Bolikhamxai Province, in Laos; and also in a small area of Minh Hóa District, western Quảng Bình Province, in Vietnam. Even though these rodents face the threats of habitat destruction at the hands of the mining industry and the logging industry; hunting; and trapping, these prehistoric rodents are still listed as Least Concern by the IUCN.
First the Stats…
Scientific name: Laonastes aenigmamus
Weight: Up to 14 ounces
Length: Up to 10 inches, plus up to a 5.5 inch tail
Lifespan: Up to 3+ years
Now on to the Facts!
1.) Laotian rock rats belong to the ancient fossil family Diatomyidae, which was thought to have been extinct for 11 million years, since the late Miocene.
2.) They prefer habitats with lightly vegetated karst limestone boulders.
3.) These rodents are nocturnal (active at night).
4.) Kha-nyous walk with a sort of duck-like gait, with their feet facing at an outward angle from their body. This gives them a kind of waddle when they walk.
5.) They move more slowly over open ground than they do over rocks. These critters can scale rocks with great ease.
But wait, there's more on the Laotian rock rat!
6.) The Laotian rock rat consumes grass, leaves, and seeds. They may also consume small insects, from time to time.
7.) Females birth a single pup each breeding session.
Did you know…?
The skulls of these rodents are quite unique among all other rodents. They have changed little, sans their overall size, in their 11 million year existence.
8.) Villagers often trap and eat these rodents as bush meat.
9.) Their name, Laonastes, means inhabitant of stone, and is in reference to their rocky habitats.
10.) The epithet Aenigmamus means "enigma mouse" and is in reference to their unknown position among rodents.
Now a Short Laotian Rock Rat Video!
Pick up your Critter Science books today, at Amazon!
Be sure to share & comment below! Also, check out the Critter Science YouTube channel. Videos added regularly!
Want to suggest a critter for me to write about? Let me know here.