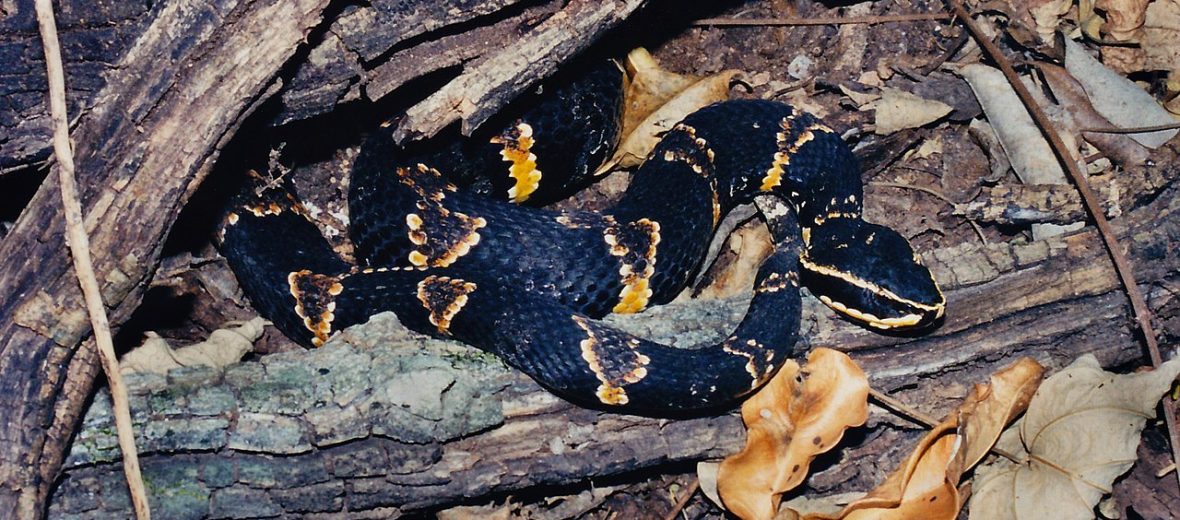 The Taylor's cantil, aka metapil, is a highly venomous snake that can be found in southern Tamaulipas, Mexico. These snakes prefer open canopied woodlands that contain limestone outcrops and rocky hillsides. Even though they face the threats of habitat destruction at the hands of agriculture and aquaculture; hunting; and trapping, they are still listed as Least Concern by the IUCN. Their population trend though is unknown.
First the Stats…
Scientific name: Agkistrodon taylori
Weight: Up to 2+ lbs.
Length: Up to 35+ inches
Lifespan: Up to 15 years
Now on to the Facts!
1.) These snakes exhibit both crepuscular (active at dawn and dusk) and nocturnal (active at night) behaviors.
2.) Taylor's cantils are a rare snake to find in the wild. After 14 months of field research, by 1 team, only 3 specimens were found.
3.) Due to their rarity, Patrick Burchfield of the Gladys Porter Zoo in Brownsville, Texas has worked on conservation efforts for these snakes.
4.) Cantils are known to be very temperamental and quick to strike, if cornered or harassed.
5.) In times of extreme duress, these snakes will writhe so erratically that they'll actually bounce off the ground!
But wait, there's more on the Taylor's cantil!
6.) Juveniles have been observed wiggling the yellow tip of their tail to lure in prey for an easy strike.
7.) Mice, hamsters, and rats are the typical meal for adults. Neonates prey on fish, small frogs, and baby mice.
Did you know…?
The venom of a Taylor's cantil can potentially cause tissue necrosis (tissue death) and potential death in humans or pets. But there are no records of humans being envenomated.
8.) 1 instance of cannibalism was reported by a keeper, where a female ate a male enclosure mate.
9.) Mating combat occurs when 2 males are in the vicinity of a female, during mating season, and will begin to rear up and intertwine with each other in an effort to knock the other snake off balance. The winner gets the girl.
10.) Like all known vipers, females are viviparous (give live birth and don't lay eggs).
But wait, there's still more on the Taylor's cantil!
11.) Females birth up to 11 young.
12.) The snakelets are born precocial (totally self sufficient) and fully venomous.
Now a Short Taylor's Cantil Video!
Warning… This video is of a Taylor's cantil feeding.
Be sure to share & comment below! Also, check out the Critter Science YouTube channel. Videos added regularly!
Want to suggest a critter for me to write about? Let me know here.