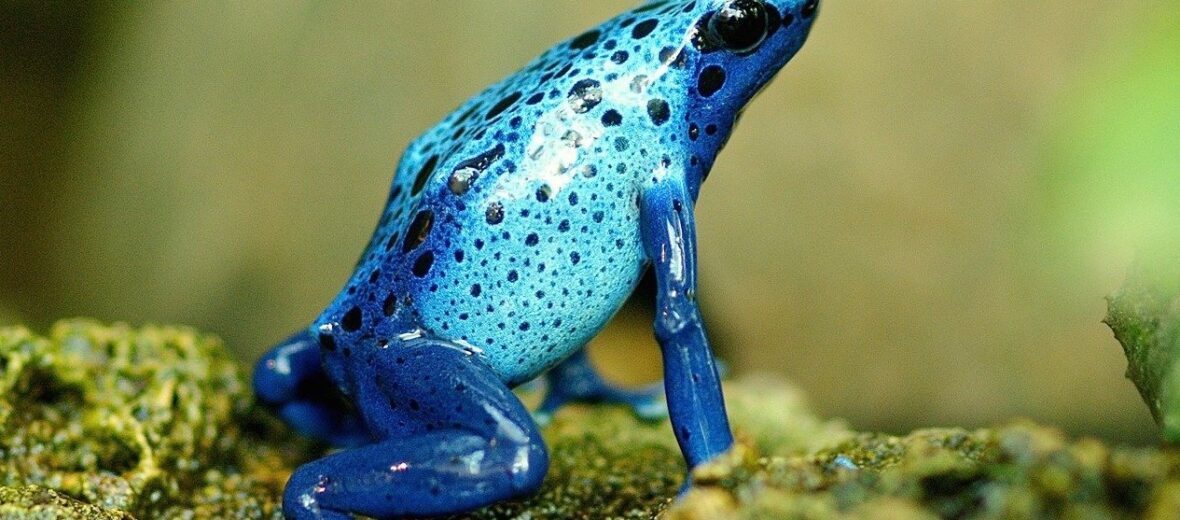 The poison dart frog, aka, poison arrow frog, poison frog, or dendrobatid, is the epitome of amphibian beauty. They come in a host of colors and all have a secret weapon. Have you ever heard the saying, "You are what you eat"? Well, these frogs are living proof that this is fact. Poison frogs can be found throughout the rainforests of Central and South America. I have personally had the opportunity to care for and breed these magnificent amphibians and they are a lot of fun to watch and work with. I even got the chance to raise and add a couple to the Aquarium of the Pacific's frog collection. Poison dart frogs are as active as they are vibrant. Unfortunately, they are also victims of over-collection by the pet trade. They also suffer from habitat loss, pollution, climate change, and the deadly chytrid fungus. Even though they are often called dart frogs, they should just be called poison frogs.
First the Stats…
Scientific name: Dendrobatidae
Weight: Up to .14 ounces
Length: Up to 2.4 inches
Lifespan: Up to 15 years
Now on to the Facts!
1.) Golden poison frogs are considered to be the most toxic vertebrate on the planet. Their poison is strong enough to kill up to 10 full grown humans.
2.) Dart frogs are diurnal (active during the day).
3.) They use their bright coloration to warn predators that they are, in some instances, deadly toxic.
4.) Their scientific name, Dendrobatidae, translates to, "one who walks in the trees".
5.) The poison dart frog is often mistaken for a mantella frog. However, mantellas live only in Madagascar, whereas dart frogs live in Central and South America. Both are poisonous, but mantella frogs will just make you sick; as they don't pack enough poison strength to kill.
But wait, there's more on the poison dart frog!
To view more facts on this and many other critters, purchase my book Rainforest Critters. It's only $17.99 for an 84 page book! Available now through Amazon. Click the logo to purchase your copy now:
Now a Short Poison Dart Frog Video!
Be sure to share & comment below! Also, check out the Critter Science YouTube channel. Videos added frequently!
Want to suggest a critter for me to write about? Let me know here.
Learn more about all kinds of cool critters, right here!