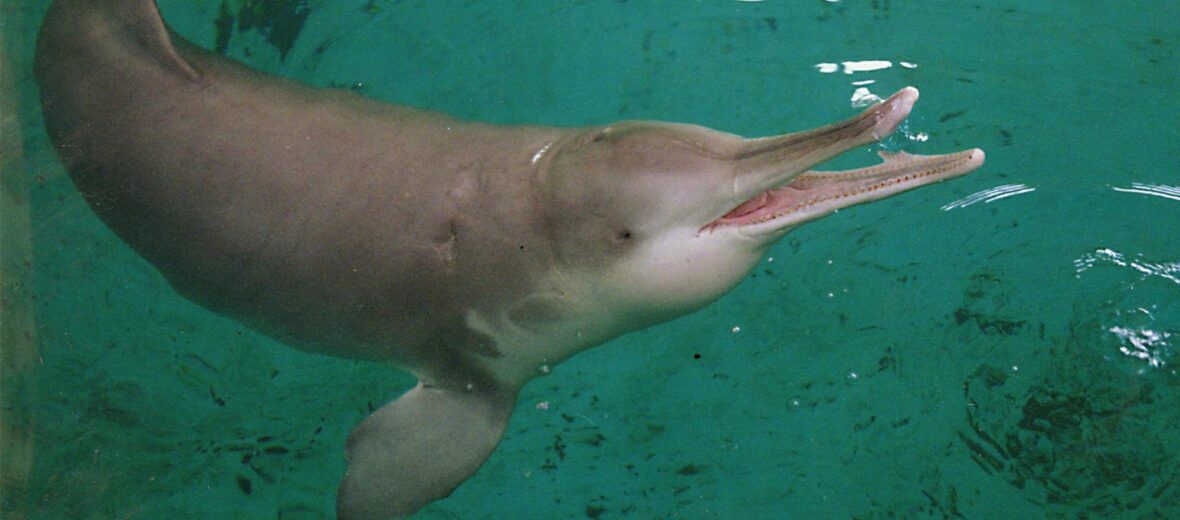 The baiji (pronounced by-jee) is considered to be the first dolphin species to possibly go extinct do to human interaction. There are believed to be fewer than 10 specimens left. In the 1800s, this species numbered up to 5,000 individuals. Sadly, pollution, dams, bycatch (getting caught in nets), habitat destruction, and climate change have all taken their toll. These beautiful creatures are listed as Critically Endangered by the IUCN and their numbers are decreasing. It is widely believed that the species is actually functionally extinct. Meaning that there might not be enough individuals remaining to perpetuate the species.
First the Stats…
Scientific name: Lipotes vexillifer
Weight: Up to 180 lbs.
Length: Up to 5.6 feet
Lifespan: Up to 25+ years
Now on to the Facts!
1.) These dolphins can only be found in the Yangtze River and the Qiantang River, in China.
2.) They also go by the names: White Flag dolphin, Yangtze River dolphin, Changjiang dolphin, and Chinese lake dolphin.
3.) These dolphins, like other known species of dolphins, are diurnal (active during the day).
4.) Baiji river dolphins have been around for approximately 50 million years. It has taken less than 50 years for humans to decimate their populations to the meager numbers of today.
5.) Their name, in Chinese, means white dolphin.
But wait, there's more on the baiji!
6.) Baiji dolphins prey on a variety of river fish.
7.) They have poor eyesight and rely instead on echolocation to find their prey in the murky water.
Did you know…?
The baiji dolphin only stays submerged for up to 20 seconds at a time.
8.) The construction of the Three-Gorges Dam. A mega hydroelectric dam began in 1994 and construction took several years. This dam caused wide-scale environmental damage to the Yangtze River, which destroyed wildlife habitats and eliminated native species. So sad.
9.) These dolphins have been reported reaching speeds of up to 37 mph!
10.) Females birth 1 calf every 2+ years.
But wait, there's still more on the baiji!
11.) The calf is nursed for up to approximately 20 months.
12.) The baiji is 1 of 5 species of river dolphin.
13.) These dolphins are not closely related to any living species of dolphin, having diverged from the ancestors of the La Plata dolphin as well as the Amazon River dolphin during the Miocene epoch.
14.) This cetacean is very timid and tends to avoid boats, making it difficult to observe.
Now a Short Baiji Video!
Be sure to share & comment below! Also, check out the Critter Science YouTube channel. Videos added frequently!
Want to suggest a critter for me to write about? Let me know here.
Learn more about all kinds of cool critters, right here!