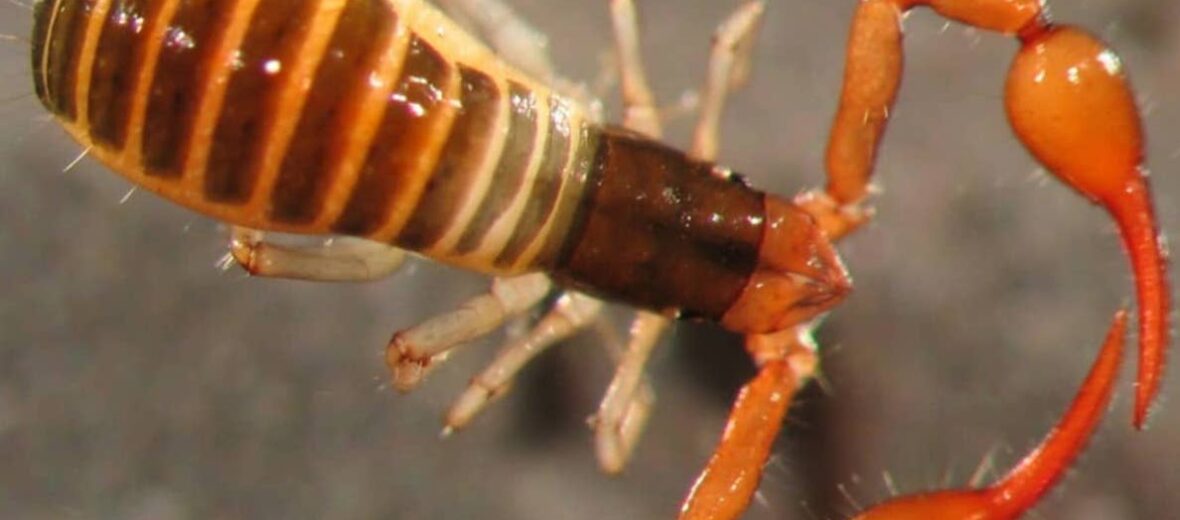 The pseudoscorpion, aka false scorpion, is a type of arachnid that can be found nearly the world over. They're even near the Arctic Circle. These ancient, diminutive critters have been around for approximately 380 million years with little change. They prefer areas with decaying logs, leaf-litter, beaches, caves, bird nests, animal burrows, rock crevices, and in your home. The giant pseudoscorpion is listed as Critically Endangered. Most others are listed as Least Concern by the IUCN.
First the Stats…
Scientific name: Pseudoscorpionida
Length: Up to 0.31 inches
Lifespan: Up to 3 years
Now on to the Facts!
1.) Some species are blind, while others have 2 – 4 eyes.
2.) They have pedipalps (pincers) that give them that scorpion appearance. But they lack a metasoma (tail), telson (bulb), or aculeus (stinger).
3.) These critters don't have wings, but can still get around by hitchhiking on luggage, clothing, and animal fur. This is called phoresis.
4.) Pseudoscorpions prey on ants, caterpillars, small flies, and other small arthropods.
5.) In an example of cleaning symbiosis, some species are phagophiles (eat parasites).
But wait, there's more on the pseudoscorpion!
6.) Females birth up to 40 young.
7.) Some species have an elaborate mating dance, that entails the male pulling the female over a spermatophore previously laid on a surface. Other species the male pushes the sperm into the female's genitals with their forelegs.
Did you know…?
Some species of pseudoscorpion reproduce via parthenogenesis. This is where the female will reproduce exact copies of herself, producing a new generation of females, without the assistance of a male.
8.) Like scorpions and some spiders, the young will hitch a ride on mom's back for a short time. They stay here till their first molt.
9.) The house pseudoscorpion preys on carpet beetle larvae, lice, book moth larvae, and even bed bugs.
10.) Pseudoscorpions use their pedipalps to inject venom into their prey and vomit digestive juices onto their victim to dissolve them for easy consumption.
But wait, there's still more on the pseudoscorpion!
11.) They use silk, produced in the glands in their jaws, to build cocoons that are used for mating, molting, and as a home when the weather gets cold.
12.) These tiny creatures are venomous, but their venom has no effect on humans or pets. It only effects their prey.
Now a Short Pseudoscorpion Video!
Be sure to share & comment below! Also, check out the Critter Science YouTube channel. Videos added frequently!
Want to suggest a critter for me to write about? Let me know here.
Learn more about all kinds of cool critters, right here!