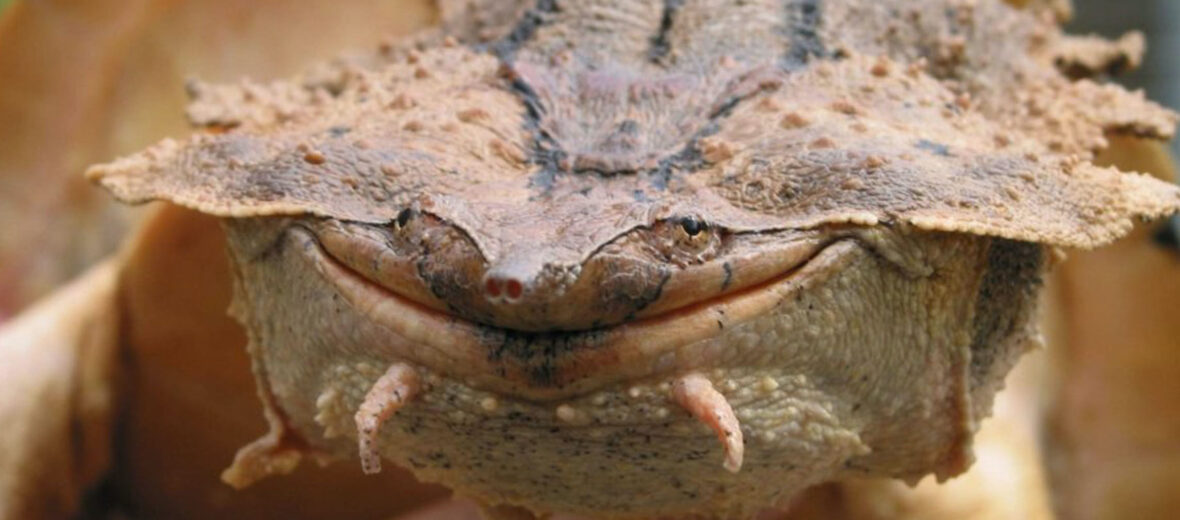 The mata mata turtle originates from South America's Amazon and Orinoco basins. With many names to its credit, the mata mata, which translates to "kill, kill" in Spanish, has been renamed 14 times over the last 200 years, with the most recent naming being in 1992. They prefer to lay low and await prey in murky waters, not moving much at all. But don't let their sedentary lifestyle fool you. They are quick to snatch up a passing fish, in the blink of an eye.
First the Stats…
Scientific name: Chelus fimbriata
Weight: Up to 33 lbs.
Length: Up to 2 feet
Lifespan: Up to 75 years
Now on to the Facts!
1.) Their necks are longer than the rest of their vertebra.
2.) These aquatic turtles are unable to retract their heads into their shell.
3.) Adults can't really swim, but juveniles can, although awkwardly.
4.) Mata matas live at the bottom of shallows with slow moving water such as blackwater streams, rivers, stagnant pools, marshes, and swamps.
5.) They are sexually dimorphic in that males are larger than females.
But wait, there's more on the mata mata!
6.) The primary Predator of these odd looking turtles is humans. They are captured for the exotic pet trade.
7.) This turtle is Carnivorous, feeding almost exclusively on fish. Occasionally they will also eat small mammals, amphibians, and even the occasional bird.
Did you know…?
They lay in wait for prey to come close by and then thrust out their head while opening their large mouth, which creates a vacuum that sucks the prey into the turtle's mouth. This happens in a mere second!
8.) These cool critters are nocturnal (active at night).
9.) Mating occurs from October – December.
10.) Females lay between 12 – 28 eggs.
Now a Short Mata Mata Video!
Also, check out the Critter Science YouTube channel. Videos added frequently!
Want to suggest a critter for me to write about? Let me know here.
Learn more about all kinds of cool critters, right here!