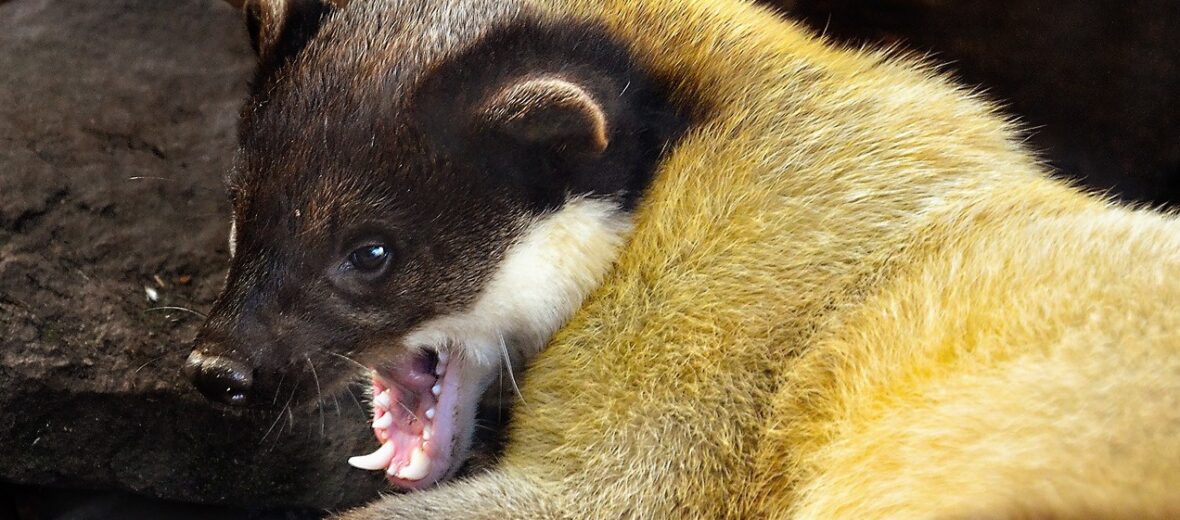 The yellow-throated marten, aka Himalayan marten, is the largest known marten species in Asia. They can be found in South Asia, East Asia, Central Asia, and Southeast Asia. These martens prefer broad-leaved and coniferous forests, montane forests, tropical dry and moist forests, lowland swamps, shrublands, and treeless mountain regions. Even though their populations are decreasing, these martens are still listed as Least Concern by the IUCN.
First the Stats…
Scientific name: Martes flavigula
Weight: Up to 13 lbs.
Length: Up to 28 inches, plus a 20+ inch tail
Lifespan: Up to 15 years
Now on to the Facts!
1.) These martens are diurnal (active during the day).
2.) Yellow-throated martens hunt in pairs or packs of 3 or more.
3.) They are Omnivores (eat both plant and animal matter) that consume mice, rats, langurs, hares, snakes, lizards, eggs, ground nesting birds, poultry, cats, young muntjacs, other small deer, and even human corpses. They also supplement their predominantly Carnivorous (eats meat) diet with nectar and fruit.
4.) Yellow-throats often patrol an area of up to 12 square miles.
5.) There are 10 known subspecies of yellow-throated martens.
But wait, there's more on the yellow-throated marten!
6.) Being top level predators, they help control the populations of deer and other animals they hunt.
7.) They are preyed on by black bears, leopards, tigers, and larger birds of prey, but typically only when younger.
Did you know…?
Himalayan martens are just as proficient in trees as they are on the ground. They are even capable of up to 30 foot leaps between branches!
8.) Females birth 2 – 3 kits up to 2 times a year.
9.) Females undergo delayed implantation. This is where she will mate with a male but not actually become pregnant until environmental conditions are optimal.
10.) It is believed, in Japan, that seeing a group of martens near your house is an omen of a fire or other disaster.
Now a Short Yellow-Throated Marten Video!
Also, check out the Critter Science YouTube channel. Videos added frequently!
Want to suggest a critter for me to write about? Let me know here.
Learn more about all kinds of cool critters, right here!