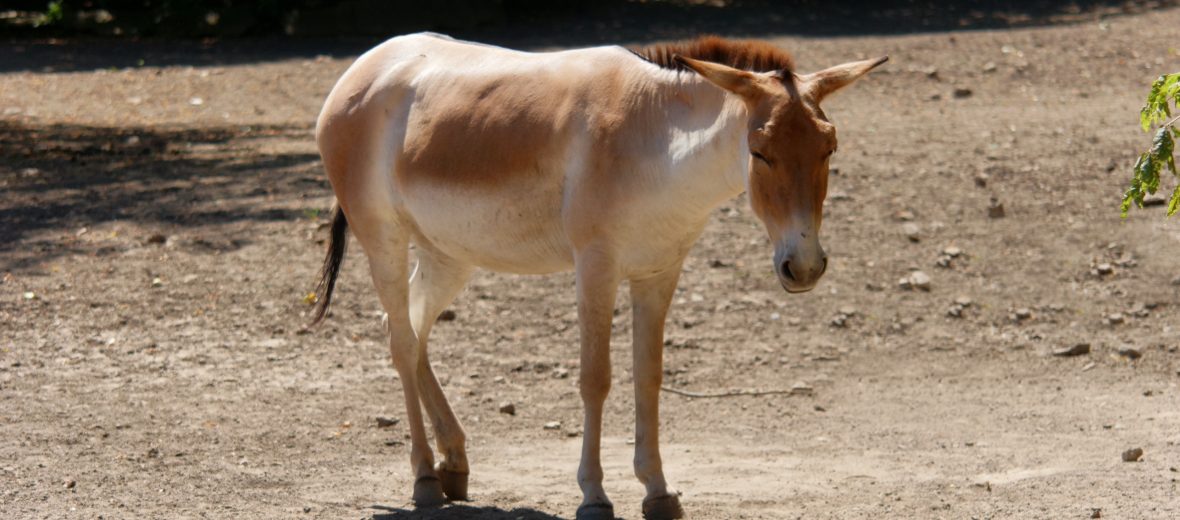 The onager, aka Asiatic wild ass or Hemione, hails from the Black Sea to the Yellow River in China. They're even found in Mongolia. These critters prefer semideserts, oases, arid grasslands, desert plains, Savannahs, steppes, mountainous steppes, shrublands, and mountain ranges. Unfortunately, they suffer due to many threats such as habitat loss at the hands of residential and commercial development, agriculture, mining, gas drilling, and transportation (which results in new roads that divide their territories, and increase the potential for vehicle strike – being hit with vehicles); hunting; trapping; war; civil unrest; dams that restrict access to water and flood their grazing grounds; invasive species (and with them disease); and climate change. Due to these threats, they have an estimated population of 28,000. But their populations are stable, for now.
First the Stats…
Scientific name: Equus hemionus
Weight: Up to 510 lbs.
Length: Up to 6.5 feet
Height: Up to 4.9 feet, at the shoulders
Lifespan: Up to 26 years
Now on to the Facts!
1.) The IUCN lists these critters are Near Threatened.
2.) They were given their common or binomial name by German zoologist Peter Simon Pallas in 1775.
3.) Onagers have not been domesticated and share the same lineage as the African wild ass.
4.) The onager is a social beast that can dwell in herds of up to 1,200 individuals. Herds of this size are only witnessed in locales with abundant food and water sources.
5.) Males can sometimes dwell in bachelor droves of up to 3 individuals, if they haven't yet established a harem.
But wait, there's more on the onager!
6.) A group of onagers is called a coffle, drove, herd, or pace.
7.) Dominant stallions can monitor a territory of around 3.5 square miles. Territories also overlap.
Did you know…?
An adult onager can run up to 43 mph!
8.) These critters are crepuscular (active at dawn and dusk), as the temperatures are tolerable at these times, and visibility isn't skewed by night.
9.) Being Herbivores (eat plant matter), they feast on a variety of grasses, herbs, leaves, saline vegetation, and fruits, when available, but also feed on shrubs and lower hanging leaves from trees in drier habitats.
10.) To get much needed water in the winter, they will eat snow. During the hotter times of the year, they will use their hooves to dig for subsurface water in dry riverbeds.
But wait, there's still more on the onager!
11.) They have both a harem-based mating system and are a polygynous mating system (1 male mates with multiple females).
12.) Dominant males will tend to take up camp near a water source, which brings in the females. Then he will mate with the arriving females that originally just arrived for the water.
Did you know…?
Onagers have the unique ability to make their own choices and to reason. They use this reasoning instead of just fleeing to safety at the first sign of the unknown or of danger.
13.) Females undergo up to an 11 month gestation (pregnancy) that yields a single foal.
14.) Weaning takes place in up to 2 years!
15.) A male is called a Jack or jackass. Females are called a jennet or Jenny. Newborns are called colts or foals.
But wait, there's still a little more on the onager!
16.) These creatures have an amazing memory that affords them the ability to remember geographic locations and other specifics for up to 25 years or more!
17.) Unlike horses, onagers are very curious and not easily frightened.
18.) They prefer drier climates because their coats are not water resistant. So, to get wet from rain and then potentially cold, could be dangerous to their health.
19.) Similar to primates, onagers will routinely groom each other.
20.) Persian leopards and striped hyenas both prey on onagers.
Now a Short Onager Video!
Be sure to share & comment below! Also, check out the Critter Science YouTube channel. Videos added regularly!
Want to suggest a critter for me to write about? Let me know here.