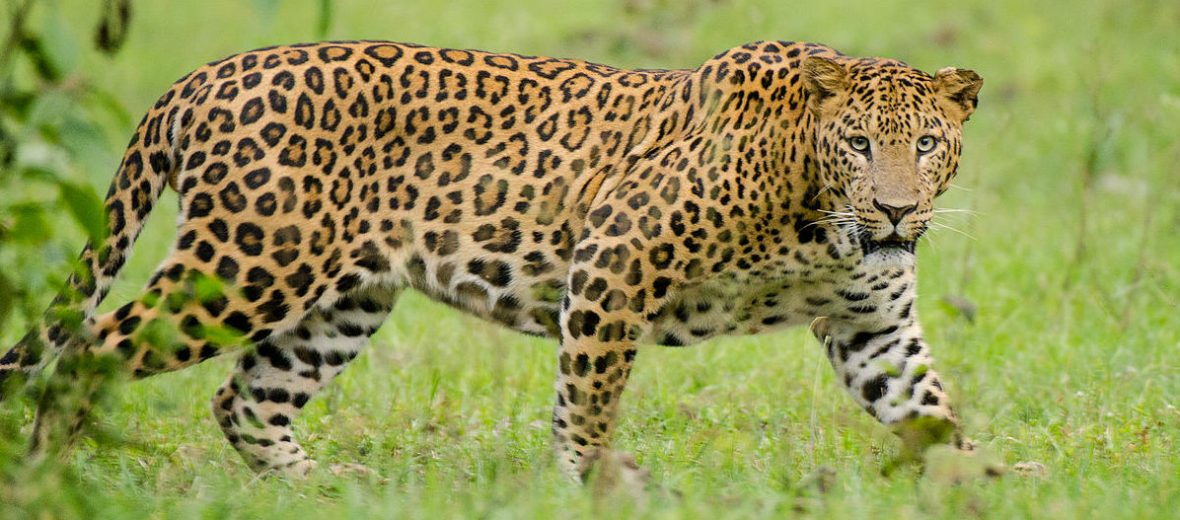 The Indian leopard can be found in India, Bhutan, Nepal, and certain locales of Pakistan. They prefer dry deciduous forests, tropical rainforests, northern coniferous forests, and temperate forests. Due to many threats, like habitat destruction at the hands of residential and commercial development, mining, agricultural needs, logging, and transportation (including roads and railways that result in vehicle strike – being hit by vehicles); hunting; trapping; war; civil unrest; military exercises; fires; and fire suppression, these beautiful beasts are listed as Vulnerable, with less than 14,000 wild individuals remaining to date.
First the Stats…
Scientific name: Panthera pardus fusca
Weight: Up to 170 lbs.
Length: Up to 4.7 feet, plus up to a 3 foot tail
Height: Up to 30.5 inches, at the shoulder
Lifespan: Up to 20 years
Now on to the Facts!
1.) A group of leopards is called a lepe or leap.
2.) Like other leopard species, they are solitary and only come together to mate.
3.) These cats are primarily crepuscular (active at dawn and dusk). However, in some regions, they can be nocturnal (active at night).
4.) The territories of males slightly overlap, while the territories of females and their cubs overlap by quite a bit.
5.) Utilizing their keen sense of vision and hearing, they stalk their prey, while attempting to get as close as 16 feet or less before launching their attack.
But wait, there's more on the Indian leopard!
6.) Prey items are killed via a powerful bite to the base of the skull that severs the spinal cord and kills their victim.
7.) Axis deer, sambar deer, nilgai, Indian hares, wild boars, peafowl, common langurs, and various other primates make up the bulk of their diet.
Did you know…?
These fast cats can run at speeds of up to 36 mph and leap up to 20 feet!
8.) A variety of sounds are produced by these big cats, like growls, grunts, meows, purrs, and roars.
9.) Indian leopards are also strong swimmers, and can climb trees with the best of them.
10.) Like other leopards, they are polygynandrous (promiscuous – mate with more than 1 partner).
But wait, there's still more on the Indian leopard!
11.) Females undergo up to a 105 day gestation (pregnancy) that yields up to 4 cubs.
12.) Cubs can take up to 2 years to become independent.
Now a Short Indian Leopard Video!
Be sure to share & comment below! Also, check out the Critter Science YouTube channel. Videos added regularly!
Want to suggest a critter for me to write about? Let me know here.
Photo credit: Srikaanth Sekar.