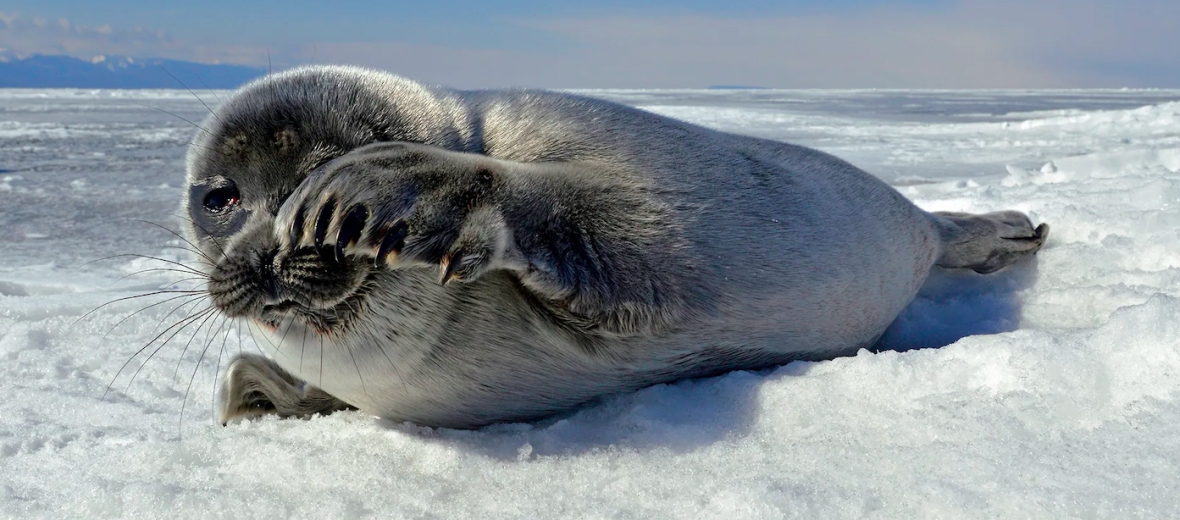 The Baikal seal, aka nerpa or Lake Baikal seal, hails only from Lake Baikal in Russia (the world's deepest lake) and some nearby rivers that flow into and out of said lake. These seals are only found in freshwater and are the only known solely freshwater seal alive today. Even though they suffer from overfishing, pollution, invasive species (and with them disease and competition for food), and climate change, these cool critters are still listed as Least Concern by the IUCN. They number an estimated 54,000 wild individuals, and their population is stable.
First the Stats…
Scientific name: Pusa sibirica
Weight: Up to 200 lbs.
Length: Up to 4.2 feet
Lifespan: Up to 56 years
Now on to the Facts!
1.) During the winter months, they utilize breathing holes, since the ice can be over 35 inches thick.
2.) Although mostly solitary, these seals will gather into pods of up to 500 individuals during spring and summer.
3.) These seals tend towards being crepuscular (active during dawn and twilight).
4.) Baikals can dive upwards of 1,312+ feet!
5.) They consume up to 8+ lbs. of food per day. That equates to nearly a ton of food per year.
But wait, there's more on the Baikal seal!
6.) Baikal seals prey on a variety of non-valued fish species.
7.) In May, they move to the northern end of the lake, where they will then molt.
Did you know…?
Baikal seals can swim at speeds of up to 15.53 mph.
8.) A group of seals is called a bob, colony, harem, herd, pod, or rookery.
9.) During the summer months, they move to the southeast corner of the lake to haul-out (leave the water for a period of time).
10.) As seals tend to be, these seals are polygynous (1 male mates with multiple females).
But wait, there's still more on the Baikal seal!
11.) After mating, the female undergoes a brief delayed implantation, aka embryonic diapause (delay in pregnancy).
12.) Females undergo up to a 9 month gestation (pregnancy) that yields up to 2 pups.
Did you know…?
The Baikal seal is able to hold their breath for upwards of 70 minutes, due to the extra half gallon of blood they possess.
13.) Pups are born right on the lake ice.
14.) These seals, primarily the females, tend to be much more graceful swimmers than other seal species.
15.) They have been repeatedly blamed for over-consuming the fish called "omul." But they don't often prey on this species of fish, rather preferring the species called "golomyanka." Further more, by eating "golomyanka," they are actually helping to limit the competition for food which, in turn, helps increase the population of "omuls."
Now a Short Baikal Seal Video!
Be sure to share & comment below! Also, check out the Critter Science YouTube channel. Videos added regularly!
Want to suggest a critter for me to write about? Let me know here.