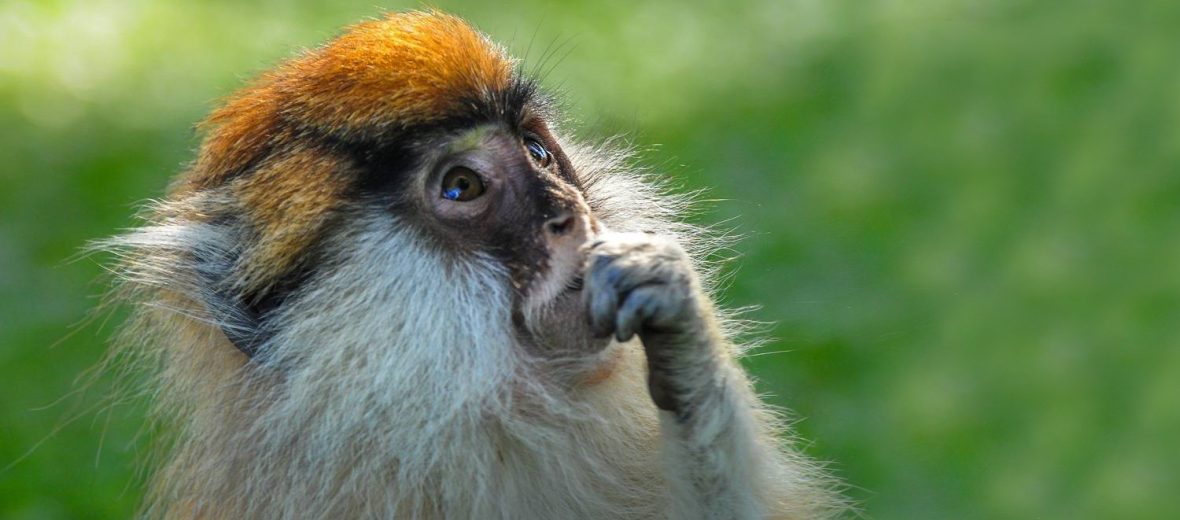 The patas monkey, aka Hussar monkey, military monkey, sergeant major monkey, red guenon, dancing monkey, common patas monkey, or wadi monkey, hails from the sub-Saharan regions of western, central, and eastern Africa. They prefer habitats with tall grass, scattered trees, steppes, thickets, wooded savannas, and open grasslands. Patas monkeys are currently listed as Near Threatened by the IUCN, with decreasing populations. They face the threats of habitat destruction at the hands of logging and agriculture. These critters are also hunted and trapped for bushmeat.
First the Stats…
Scientific name: Erythrocebus patas
Weight: Up to 27.3 lbs.
Length: Up to 35 inches, plus up to a 30 inch tail
Lifespan: Up to 24 years
Now on to the Facts!
1.) Patas monkeys are diurnal (active during the day).
2.) They inhabit troops of up to 40 individuals.
3.) Troops consist of a dominant male and multiple females, with their offspring.
4.) Females, along with the male, also protect their group from other troops.
5.) When faced with a Predator, some individuals will act as a decoy while the others run to safety.
But wait, there's more on the patas monkey!
6.) A group of monkeys is called a barrel, cartload, tribe, troop, or wilderness.
7.) These Omnivores (eat plant and animal matter) feed on pods, young leaves, gum, seeds, gall, acacia flowers, grasses, fruits, berries, insects, lizards, eggs, and even young birds.
Did you know…?
These primates can sprint at speeds of up to 34+ mph! This makes them the fastest monkey alive.
8.) Harem polygyny exists with these primates. This is where 1 male mates with all the adult females in the tribe.
9.) Sometimes these monkeys are polygynandrous (promiscuous). This is where males from other troops will mate with some of the females of another troop. It is not unheard of for there to be multiple partners.
10.) Females undergo up to a 5 month gestation (pregnancy) that yields a single infant.
But wait, there's still more on the patas monkey!
11.) Upon reaching sexual maturity, younger males will often leave their tribe to join bachelor troops. Sometimes they leave to lead a solitary life.
12.) They may be smaller, but they embark on among the longest ventures for daily food of any other African primate.
Did you know…?
These critters have extensile cheeks, like hamsters, that can hold as much food as their stomachs!
13.) Various calls are emitted based on the predator.
14.) Lions, hyenas, raptors, baboons, dogs, and humans all prey on patas monkeys.
15.) Proportionately, these monkeys have the longest canines per body mass, of any primate.
Now a Short Patas Monkey Video!
Be sure to share & comment below! Also, check out the Critter Science YouTube channel. Videos added regularly!
Want to suggest a critter for me to write about? Let me know here.