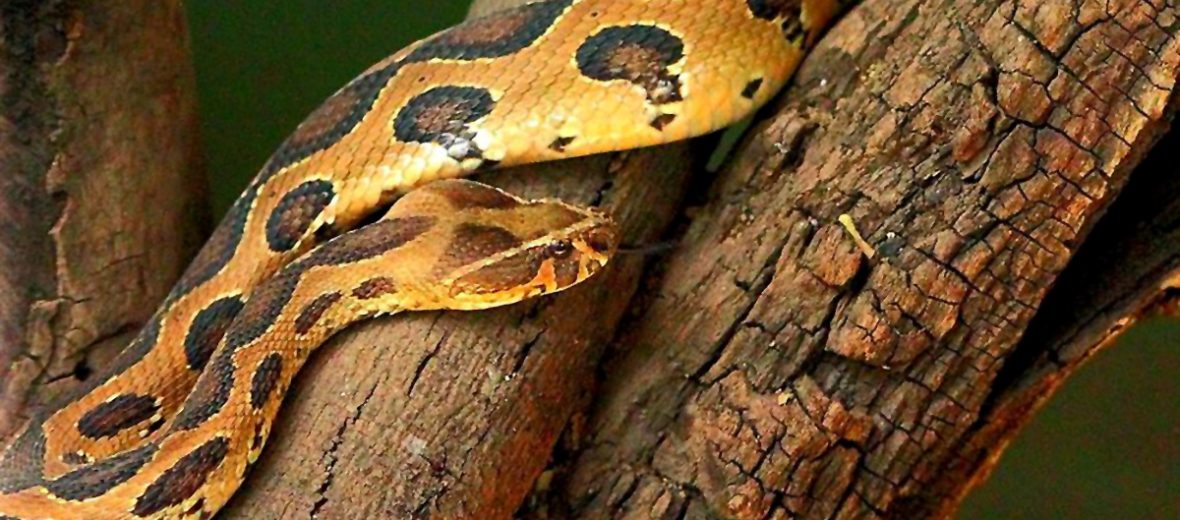 The Russell's viper, aka western Russell's viper, common Russell's viper, chain snake, chain viper, chandroborha, Indian Russell's viper, seven pacer, or scissors snake, hails from southern, southeastern, and eastern Asia. They are often spotted in coastal lowlands, hills, and plains. Russell's vipers also frequent urbanized habitats and villages, due to the abundance of rodents. These snakes prefer a drier climate, but are adept at swimming. They are abundant serpents that are listed as Least Concern by the IUCN. Although their populations are decreasing, due to residential and commercial development, hunting, and trapping.
First the Stats…
Scientific name: Daboia russelii
Weight: Up to 5 lbs.
Length: Up to 5.5 feet
Lifespan: Up to 15 years
Now on to the Facts!
1.) These vipers are solitary and only come together to mate.
2.) They are also terrestrial (spend their lives on the ground). But they can climb, if necessary.
3.) Russell's vipers are diurnal (active during the day), during cooler months, and nocturnal (active at night) during the rest of the year.
4.) When threatened, they will take up an S-coil shape and hiss loudly. Their hiss is among the loudest of any snake.
5.) While striking, they tend to exert so much force that they lift their body off the ground.
But wait, there's more on the Russell's viper!
6.) Bites from a Russell's viper can be either quick or they may latch on and continue to pump venom into the victim.
7.) These serpents are nervous, skittish, and aggressive.
Did you know…?
The venom yield from a bite can be as high as .009 ounce! The lethal dose for a human is only up to .002 ounce!
8.) Venom is delivered via solenoglyphous dentition (fang delivery mechanism).
9.) Envenomation results in immediate pain (that can last up to 4+ weeks) and swelling, severe hematological and neurological disorders such as defibrination, spontaneous haemorrhaging, shock, and permanent renal damage or even renal failure. The effects from a bite happen in as little as 15-minutes!
10.) Bites from these snakes yield the most common cause of snake bite deaths and renal failure.
But wait, there's still more on the Russell's viper!
11.) They specialize in hunting mice and rats. However, they will also prey on amphibians, reptiles, land crabs, scorpions, and various other arthropods.
12.) Females are ovoviviparous (give live birth).
13.) The female will produce up to 40 young, after up to a 6-month gestation (pregnancy).
Did you know…?
In late 2016, a new antivenom was developed by the Costa Rican Clodomiro Picado Institute, and clinical trials were started in Sri Lanka.
14.) Snakelets are born precocial (self sufficient) and fully venomous.
15.) These snakes are named after the Scottish herpetologist, Patrick Russell, who described these and numerous other snakes in India.
Now a Short Russell's Viper Video!
Be sure to share & comment below! Also, check out the Critter Science YouTube channel. Videos added regularly!
Want to suggest a critter for me to write about? Let me know here.
Photo credit: Gupt Sumeet