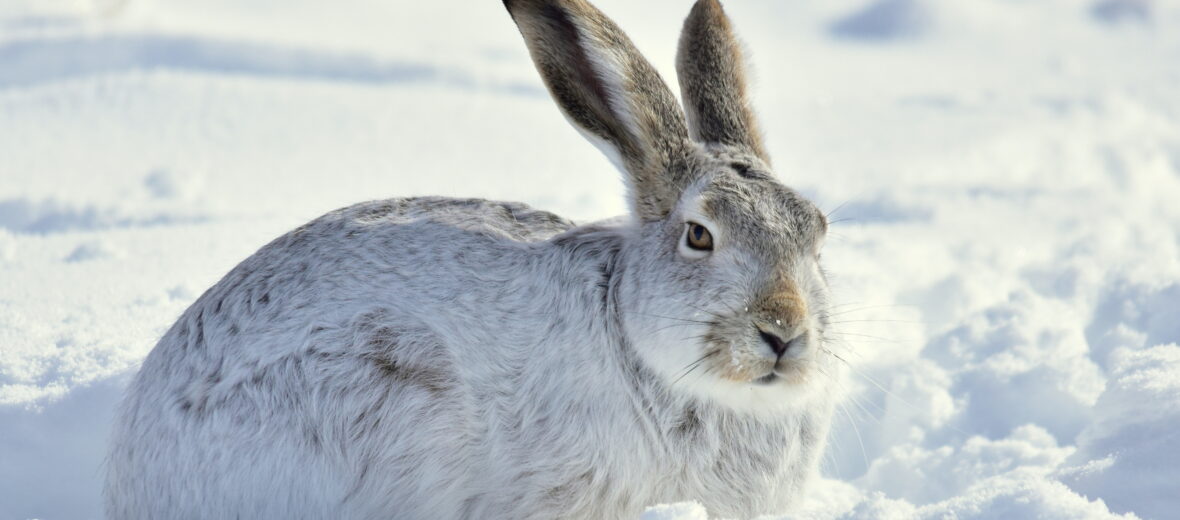 The white-tailed jackrabbit, aka white jack or prairie hare, can be found in western and midwestern United States and Canada. There are 2 known subspecies: L. townsendii townsendii (west of the Rocky Mountains) and L. townsendii campanius (east of the Rocky Mountains). Even though their populations are decreasing, due to habitat loss and trapping, their numbers are still abundant enough to give them the listing of Least Concern by the IUCN.
First the Stats…
Scientific name: Lepus townsendii
Weight: Up to 6.7 lbs.
Length: Up to 1.7 feet
Lifespan: Up to 8 years
Now on to the Facts!
1.) These hares are fond of prairies, plains, alpine meadows with coniferous trees, and parks – in western Canada.
2.) White-tailed jackrabbits are Nocturnal (active at night).
3.) They are typically solitary sans the breeding season, where several males will gather to fight for breeding rights with females.
4.) Like other jackrabbits, they don't live in burrows. Rather, they will dig out a shallow depression in the brush, called a form.
5.) If detected, they will tend to crouch low in the vegetation. If that doesn't work, they will dart away in a zig zag pattern.
But wait, there's more on the white-tailed jackrabbit!
6.) When captured, they let out a piercing scream. Typically though, they are silent.
7.) A group of hares is called a drove.
Did you know…?
White-tails can run up to 35 mph and leap up to 16 feet!
8.) They feed on a variety of grasses, green plants, and crops. In the winter, when food is lean, they will also graze on buds, bark, and twigs.
9.) White-tailed jacks are polygynandrous (males and females mate with several partners).
10.) Females birth up to 11 babies, called leverets, after up to a 42 day Gestation (pregnancy).
But wait, there's still more on the white-tailed jackrabbit!
11.) The leverets are born Precocial (fully furred, with eyes open, and able to move about on their own).
Did you know…?
The Warner Brothers cartoon character Bugs Bunny was a jackrabbit.
12.) Leverets are feeding at 2 weeks and weened by 4 weeks of age.
13.) The white-tailed jackrabbit is the largest species of hare in North America.
14.) White jacks are capable swimmers and will readily take to the water to avoid Predation.
15.) Foxes, coyotes, cougars, bobcats, badgers, snakes, eagles, and owls all prey on these jack rabbits.
16.) Prairie hares can eat up to 1 lb. of vegetation a day!
Now a Short White-Tailed Jackrabbit Video!
Be sure to share & comment below! Also, check out the Critter Science YouTube channel. Videos added frequently!
Want to suggest a critter for me to write about? Let me know here.
Learn more about all kinds of cool critters, right here!