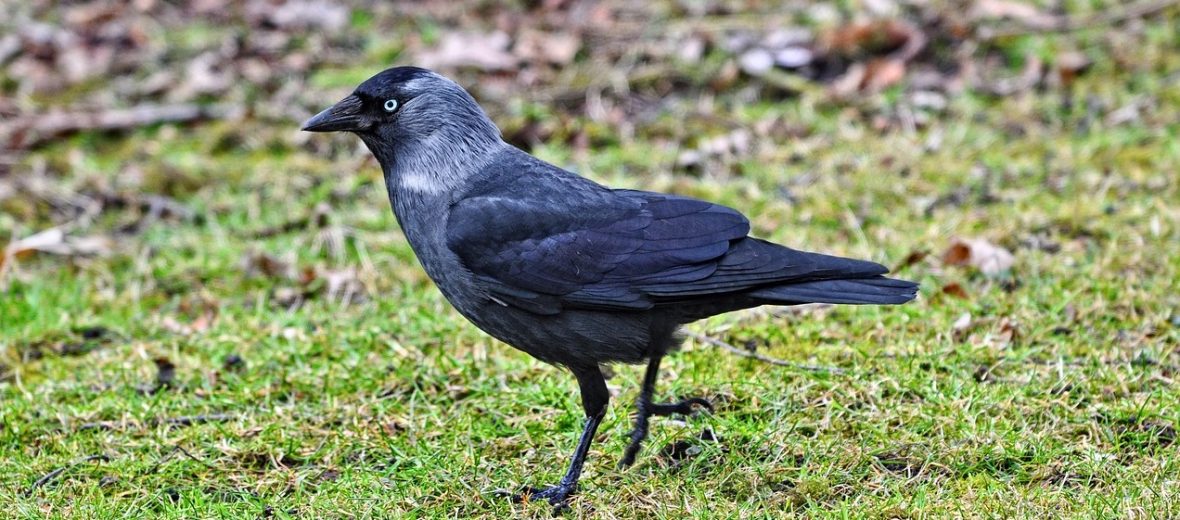 The western jackdaw, aka jackdaw, European jackdaw, or Eurasian jackdaw, can be found throughout Europe, Asia, and northern Africa. They prefer cultivated land, pastures, coastal cliffs, wooded steppes, and suburban towns with an array of large trees, buildings, and open land. Due to their large populations, and wide-spread nature, these birds are listed as Least Concern by the IUCN.
First the Stats…
Scientific name: Coloeus monedula
Weight: Up to 8.7 ounces
Length: Up to 15 inches
Wingspan: Up to 27 inches
Lifespan: Up to 20 years
Now on to the Facts!
1.) These birds are passerine and belong to the crow family.
2.) These gregarious birds gather into large flocks of several thousand birds.
3.) A group of jackdaws is called a clattering, train, or flock.
4.) Western jackdaws are diurnal (active during the day).
5.) Clod-turning, jumping, pecking, scattering, and probing the soil, these birds search the ground for a tasty meal.
But wait, there's more on the western jackdaw!
6.) These Omnivores (eat plant and animal matter) feed on bats, beetles, spiders, snails, mice, baby rats, bird eggs and chicks, carrion (dead animals), acorns, barley, oats, wheat, elderberries, weed seeds, berries, and fruits.
7.) The primary call of these birds is a metallic squeaky sounding "chyak-chyak" and "kak-kak" call. They produce other calls too, such as when they communicate to their mate.
Did you know…?
These birds can glide at speeds of up to 36 feet per second.
8.) The western jackdaw is monogamous (mates for life).
9.) Females lay up to 5 eggs that hatch in up to 18 days.
10.) These birds number an estimated 83,400,000 wild individuals!
But wait, there's still more on the western jackdaw!
11.) Western jackdaws can be taught to mimic human speech.
12.) They tend to favor shiny objects, like magpies do.
13.) Mated pairs engage in allopreening (preening each other).
14.) Looking for ticks, jackdaws are frequently seen perched on the backs of farm animals.
15.) Birds of prey, cats, polecats, rats, stoats, and weasels all prey on jackdaws.
Now a Short Western Jackdaw Video!
Be sure to share & comment below! Also, check out the Critter Science YouTube channel. Videos added regularly!
Want to suggest a critter for me to write about? Let me know here.
Think you know a lot about critters? Try your hand at these fun, free quizzes: