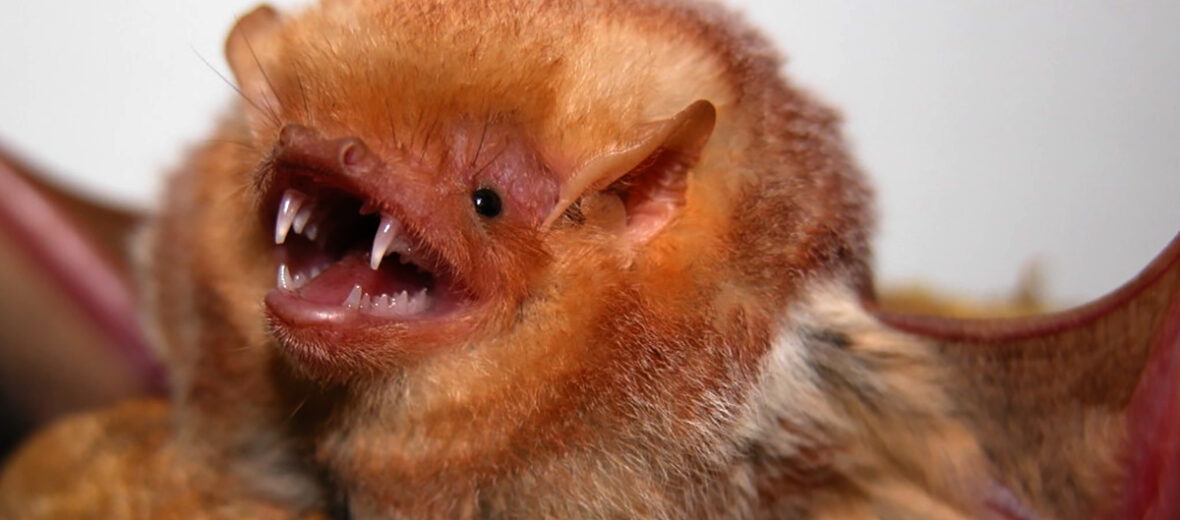 The eastern red bat is pretty much commonplace throughout Canada, United States, and Mexico. They are considered the second most common bat species in North America; with the hoary bat being #1. These bats prefer coniferous forests, deciduous forests, and mixed forests throughout their range. They can also be found in urban and suburban environments. Due to their widely spread population and stable numbers, these bats are listed as Least Concern by the IUCN.
First the Stats…
Scientific name: Lasiurus borealis
Weight: Up to .43 ounce
Length: Up to 3 inches
Wingspan: Up to 13 inches
Lifespan: Up to 12 years
Now on to the Facts!
1.) These occasionally migratory bats spend their spring and summer up north in Canada and north eastern United states. Then relocate south to the southeastern parts of the U.S. and Mexico during the winter months.
2.) Eastern red bats are solitary and only come together to mate.
3.) Like most bat species these critters are nocturnal (active at night).
4.) They, like other Insectivorous bats, mostly hunt "on the wing". This means that they catch insects while in mid-flight.
5.) Beetles, cicadas, flies, mosquitoes, and moths make up the majority of their diet.
But wait, there's more on the eastern red bat!
6.) Bluejays (their #1 Predator), cats, foxes, opossums, birds of prey, rats, snakes, and humans all prey on these bats.
7.) A group of bats is called a cloud or a colony.
Did you know…?
These speedy flying mammals can fly at speeds of up to 40 mph.
8.) Even though breeding season is in autumn, females undergo delayed implantation (delayed embryo growth) until the spring.
9.) Females undergo up to a 90 day gestation (pregnancy) that yields up to 5 pups.
10.) Like other bats, the pups are born altricial (blind and helpless).
Now a Short Eastern Red Bat Video!
Be sure to share & comment below! Also, check out the Critter Science YouTube channel. Videos added frequently!
Want to suggest a critter for me to write about? Let me know here.
Learn more about all kinds of cool critters, right here!