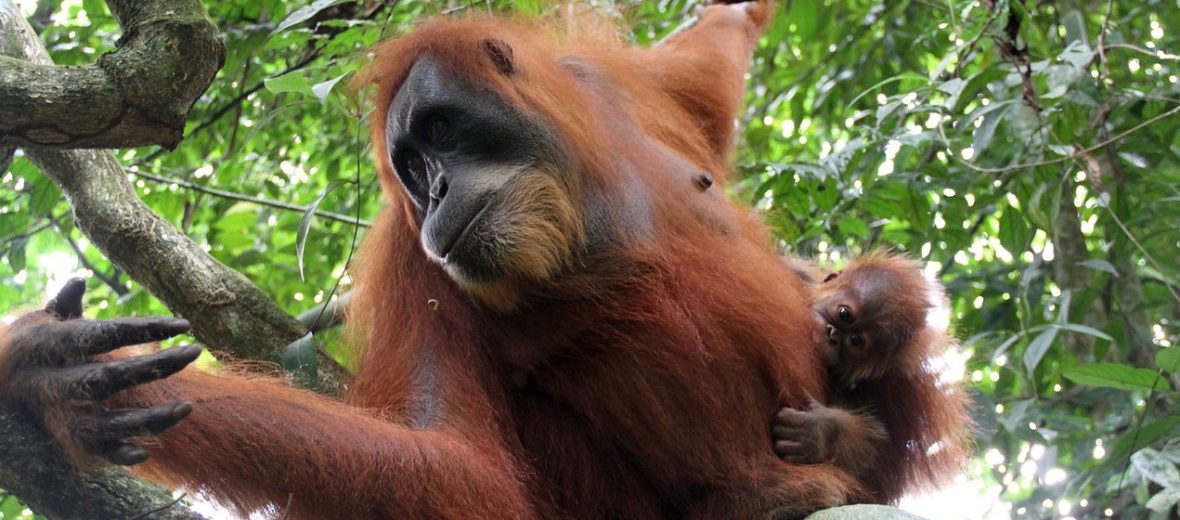 The Sumatran orangutan, aka Sumatran orang-utan, hails from the lowland tropical forests, mangrove forests, riparian forests, and swamp forests of Sumatra, in Indonesia. Orangutans are the only great apes to live outside of Africa. These beautiful primates face habitat destruction at the hands of agriculture, residential and commercial development, mining, and road development; hunting; trapping; fires and fire suppression; and climate change. As a result, there are only a mere 14,613 known wild individuals remaining, to date. And their populations are decreasing. For this reason, they are listed as Critically Endangered by the IUCN. This is my 1,100th article. Enjoy!
First the Stats…
Scientific name: Pongo abelii
Weight: Up to 298 lbs.
Length: Up to 5 feet
Lifespan: Up to 50 years
Now on to the Facts!
1.) Up to 60% of their day is spent foraging and eating.
2.) Figs play a pivotal role in their diet. However, they will consume a variety of other fruits, when in season. In the off season, they will eat flowers, young leaves, and bark. These critters will also feast on termites, ants, crickets, and an occasional egg.
3.) Sumatran orangutans are typically very solitary.
4.) They only travel up to a half mile a day, but still occupy large territories.
5.) In the evenings they construct a nest out of leaves, high up in the trees and away from predators.
But wait, there's more on the Sumatran orangutan!
6.) Tigers, clouded leopards, crocodiles, and larger pythons all prey on younger orangutans. Humans also pose a huge threat to their existence, as they will poach them for the exotic pet trade and for food.
7.) These orangutans are not too terribly territorial and will often share fruit trees with other orangutans.
Did you know…?
An orangutan is about 7 times stronger than a human.
8.) Males stake their claim to a particular territory via long, loud, deep calls, emitted from their throat pouch. These calls can be heard throughout the forest.
9.) Their calls can echo throughout their territory and are meant to signal not only territorial rights, but also to call to nearby females.
10.) A group of orangutans is called a band, troop, group, family, or shrewdness.
But wait, there's still more on the Sumatran orangutan!
11.) Sumatran orangutans are considered polygynandrous (multiple males mate with multiple females).
12.) Most mating occurs between December – May, during the rainy season.
Did you know…?
A testament to their intellect, they have been known to observe villagers using boats to cross rivers. Then, when the coast is clear, they too will unfasten boats and ride across the river.
13.) Females undergo up to a 9 month gestation (pregnancy) that yields a single infant.
14.) The newborn clings to mom's fur and stays with mom for several years, before departing.
15.) Infants are weened at about 3 years of age, but stay with their mother till about 9 years old.
But wait, there's still a little more on the Sumatran orangutan!
16.) These great apes have been documented using tools to extract termites and ants from mounds and learning how to extract the meat from Neesia fruit all the while avoiding the fruit's stinging hairs. They then pass this knowledge down to their descendants.
17.) Like humans, orangutans have 32 teeth.
Did you know…?
Sumatrans breed once every 7 – 8 years. This is the slowest known breeding cycle of any known land mammal.
18.) Another clever survival tactic is that they will utilize large leaves to shelter themselves from the hot sun or from the rain; like an umbrella.
19.) They will also use leafy branches to shoo biting insects away.
20.) Babies cry and whimper when hurt or lonely, and will often smile at their mothers.
But wait, there's still just a little more on the Sumatran orangutan!
21.) The name orangutan is Sumatran. Orang means human or person and utan means forest. So orangutan can be translated to "person of the forest."
22.) These apes are sexually dimorphic, in that males are larger than females and also possess a larger facial disc.
23.) A popular miscommunication of the word "orangutan" is "orangutang." There is no "g" at the end, thus the proper name is indeed "orangutan," pronounced "orang-utan."
Now a Short Sumatran Orangutan Video!
Be sure to share & comment below! Also, check out the Critter Science YouTube channel. Videos added regularly!
Want to suggest a critter for me to write about? Let me know here.
Think you know a lot about critters? Try your hand at these fun, free quizzes: