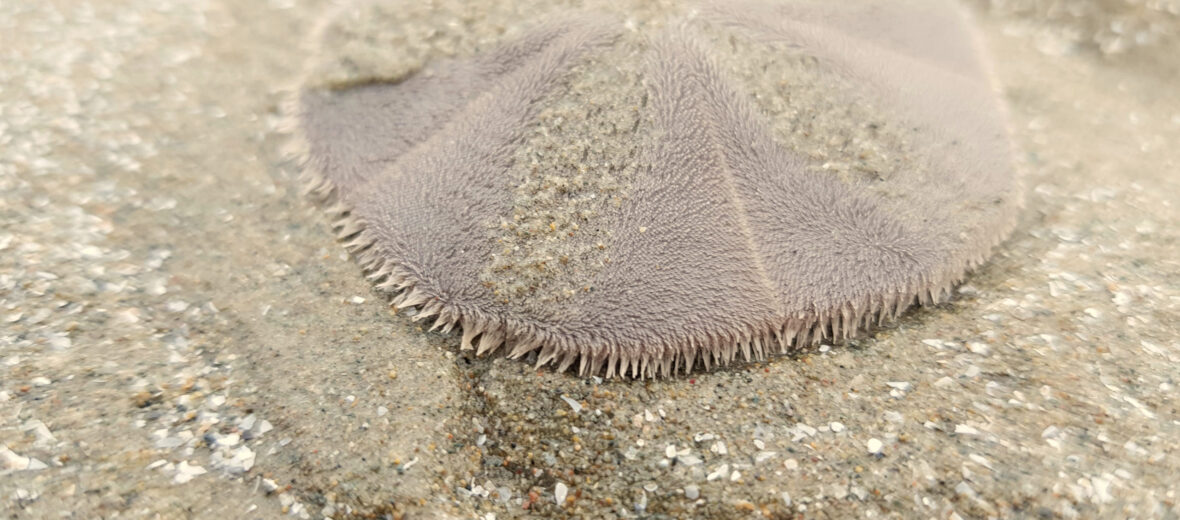 The sand dollar, aka sand cake, cake urchin, or sea biscuit, has been collected as a beach souvenir for the longest time. You've probably seen them adorning a wicker basket in someone's beach-themed bathroom. But did you know that sand dollars look quite different when alive? For instance, the white shell-like item you see on land is actually pink, blue, purple, green, brown, black, hairy, and fleshy when alive; not white. Due to over collection, pollution, and habitat destruction, these critters are largely listed as Near Threatened by the IUCN.
First the Stats…
Scientific name: Clypeasteroida
Weight: Up to 1 ounce
Length: Up to 4 inches across
Lifespan: Up to 10 years
Now on to the Facts!
1.) First off, the white skeleton form you see is just that, their skeleton, aka a "test". When they die, the flesh rots and the skeleton is bleached by the sun.
2.) They move about via flexible bristles called spines.
3.) Sand dollars can be found in the Atlantic and Pacific oceans at depths of up to 30 feet, along intertidal zones. But they have been spotted up to 1,000 feet down.
4.) Young sand dollars ingest grains of sand to increase their weight, thus allowing them to stick around in the turbulent beach waters and not be washed out to sea or beached on land.
5.) These interesting critters breathe through their famous "petals", called petaloids, which are a series of holes from which tube-like, breathing feet come out.
But wait, there's more on the sand dollar!
6.) They are included in the class of oceanic invertebrates known as echinoids. Their closest relatives are sea urchins.
7.) The sand dollar is also loosely related to sea cucumbers, sea lilies, and sea stars.
Did you know…?
The sand dollar's only defense against predation is to bury itself in the sand.
8.) Located on the underside of their body is their mouth, aka Aristotle's lantern, and it is equipped with tiny teeth-like structures arranged in 5 sections that are designed for grinding up food.
9.) They use their spines to guide food towards their mouth and will typically chew for up to 15 minutes before swallowing the well palpated food.
10.) Predatory snails (like cone snails), sea stars, skates, starry flounders, and wrasses all prey on sand dollars.
But wait, there's still more on the sand dollar!
11.) Spawning takes place from May – July and involves males and females releasing sperm and eggs into the water column, which is called external fertilization. The sperm and eggs meet and life begins anew.
12.) The nektonic (swimming) larvae are free swimming organisms that undergo numerous developmental stages before developing their test and sinking to the sea floor, where they'll spend the rest of their lives.
Did you know…?
When the larvae sense the presence of fish mucus (the slimy coating on most fish), they will actually clone themselves, making them smaller and harder to see by the predatory fish. This process takes up to 24 hours to complete.
13.) Their test is made up of plates of calcium carbonate.
14.) You can tell the age of a sand dollar by inspecting the number of growth rings on their plates.
15.) They also go my other names, like sea cookie, snapper biscuit, and pansy shell.
16.) Sand dollars feed on a variety of microscopic plant and animal life.
Now a Short Sand Dollar Video!
Be sure to share & comment below! Also, check out the Critter Science YouTube channel. Videos added frequently!
Want to suggest a critter for me to write about? Let me know here.
Learn more about all kinds of cool critters, right here!