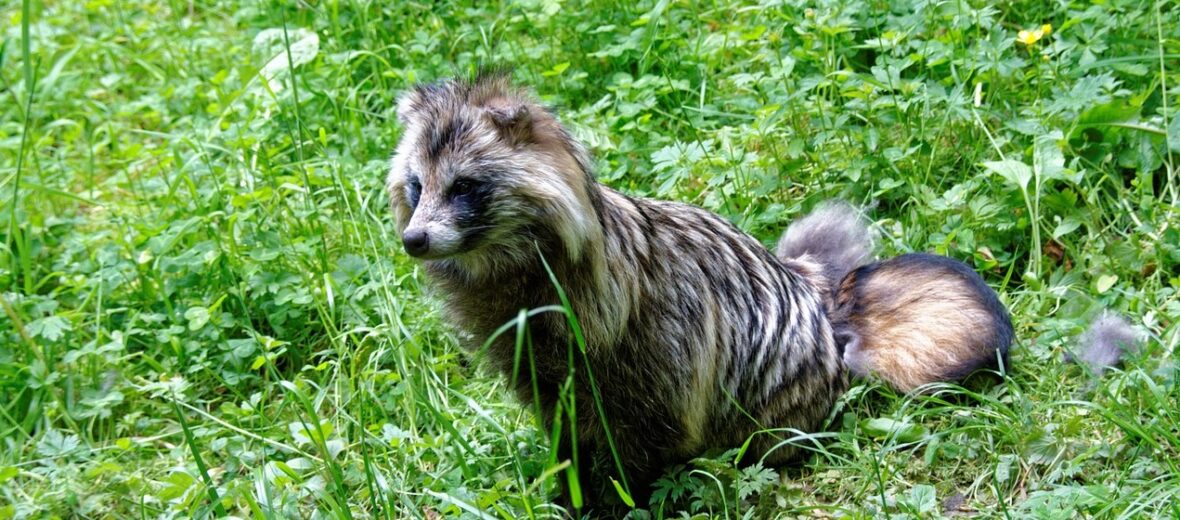 The raccoon dog, aka Neoguri, Mangut, Tanuki, or Mårdhund "marten-dog" in Sweden, can be found in eastern Asia and Europe. There are 5 known subspecies to date. Raccoon dogs are neither raccoons nor are they dogs. They are most closely related to true foxes. These critters prefer forests, farmlands, moist meadows, and urban habitats, as long as there is thick underbrush and they're near a water source. These canids are affected by habitat destruction, hunting, trapping, disease, and invasive species. But they are still listed as Least Concern by the IUCN, due to their stable numbers.
First the Stats…
Scientific name: Nyctereutes procyonoides
Weight: Up to 13 lbs.
Length: Up to 18 inches, plus up to a 7 inch tail
Lifespan: Up to 11 years
Now on to the Facts!
1.) Raccoon dogs are social creatures that gather in pairs or small family bonded groups.
2.) These critters are cathemeral (active during the day and night).
3.) What they lack in vision, they more than make up for with a keen sense of smell.
4.) They hunt via climbing trees, swimming after their prey, or terrestrially (on the ground).
5.) The raccoon dog hibernates in the winter in pairs.
But wait, there's more on the raccoon dog!
6.) These Omnivores (eat plant and animal matter) prey on fish, birds, eggs, reptiles, amphibians, small invertebrates, and will also eat seeds, nuts, fruit, and berries.
7.) Foxes, badgers, wolves, golden eagles, white-tailed eagles, goshawks, and eagle owls all prey on the raccoon dog.
Did you know…?
The Tanuki has an extensive history, in Japan. They are even featured in Super Mario Bros 3, where Mario or Luigi can put on a Tanuki suit and fly.
8.) Tanukis are the only canid that hibernates in the winter.
9.) Vocalizations are used to communicate with each other. They don't bark, but they will whine, yelp, and growl.
10.) Raccoon dogs are monogamous (mate for life).
But wait, there's still more on the raccoon dog!
11.) Females undergo up to a 70 day gestation (pregnancy) and birth up to 8 pups.
12.) Although wild animals, they can also be domesticated. But be warned, they have a habit of stealing, like the raccoon.
Now a Short Raccoon Dog Video!
Be sure to share & comment below! Also, check out the Critter Science YouTube channel. Videos added frequently!
Want to suggest a critter for me to write about? Let me know here.
Learn more about all kinds of cool critters, right here!