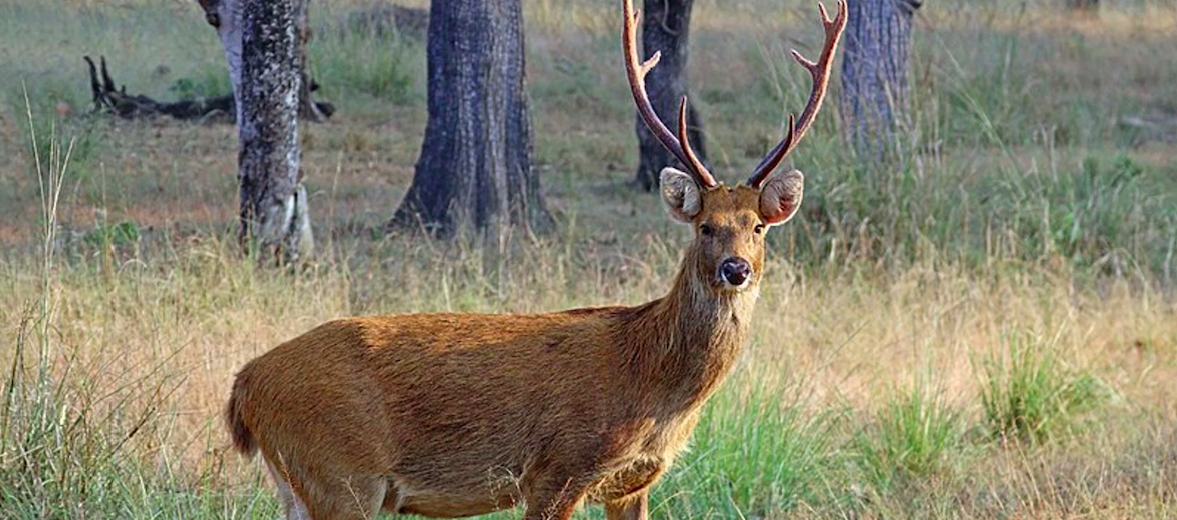 The barasingha, aka swamp deer, is a species of deer with unusually large antlers, in relation to their head. They can often get 12 points to their antlers. These deer are found throughout the Indian subcontinent. They prefer tall grassland, reed beds in large river floodplains, deciduous forests, and mangrove habitats. Unfortunately, these deer are listed as Vulnerable, due to habitat destruction, hunting, invasive species, and disease.
First the Stats…
Scientific name: Rucervus duvaucelii
Weight: Up to 370 lbs.
Length: Up to 4.9 feet
Height: Up to 4.1 feet, at the shoulder
Lifespan: Up to 23 years
Now on to the Facts!
1.) These social critters gather into same sex herds of up to 20 individuals.
2.) They are cathemeral (active in both day and night).
3.) Even though herds are often led by a female, these critters are not matriarchal by nature. It's just that 1 female will lead the herd with a male trailing in the back of the line.
4.) A group of deer is called a herd, gang, mob, or leash.
5.) Being herbivores (eat plant matter) these deer spend their time grazing on grasses and leaves.
But wait, there's more on the barasingha!
6.) Barasinghas are polygynous (1 male mates with several females).
7.) During the mating season, males will let out calls of bugling and barking sounds that sound like mules.
Did you know…?
There are only an estimated 5,100 barasinghas remaining in the wild, to date.
8.) Like other deer, males go through a rut, each season, to establish breeding rights to harems.
9.) Females undergo up to a 250 day gestation (pregnancy) that yields 1 fawn.
10.) Like many other deer species, they can swim and are good jumpers.
11.) Tigers and leopards prey on barasinghas.
Now a Short Barasingha Video!
Be sure to share & comment below! Also, check out the Critter Science YouTube channel. Videos added frequently!
Want to suggest a critter for me to write about? Let me know here.
Learn more about all kinds of cool critters, right here!