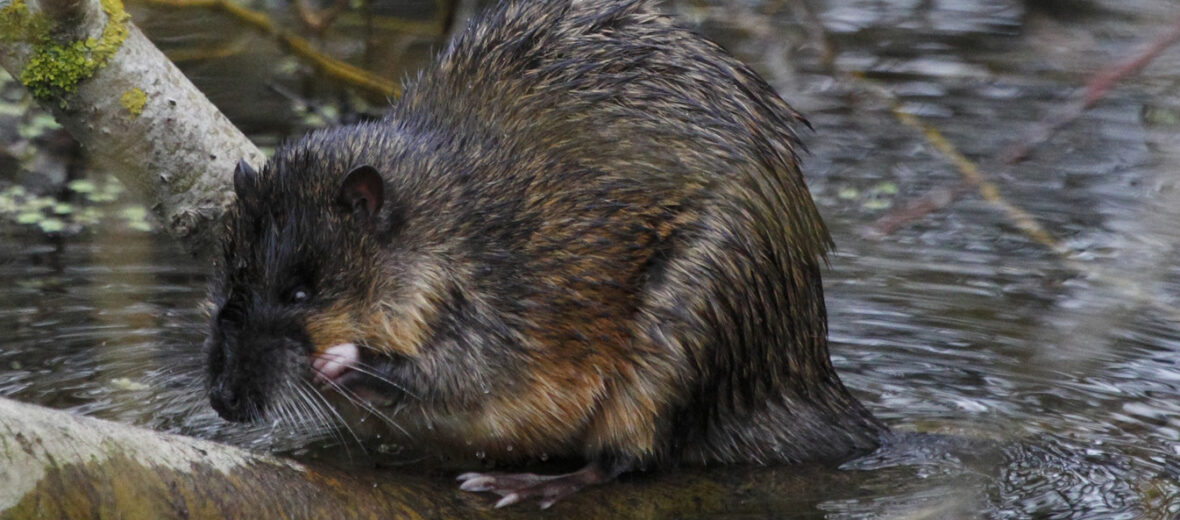 The rakali, aka rabe, water rat, or common water rat, is a species of rodent native to Australia, New Guinea, and various offshore islands. These critters prefer to live near permanent bodies of water, like fresh slow-moving streams, creeks, wetlands, rivers, brackish inland lakes, sheltered marine bays, estuaries, and beaches. Due to their numbers and the fact that they are seen as pests, these rodents are listed as Least Concern by the IUCN. Their biggest threats are habitat loss, pollution, trapping, and poisoning by bait traps.
First the Stats…
Scientific name: Hydromys chrysogaster
Weight: Up to 2.81 lbs.
Length: Up to 14.6 inches, plus up to a 13.6 inch tail
Lifespan: Up to 4 years
Now on to the Facts!
1.) Rakali have webbed back feet that aid in swimming.
2.) Their fur is waterproof to keep them from getting waterlogged in their aquatic environment.
3.) Water rats are nocturnal (active at night) and crepuscular (active at dawn and dusk).
4.) These large rodents can travel up to .62 of a mile each night, looking for food.
5.) They are predominantly solitary and will fight each other when in close quarters.
But wait, there's more on the rakali!
6.) Fish, crustaceans, shellfish, mammals, frogs, reptiles, small birds, eggs, and occasionally plants make up their diet. They are primarily Carnivores (eat meat) though.
7.) Rakali, in true rodent fashion, produce several litters a year.
Did you know…?
Rakali are among the only known animal able to kill a cane toad, without being poisoned.
8.) Females yield up to 5 pups, after up to a 34 day gestation (pregnancy).
9.) They are also called Yirrku by the Gunwinggu (Kunwinjku) people of western Arnhem Land, in Australia.
10.) Large fish, snakes, birds of prey, foxes, and cats all prey on Rakali.
Now a Short Rakali Video!
Be sure to share & comment below! Also, check out the Critter Science YouTube channel. Videos added frequently!
Want to suggest a critter for me to write about? Let me know here.
Learn more about all kinds of cool critters, right here!